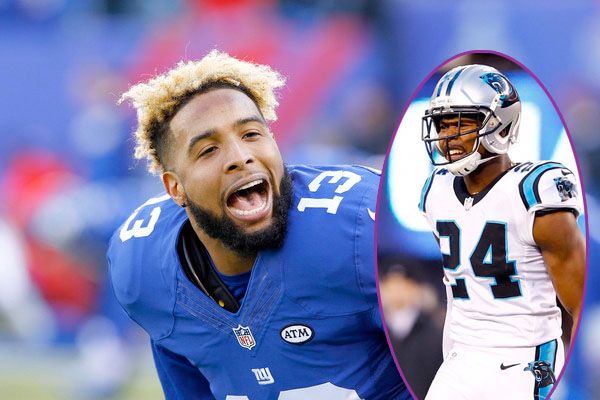 Sunday's game between the Carolina Panthers and the New York Giants was an explosive one. Giants wide receiver Odell Beckham Jr. and Panthers cornerback Josh Norman were going AT it during the game and for the life of us we couldn't understand why.
Now, we know the events that happened during warmups that caused tensions to be so high during the game. Find out what went down that involves baseball bats on the field inside….
This past Sunday's game between the Carolina Panthers and the New York Giants was one for the books. Giants wide receiver Odell Beckham Jr. and Panthers cornerback Josh Norman racked up a ton of personal fouls against each other thanks to fighting one another every chance they got. They looked like two little bad a** kids fighting each other on the field.
Odell took it a little too far when he took a head shot (meaning he hit helmet to helmet) at Josh during the game. Check it:
Now, Odell has been suspended for one game (which he is appealing) and Josh has been fined $26,044 for a few illegal moves he made. FYI - The Panthers beats the Giants 38-35, which kept them undefeated.
So how did it even get to this point? And what's the REAL reason Odell was so perturbed and out of character?  Here's what we know...
Apparently during warmups, practice squad player Marcus Ball walked out on the field with a black baseball bat. YES, he had a baseball bat on the football field! And here's the proof:
According to former cornerback and NFL analyst Deion Sanders during an interview on "The Stephen A. Smith Show," Marcus walked over to Beckham Jr. "like he was going to hit in his knees and said, 'We're going to end your career today.'"
And guess what? That exchange was caught on video as well. We can't hear exactly what's being said, but it's clear they had a verbal exchange that got heated:
What is a Panthers practice squad player doing going into the Giants team stretching area.. with a baseball bat? pic.twitter.com/4mIQ0jwYRg

— Giants Daily (@NYGDaily) December 22, 2015
NFL Network insider Ian Rapoport tweeted Marcus had to be separated from Odell during the pre-game:
Apparently Marcus Ball, a #Panthers practice squad player, was holding a bat pregame. He had to be separated from Odell Beckham pregame.

— Ian Rapoport (@RapSheet) December 21, 2015
At one point, the bat was given to Josh Norman where he allegedly was insinuating to Odell that he was going to "blow his knees out" and "end his career." That's not shown in the clip below, but it does show that Josh had the black bat in his possession at some point:
Not only that, sources say Josh used anti-gay slurs towards Odell:
Deion Sanders says that Norman called Odell a "fa**ot", carried around a baseball bat pregame and told him he was "gonna end his career".

— astromarko (@astromarko) December 21, 2015
Meanwhile, the Panthers are denying any wrongdoing saying NO threats were ever made to Odell. And as far as the baseball bats go, they claim that's something they do on a regular. The black baseball bats supposedly symbolize "bringing the wood," a motivational saying among a lot of teams.
NFL insider Jay Glazer broke it down via Twitter (read from the bottom up):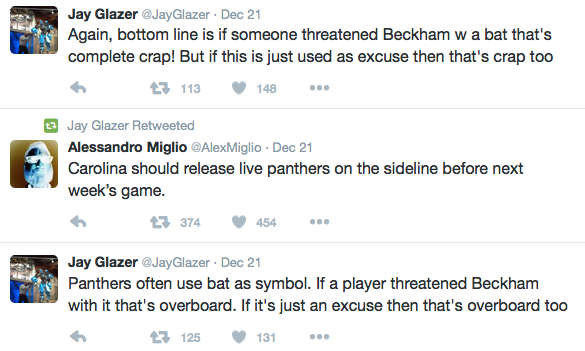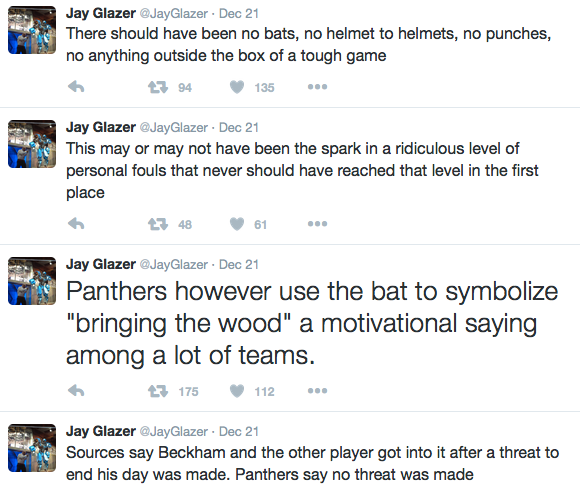 Following the game, Josh hopped on Twitter to taunt Odell about his sexuality with emojis: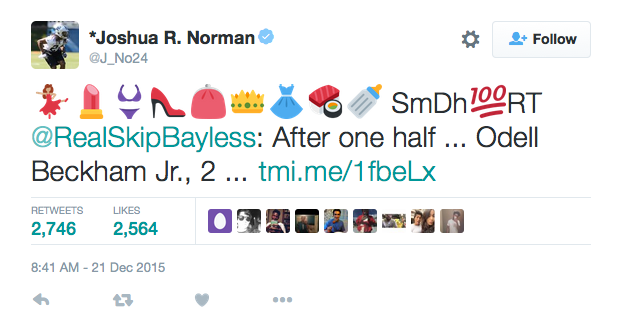 Lordt!
So now we know why Odell seemed totally out of his element during the game. The Panthers got all into his head before the game, and it worked.  Gotta tighten up that mental strength...
You can check out Deion Sanders' full interview where he breaks down what happened below:
EXTRAS:
1. Chief Keef's label is suing his management and producer for millions! STORY