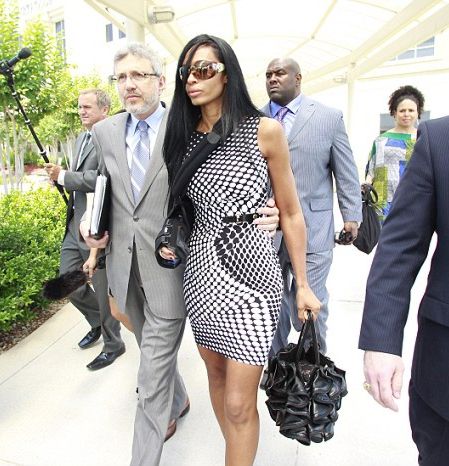 Pilar Sanders & estranged hubby Deion made their way to the Collin County courthouse Monday in Dallas.  And the outcome wasn't in favor of Pilar.  Deets inside on Deion getting temporary custody of the kids after their big fight night, plus Tami Roman closing up that wiggy lawsuit....
With her arm in a sling and rocking a body-con black & white dress, Pilar Sanders played the sympathy card (but maybe rightfully so) for her court date with Deion Sanders yesterday.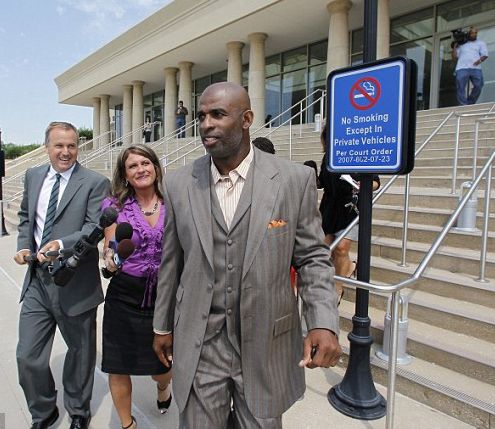 Though both parties were charged with domestic assault after their recent blowout inside their Dallas mansion, the tables are currently turned in favor of Deion.
After 3 days of hearings, State District Judge Ray Wheless gave Hall of Famer Deion temporary custody of the couple's children pending a full custody hearing, and ordered that the children undergo psychological counseling.  Wheless also ruled that the injuries to Pilar were a result of Deion defending himself from her assault.
Pilar must remain at least 500 yards from the mansion.  The most interesting part of all this, the police detective on the scene says that swollen lip we saw in Pilar's mugshot likely came from her biting it herself.
In other legal news, after "Basketball Wife" Tami Roman was sued by Creme de le Creme hair extensions company for supposedly stealing breaking their contract that called for her to promote their hair extensions on the show.  They clam she stole their product and promoted it as her own instead. The two parties have settled in court.
Tami's rep Danielle Robertson issued the following statement:
"Basketball Wives" star, Tami Roman has amicably resolved the lawsuit filed against her back in March of this year. On Friday, May 4th in a US District Court in Houston, TX, Ms. Roman and her lawyers reached an undisclosed agreement with the hair extension company. "The parties reached a decision prior to the judge ruling on the matter", says Roman's attorney Katonga L. Wright, Esq. "It was the fastest and most predictable way for both sides to end the dispute and go their separate ways." Ms. Roman is no longer affiliated with the company and both parties are mutually satisfied. 
Now everyone can get back to their weavealicious lives....