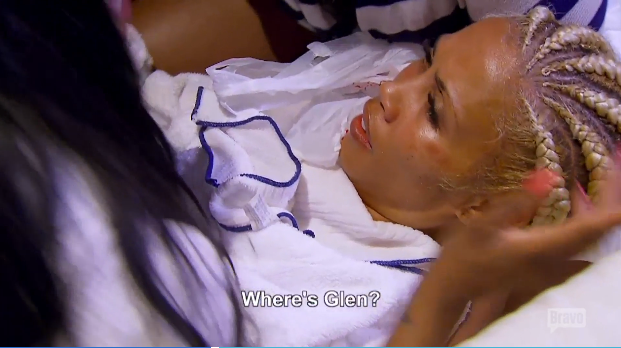 The aftermath of bringing men back to their vacay home in Miami has rattled the Atlanta Housewives.  Find out who's blaming who inside...
RHOA newcomer Tammy is already at the center of a Housewives controversy.  And chick doesn't even have a peach.
While the RHOA cast vacationed in Miami on recent episodes, the ladies met Tammy's nephew Glen, who she said was an athlete who lives in Atlanta.  He's a youngin', but that didn't stop a few of the ladies from flirting. 
When Kenya's snapping of her fingers (literally) to get Glen's attention backfired, it all went downhill.  More alcohol was consumed and tensions started to rise after Glen (and other men the ladies had just met) were invited back to the house. 
Glen snapped at a pregnant Kandi and continued to say rude and threatening things under his breath.  When it was concluded that Tammy would ask him to leave, all hell broke lose.
Peep the video below for yourselves:
Kandi Burruss is siding with Kenya saying that Glen was dangerous and security did need to be called.  But Kim Fields, who has already called out Kenya Moore for instigating,and Phaedra Parks say it didn't all have to go down like that -- you know, with Tammy ending up in the hospital after Glen pushed her down while getting too rowdy about having to leave.  Kim and Phaedra also didn't feel Glen needed to be cuffed.  Phaedra said that when a person isn't playing the way Kenya wants to play, it's 'Off with their heads!" 
Cynthia Bailey even chimed in saying she felt responsible because she invited Tammy into the group.  Then her and Kenya got into it after that.
So, speak on it!
Photos: Bravo