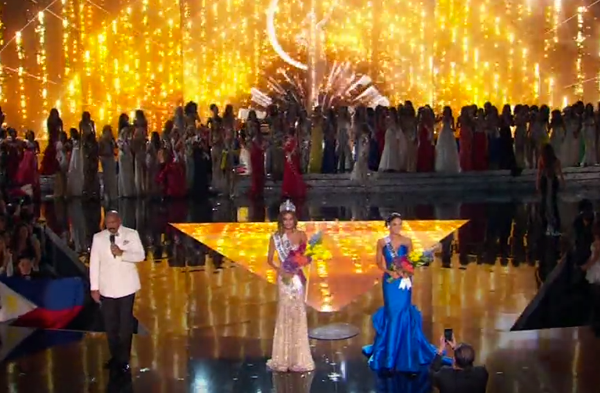 Lordt! The most awkward moment of any Miss Universe pageant in history has just taken place. Deets inside....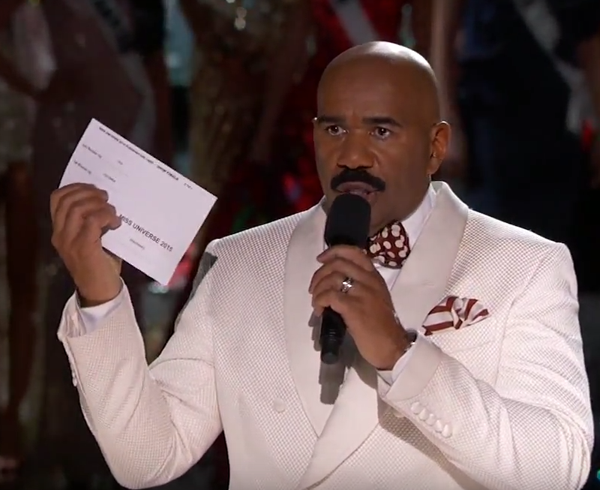 Steve Harvey nabbed another hosting gig, but the ending for this one wasn't quite as comical or as traditional as expected.
At last night's Miss Universe 2015 pageant in Las Vegas, host Steve Harvey announced the winner in the last few minutes of the show.
After announcing Miss USA as 2nd runner-up, Steve announced Miss Colombia, Ariadna Gutierrez, as Miss Universe 2015, which meant Miss Philippines, Pia Alonzo Wurtzbach, was 1st runner-up.
Miss Colombia was sashed and crowned by the outgoing Miss Universe (who is also from Colombia) and chick took her walk with her flowers and served that pageant smile and wave. As the crowd went crazy with applause, all that ish came to a screeching halt when Steve walked back to center stage saying there's a problem. He announced the wrong winner!
Based on the notecard that Steve showed the cameras and audience, the right winner was Miss Philippines. Miss Colombia got 1st runner-up. Bloop!
All hell broke loose. The audience went nuts and Miss Philippines was confused as all hell. When she finally realized she should take her walk as the real Miss Universe, she was in tears.
Then the awkward crown switch happened.
Steve remained the consummate professional and apologized while taking the blame. Based on BTS snapchat video, Steve also said the TelePrompTer was wrong too.
You have to see it all. Check out the video below:
Steve apologized on social media too, first with a misspelled tweet then a corrected tweet.
He also personally apologized to the ladies:
It's now over and done. While QUITE awkward, it's not the end of the world. Well, maybe Miss Colombia thinks so...