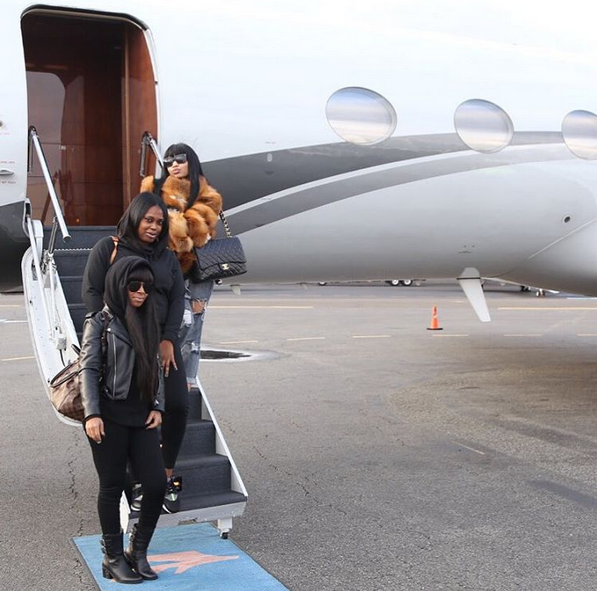 Nicki Minaj and Gilbert Arenas are stirring up all types of controversy. Find out how these two have the Internet streets talking inside…
When your all about your coin, there isn't much that will stop you from getting it.
While her boyfriend Meek Mill is stuck in Philly, Nicki Minaj and her girls have jetted to Angola, Africa ahead of a performance.  She just posted the pic above this afternoon. But, there's lots of controversy surrounding said performance. Apparently, the "Anaconda" raptress agreed to hit the stage for a Christmas festival sponsored by Unitel on Saturday.
The problem? The Human Rights Foundation has asked Nicki Minaj to cancel in an open letter because Unitel is a communications company controlled by the family of Angolan President José Eduardo dos Santos, who the Robert F. Kennedy Human Rights Organization calls a dictator.
In the letter, they warn Nicki "the payment you are receiving from your Angolan sponsors is the result of government corruption and human rights violations."
The letter continued,
During their brutal three decade authoritarian rule, the dos Santos family has exploited Angola's diamond and oil wealth to amass an illegitimate fortune while maintaining control over all branches of the government, the military, and civil society. Dos Santos has made it his policy to harass, imprison, or kill politicians, journalists, and activists who protest his rule.
Yikes.
As of the time of this post, the concert is still going on and Nicki is still set to hit the stage. If anything changes, we'll keep you posted.
In other Nicki news….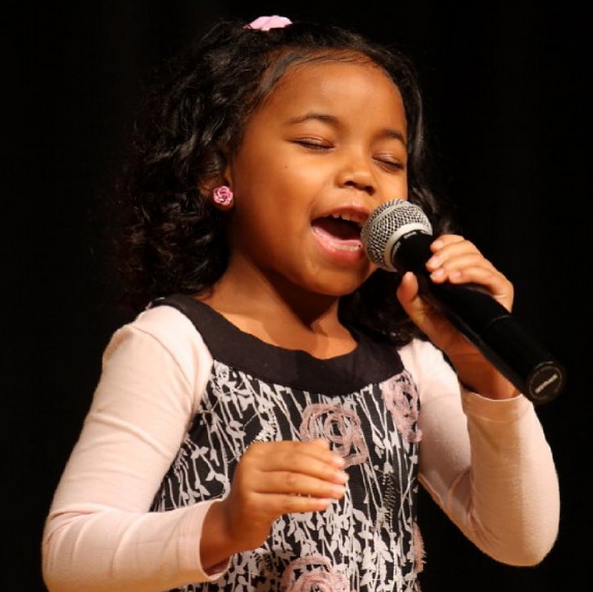 The Grammy Award nominated rapper is moving forward with her ABC Family (Freeform) scripted comedy (that she's executive producing) based on her childhood. Nicki hand selected the cast for her upcoming comedy series and announced today who will be playing her.
This adorable little girl is Ariana Neal and she has been cast as a young Nicki. The "ONLY" raptress took to her Instagram to share the news saying, "I am honored and excited to announce that I've literally hand picked the main characters of my scripted series "Nicki" ~ #ABCFamily #Freeform ~ I've been going to the auditions falling in love with some incredible people. Looking forward to unveiling this groundbreaking new show for you guys in 2016!"
The bootylicious rap star then gushed over little Ariana saying, "I literally cried watching her taped audition. I demanded to meet her! Sat in a room with her teaching her how to rap by doing a beat on the table & forcing her to stay on beat! Lol. Then pulled out all the attitude she had in her lil body. Haha! She's tough! And so sweet & cute. #ArianaNeal #LilNicki Welcome to the family lil lady bug!"
If Ariana looks familiar, it's because she has starred in films Get Hard and Fruitvale Station. The rest of the cast includes model Selita Ebanks as Grace, Nicki's mom; Wesley Jonathan as Vincent, Nicki's father; and McCarrie McCausland ("Army Wives," "The Originals") as Jaylan, Nicki's older brother. "The View" co-host Whoopi Goldberg will also have a recurring role as Nicki's neighbor, Miss Martha.
The series is set to start filming in her hometown of Queens this winter.
In petty news...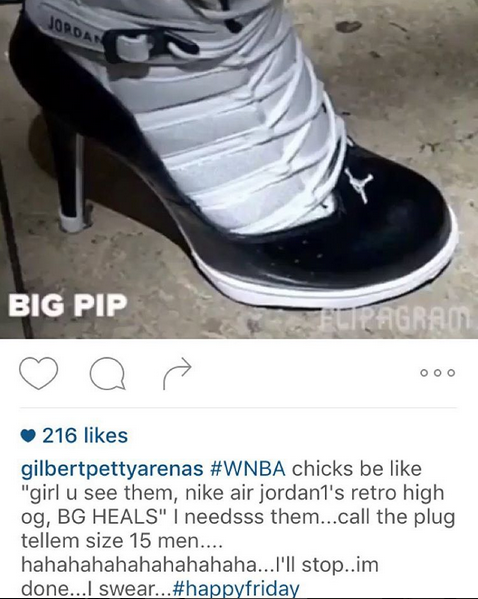 Former NBA baller Gilbert Arenas is letting his ignorance shine through. A few days ago he hopped on social media to bash the way WNBA players look with the most misogynistic comments ever.
The 33-year-old ex-NBA player posted a video two white chicks playing basketball in thongs with the caption, "NOW this is what America was hoping for when they announced the #WNBA back in 1996…not a bunch of chicks running around looking like, cast members from #orangeisthenewblack."
Laura Govan's baby daddy has since gotten rid of his old account, changed it to the one above, and reportedly made these comments later in the day:
"Dont get me wrong, they have few #cutiepies but theres a whole alotta #beanpies running around."

"If Skylar Diggins came out like this, I don't care if she missed every layup ... imma buy season tickets and I don't even know where the f*ck #tulsa is."

"If u think this is sexist, 9 times out of 10 u the ugly one and we didn't pay to come see u play anyway."
Gross.
Following his statements, TMZ photogs caught up with the baller and asked if he planned on apologizing for his sexist comments. Unfortunately, he doesn't. He said, "I'm trying to figure out what I would be sorry about. So basically, all the ugly girls are mad. All the ugly ones want an apology for being ugly."
When asked how he would respond to his daughter if she told him she wanted to dress modestly, he responded,"See, I'm petty. As a father, I would let her dress the way she dresses. As a petty person, I would laugh at the way she dresses. Period."
*Rolls eyes* Messy boots.
The WNBA issued a statement responding to his atrocious comments saying:
WNBA/NBA Statement Regarding Gilbert Arenas' Comments pic.twitter.com/yZ8Nga6weZ

— WNBA (@WNBA) December 16, 2015
And he's still at.
WNBA player Candace Parker pretty much sums up our thoughts:
Social media gives a platform for individuals to make irrelevant comments and become relevant again.

— Candace Parker (@Candace_Parker) December 16, 2015
Photos: Nicki's IG/Gilbert's IG