Azealia Banks is in hot water…again! Allegedly. Get the deets on the Harlem raptress going bananas at a NYC club resulting in her arrest and check out Russell Wilson's naked rotund gluteus maximus inside (and we're NOT censoring it so it's NSFW)....
Around midnight on Wednesday, the Harlem rap star headed to Manhattan hotspot Up & Down for some fun. But, fun was NOT on the agenda. Once the 24-year-old rapper got inside the venue, she tried to crash an invite-only party that was going on downstairs for the club's owner Ronnie Madra. Apparently, you needed a stamp to get in the party and Azealia didn't have one. That's when ish went TOTALLY left.
Sources tell PageSix, Azealia started cursing and screaming (at one point hurling racial slurs) to the top of her lungs at a female and male security guard to get in. One person said Azealia was yelling about beng on Rihanna's new album, as if to solidify her celeb status. The source said, "Once she was 15 feet inside, she starts to curse the guards again, explaining who she was, that she's on Rihanna's album."
Oh?
Security then approached the "Yung Rapunxel" rapper and that's when she allegedly SPIT in the female bouncer's face! Bish whet?!
Chick was promptly escorted out the venue, but as they were removing her, this chick supposedly BIT the bouncer's breast almost tearing her shirt!  Once outside, she yelled she was going to call the cops. A NYPD Traffic Enforcement cop was called over and a strange turn of events ensued.
Azealia allegedly decides to PUNCH the female bouncer in FRONT of the police officer. Of course, they arrested her and as they were putting the cuffs on her she was allegedly screaming "Why are you arresting me?"
She was then taken to the Sixth Precint on misdemeanor charge of third-degree assault and was held there for evaluation before being arraigned and released.
Peep pics of the cops arresting her HERE.
The NY District Attorney and police sources say the bouncer's boob got really swollen and red, but she refused medical attention. May not be one of her smartest moves.
It's obvious 2015 hasn't been a good year for the Broke With Expensive Taste rapper. Back in September, she was caught on camera in a verbal altercation (where she hurled homophobic slurs) on a Delta flight. Then in October, she was involved in an alleged assault on a security guard at Break Room 86 in L.A. Sighs...
Chick needs to get her life…before she ends up behind bars for a long time.
In lighter news....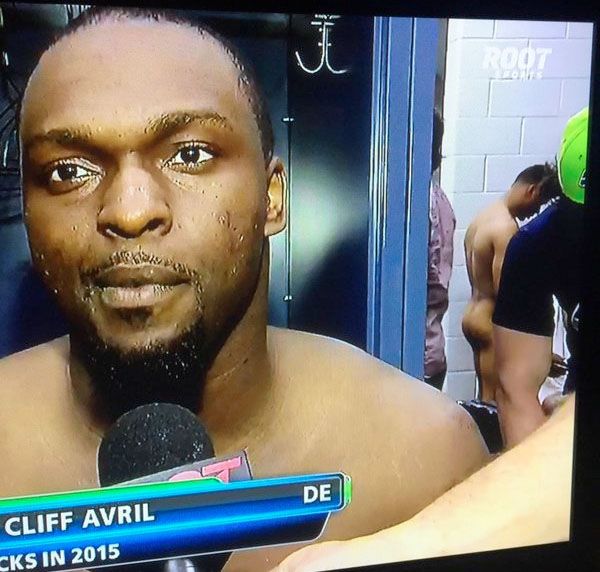 Oh? Heeeey Russell Wilson!
"Seahawks All Access" says they can take you where no other Seahawks show can take you. And they weren't lying.
During a recent interview with defensive end Cliff Avril in the Seahawks' locker room, the cameraman caught a glimpse of quarterback Russell Wilson in the nude. We're not exactly sure why reporters have to interview the players in the locker room, but in this case we're not mad…Ciara might be though. Ha!
We see you Russ!
Photos: Azealia's IG/@abr247