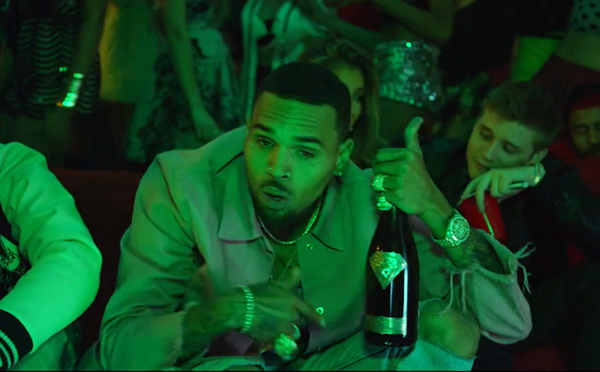 Chris Brown is rolling out new videos everyday until his album drops. Check out his newest video treatment for "Picture Me Rollin'" and get the deets on Breezy turning Keyshia Cole down four separate times for a duet inside. Also, a pregnant Melanie Fiona has a new video showing off her growing belly. Get it all inside...
Chris Brown has been heavily promoting his upcoming album Royalty set to be released tomorrow (Dec. 18th). To keep his fans satisfied until they can get their hands on the official album, Breezy will be releasing new vide treatments until the LP drops. Yesterday, he released a new video for his 5th single"Anyway."
Today, he's releasing new visuals for his party track "Picture Me Rollin'" In the clip, it begins with Breezy getting into an argument with his girlfriend. Then, Scott Disick (Kourtney Kardashian baby daddy) calls him up to come party with him. At first he wasn't feeling it, but then decides to go. The "Loyal" singer hits up this massive house party and dances it up with French Montana (yes, French busted a few moves) while popping bottles with A$AP Rocky and his crew.
Check it:
Royalty drops tomorrow. Also, Breezy will be hitting the stage at the Hollywood Palladium in L.A. tomorrow night to celebrate.
In other Breezy news….

R&B songstress Keyshia Cole was having a restless night last night, so she decided to hop on Twitter and chat with her fans. That led to her spilling some luke warm tea. Nothing super eyebrow raising, but sip-worthy nonetheless.
A fan asked Keyshia who she would like to do a duet with for her next album and that's when she revealed she would love to work with Chris Brown. The problem is…she has already asked him four times and he declined! Damn. She said she's over asking him.
The "She" singer then went on to say that Breezy wanted her to do a more Pop song rather than her usual R&B tunes, but Keyshia said she wasn't feeling it, so their duet never happened. Peep the tweets above and below.

Hmm...wonder if he would do one now even after she semi-blasted him on social media.
In another new video...
Melanie Fiona puts her baby bump on display in a new video titled "I Want It All," after announcing she's expecting last month. The first time mom is expecting a baby wither singer-songwriter Jared Cotter. She shared a snippet from the video during her baby announcement, and now the full visual has been released.
The Canadian beauty rubs her growing belly while belting out lyrics about wanting it all. She looks and sounds amazing. Melanie is gearing up to released her third studio album titled Awake in 2016. In the meantime, check out her new video above.