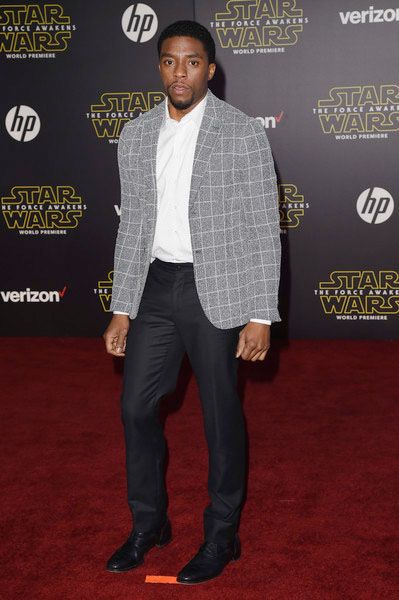 We've rounded up a few entertainment bits making headlines. Chadwick Boseman is gearing up to play Supreme Court Justice Thurgood Marshall in a new thriller, famed choreographer Fatima Robinson is getting her own show and Killer Mike releases his candid sitdown with Senator Bernie Sanders. Get it all inside….
Captain America: Civil War star Chadwick Boseman is gearing up for a major role. He's set to star as esteemed Supreme Court Justice Thurgood Marshall in a new courtroom thriller titled MARSHALL. Thurgood Marshall became the Supreme Court's FIRST African-American justice and the 96th overall. He presided over cases from 1967 to 1991 before he passed away in 1993 at the age of 84.
Oscar nominated producer Reginald Hudlin will direct the film that will focus on a proactive case early in his career, before he was appointed to the Supreme Court.
Below is synopsis via press release:
MARSHALL is based on a true incident in the life of Thurgood Marshall, when he was a young lawyer, long before his appointment to the U.S. Supreme Court. As the nation teeters on the brink of WWII, a nearly bankrupt NAACP sends Marshall to conservative Connecticut to defend a black chauffeur against his wealthy socialite employer in a sexual assault and attempted murder trial that quickly became tabloid fodder. In need of a high profile victory, but muzzled by a segregationist court, Marshall is partnered with Samuel Friedman, a young Jewish lawyer who has never tried a case. Marshall and Friedman struggle against a hostile storm of fear and prejudice, driven to discover the truth in the sensationalized trial which helped set the groundwork for the Civil Rights Movement to come.
Sounds interesting. Another fact about Thurgood Marshall: He was a lawyer who argued and won in Brown vs. The Board of Education that ultimately desegregated public schools.
It won't be long before things kick into gear. Filming for the thriller will start in L.A. this week. Following the holidays, they'll resume filming in late spring. By the way, the film is getting full support from the Thurgood Marshall and Samuel Friedman estates, including their children, John W. Marshall and Lauren Friedman. Sweet.
No word on when it will be released yet, but we'll keep you posted. Captain America: Civil War hits theaters May 6, 2016.
Deets on a new show featuring a YBF chick....
After choreographing NBC's "The Wiz Live!," the network has picked up a semi-autobiographical drama about famed choreographer Fatima Robinson. It will be an all out reunion as the "The Wiz" executive producers Neil Meron and Craig Zadan will also be on the project.
According to THR, the drama will be inspired by Fatima's life as a dancer-turned-choreographer. It's going to be set in L.A. with early plans to set it in the 1990s, as dance begins to dominate pop culture on the streets and clubs that gave birth to hip-hop dance. Ahh…the Golden Era!
It will likely follow her humble beginnings as a dancer and how she worked her way up to creating hot dance moves for iconic YBFers such as Michael Jackson and Aaliyah. Oh, and she was also the mastermind who crafted the moves for Save the Last Dance and The Players Club.
Fatima will serve as an executive producer, along with Neil & Craig, AND she's choreographing the film. DUH. This has already peaked our interest and we're glad this YBF chick is getting her shine.
In other news...
Remember when we showed you flicks of rapper Killer Mike lunchin' on some soul foodin Atlanta with Presidential hopeful Bernie Sanders a few weeks ago?
Well, right after their lunch they sat down for an in-depth interview. The Atlanta rapper just unveiled their sitdown that went down inside his barbershop –the Swag Shop –in a newly released 6-part interview. If you didn't know, Killer Mike stands behind Sen. Sanders and has publicly endorsed his campaign run for President.
During their chat, the twosome discussed a range of topics including marijuana, guns, poverty, healthcare, voter ID laws and so much more. You can check out their full discussion below:
On "Economic Freedom":
On "Social Justice":
On the "Rigged Economy":
"Free Healthcare: It Ain't A Big Deal":
"This Country Was Started As An Act Of Political Protest":
"Democrats Win When People Vote":
Photos: Getty/Fatima's IG