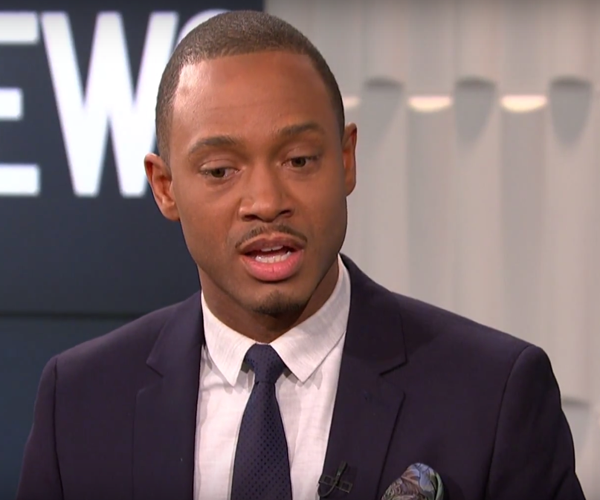 Terrence J is leaving E! News to move on to bigger and better things. Peep his announcement and find out what he has in store inside....
Rumors have been circling the 'Net that E! News co-anchor Terrence J would be leaving the show since the summer. And now, the rumor has come into fruition.
Following Alicia Quarles and Guiliana Rancic's exit, Terrence announced he would be leaving E! News after serving as a co-anchor on the show for the last three years. The television personality joined the show in 2012 after leaving BET's music countdown show "106 & Park."
During last night's show, he said,
"I started hosting when I was 16 years old back in North Carolina, and I've been now on national television for over 10 years. Seventeen years, that's a long time, and I think in order for someone to grow it's important that you try new things and you create new challenges, create new dreams for yourself."
TJ is making some big career moves. He's fully involving himself in acting and directing new films. You'll recall, he has a new movie calledThe Perfect Match, coming out at the top of the new year, that he's starring in and directing. Some of the cast includes Lauren London, Cassie, and Rob Riley. He talked about how things are starting to pick up with his acting/directing gig, so he's planning to take full advantage of those new opportunities.
He spilled,
"I took some time off this summer and I produced and I starred in my first feature film, and I'm really excited about it and it's coming out at the top of the year. It's called The Perfect Match. I knew I would have to leave to go on a promo run for that...I've had a lot of opportunities come in in the acting space, both behind the camera and in front of the camera. And so, with all of that said, I wanted to announce today that I'll be leaving E! News."
It's all love though. He's all about growth and there's NOTHING wrong with that. He said,
"I love you guys to the bottom of my heart. I love this crew, I love working with you guys; but it's important I grow and I wanted to leave on my own terms and when I was ready.
Check it:
Aww! We're going to miss his energy on the show.
On Instagram, he thanked his fans for all of their support over the years:
Best wishes Terrence!  We know the best is yet to come!