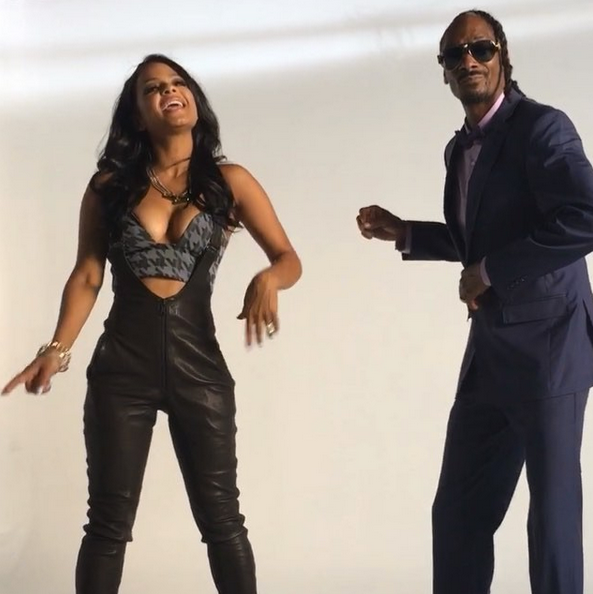 Christina Milian is back with new visuals for her track "Like Me" featuring Snoop Dogg. In other C-Milli news, the R&B singer opened up about being abused in a former relationship where the guy threatened to take her life. Yikes! More inside…
Christina Milian is still on her musical quest with brand new visuals for her track "Like Me," featuring Snoop Dogg. It's a cut from her recently released 4U EP.
In the new video treatment, C-Milli is on her boss girl ish, setting up meetings for her multiple companies and making sure everything is straight at the office. "Bae" calls and that's when all her afternoon meetings get cancelled so she can get up with him for some quality time together. Uncle Snoop drops in looking dapper in a suit to spit his verse. Then, C-Milli changes into a red hot dress and bust some dances moves on a rooftop.
Check it:
In sadder news...
Last night, Christina opened up on her reality show "Christina Milian Turned Up" about being in an abusive relationship with a man who once threatened to kill her. In fact, he pulled out a pun and had it pointed at her face!
No, it's not Lil Wayne, The Dream or Jas Prince (or Dre from Cool & Dre or Nick Cannon) in case you wondering. She said this happened when she was almost 18 and the guy she was dating was 19. She wouldn't reveal his name. They moved in together and that's when he became controlling and abusive.
Getting candid during an interview with a journalist on the show, she said,
"He literally put a bullet in the gun and pointed it at my face. Staring down the barrel of a gun is the scariest thing you could ever experience. There's a chance of life or death in one click, that's it."
Yikes.
In a scene with her mother Carmen Milian, tears soon began to fall from her mother's eyes as well. Her mom said,
"You had bruises and you were covering them up all the time. I remember he instilled that fear in you that if you left him he would hurt us and because of that you stayed in it. But like to the point where you know you almost lost your life."
Finally one day Christina got the courage to leave after he mom sent her a ticket to New York from L.A. She left and never turned back. These days, the "Dip It Low" singer is using her platform to raise awareness as she is apart of a campaign for the app Stop Attack.
Very sad situation when a women is being abused by a man…or abused period. Glad she found the strength to leave before it was too late.
Photos: E!