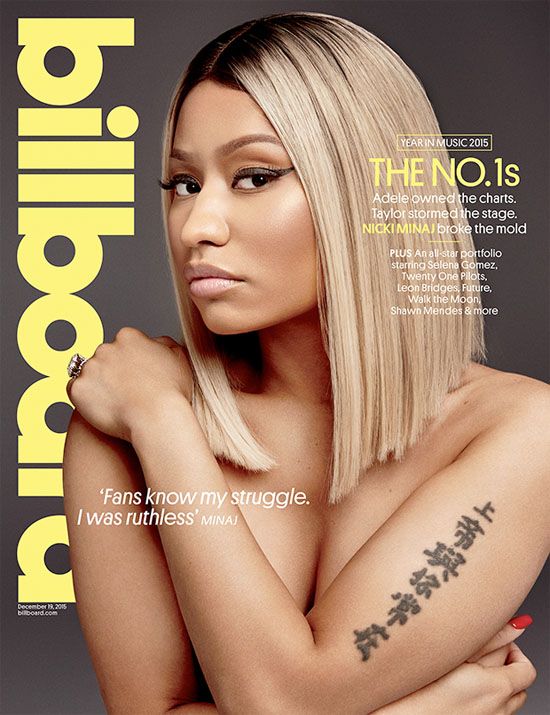 Nicki Minaj opens up about advice she has received from Beyonce and Jay Z, whether she and Meek Mill are engaged and what it's like living in L.A. with her beau in a new interview. Meanwhile, the Philly rapper appeared in court this morning for a possible probation violation. And Nicki was by his side. More inside…
Nicki Minaj is currently living life in the fab lane as far as her music career goes. Chick has been selling out arenas worldwide, she has her own clothing line, her own perfume, she's currently up for three Grammys, she's starring in new films (Barbershop 3 & Ice Age), and she has seemingly found love. It appears she's on cloud nine, outside of the online Twitter spat and Award show beefs with Pop stars.
Most recently, her personal life was shaken up with recent news about her brother being charged for allegedly raping a 12-year-old. And the latest bad news she has received is the possibility of her boyfriend Meek going to jail. We'll get to that later.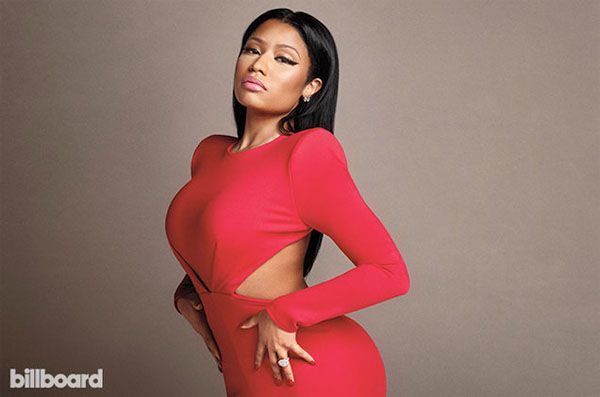 Sitting down with Billboard in her new L.A. mansion that she shares with beau, she opens ups about the good things she has going on. The Grammy Award winning raptress dishes on relationship advice she has received from Hip Hop power couple Beyonce and Jay Z and how their conversations have helped her and Meek's relationship. We're sure Mr. & Mrs. Carter had plenty of tips to share on how to naviagte as a couple in the limelight. And now that Nicki and Meek have taken their relationship to the next level living together, we're sure a whole new world of relationship kinks have to be worked out.
The "Anaconda" raptress also talks about her upcoming ABC sitcom about her childhood, she touches on politics (is she #TeamHilary or #TeamTrump), dabbing back in the mixtape world and more.
Below are the highlights:
You're wearing a diamond on your ring finger.
Yeah. Meek gave me that.
Is it an engagement ring?
He and I are not engaged. But he said he would like to give me three rings before we get married. My birthday's coming up, and he better get the new one, because he got [the first one] for my last birthday. So let's see what happens.
You're in a high-profile relationship. That presents some unique challenges. Is this something you and Meek discuss?
Yeah, we speak about it. We actually spoke with Jay Z and Beyoncé about it, too. After our show at [Brooklyn's] Barclays Center [in October], we had dinner together. They were so giving with advice. I love them so much. It was just a beautiful conversation to have with people we love and we look up to as a couple. They're so strong.
Is there anything you would care to share from that conversation?
I'd rather keep it private. I know Meek -- he understood a couple things that I was explaining to him more when we spoke about it in front of them. We were all laughing so much. It was very late -- you know when you get so tired, and it's just like the giggles portion of the evening?
I don't know what's going to happen with he and I. I just know right now we are really, really enjoying each other's company. So, shout out to everybody in the world that's just trying to find love or be happy. Everybody should have someone to hold at night. It really, really changes your energy. I find that my energy is very different afterward -- if I'm in the bed with him, just hugging him all day. It's just, like, something about love. You transfer it. It's infectious.
Do you miss New York?
I love it [in Los Angeles]. I spoke to Beyoncé about it, because she came out here recently too. She said exactly what I used to say when I first moved here. We just feel happier. She was saying that simple things that would normally feel like a task, they don't [feel that way] out here. She told me it's not bothersome to get up super early and have to take Blue to school, because it looks so beautiful. I'm a New Yorker, but there are times in New York when you wake up and it's, like, a dreary day. I know my London fans can identify with this. When I'm in London or Paris, I think the same thing. Part of the beauty is in the grayness -- but it's an acquired taste.
You've been working on a sitcom for ABC about your childhood. How's that going?
I am maybe too involved. Two days ago I was in casting. I'm going back tomorrow. I found one girl who I'm obsessed with who might play me, and someone who could rival her. So I've been coaching them both. I do a beat, let them rap. I do little dances with them. It has been magical. I didn't even know I had it in me, but I love children so much.
Do you watch Empire?
I remember seeing the first episode and being like, "Oh, my God. I wasn't expecting it to be this real and dope." But I haven't seen it in a while.
What do you think of Hillary Clinton?
I support her as a woman. Am I convinced that she should be the next president? I still want to be open-minded about everyone. Obviously, I identify with her struggles as a woman. I identify with the fact that when she's in that room and there are nothing but men there -- there's sometimes something in her that must feel intimidated. But I think that she uses that and turns it into a strength. Because that's what I've always done. And so I love her for sticking it out. She has gone through horrifying things, even within her marriage. She has been brave and weathered the storm. And continued being a boss. That's something that every woman should feel inspired by, no matter if you're voting for her or not.
You're from New York, so you also must have an opinion on Donald Trump.
(Laughs.) There are points he has made that may not have been so horrible if his approach wasn't so childish. But in terms of entertainment -- I think he's hilarious. I wish they could just film him running for president. That's the ultimate reality show. [The interview was conducted prior to Trump's Dec. 7 comments about halting immigration by Muslims into the United States.]
Have you heard Missy Elliott's new record, "WTF"?
Yeah -- I think it's great. I think she's great.
Speaking of mixtapes, you began your career as a mixtape artist. Do you ever want to just release a mixtape and destroy the game?
I'll definitely drop a mixtape. I have to. I want to touch a couple of beats that I wasn't on. I could have bodied a lot of the records that came out in the last year. But the main thing is, I have to set an example for female rappers. I'm at the top of that food chain, and it's important to lead by example… It's important that you are bigger than your music. Some fans are going to fuck with me for the rest of my life because they know where I came from. Fans know my struggle. How hungry I was. That I was not settling, I was not giving up. I was on everybody's beat. I was ruthless.
Check out her full interview here.
In other Nicki news...
Meek Mill had to appear in a Philadelphia courtroom earlier today for allegedly violating his probation. And he could reportedly be facing JAIL TIME (again). And his boo Nicki Minaj was right by his side:
TMZ reports the Philly rapper is currently on probation for a drug and gun charge back in 2009. As of November 1st of this year, the MMG rapper reportedly was required to obtain a travel voucher to leave the state of Pennsylvania.
While it's unclear where exactly he went that was in violation, it's noted he was in attendance at the American Music Awards in L.A. last month. If he is found to have violated, he could go to jail. That would suck. He just came home from jail around this time last year. 
Meek hopped on Instagram to send a message to his fans before heading to court. He claims he's on probation for something he did when she was 19 (2006, not 2009 like TMZ reported) and that he's currently in a hard fight for his freedom. Check it: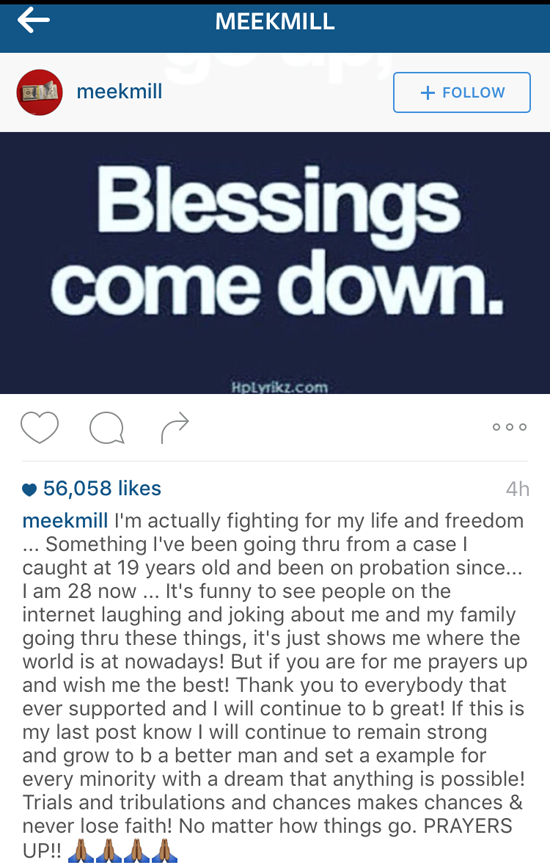 This all comes two days after Nicki celebrated her 33rd birthday and he gifted her a massive new diamond ring.
Photos: Billboard