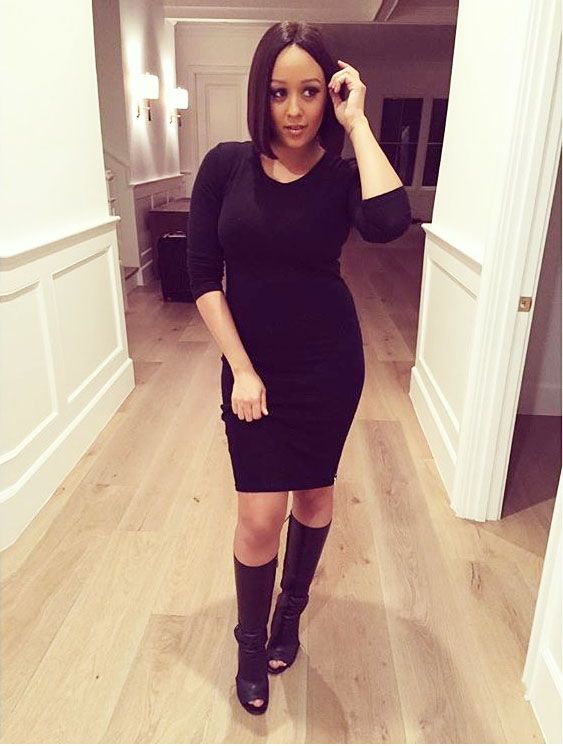 YBF chick Tia Mowry Hardrict wants you to know she's NOT pregnant and that the extra weight is a result from good eating on her cooking show. In other news, Nick Cannon reveals he has yet to meet his ex-wife Mariah Carey's new beau James Packer, but would love to make it happen. Get the deets inside…
For a while now, fans have been speculating whether or not Tia Mowry Hardrict is with child. Ever since her twin sister Tamera Mowry Housley gave birth to her daughter Ariah over the summer and Tia looked like she could possibly have a baby bump, rumors have been circulating that Tia is pregnant. Well, she wants you to know that she's currently NOT pregnant. And she credits an extra 15lb weight gain to good eating on her Cooking Channel cooking show.
Tia already clapped back at online trolls who have been body shaming her on social media.  P.S. Not everyone was body shaming, but some were and that's unfortunate.  Others were genuinely inquisitive since Tia was SO public about her fitness and diet journey and we all saw her fab results.
Last month, we showed you the Instagram post she put up denouncing the pregnancy rumors. And now, she's clapping back once again in a new interview.
While speaking with HuffPost Live, the upcoming "Rosewood" star revealed she has gained about 15lbs as a result of her cooking show and that she's not pregnant with baby #2, she's just living good. She said,
"I am not pregnant. I am just happy. I've gained these extra 10, 15 pounds because of my cooking show."
The former "Sister, Sister" star said she's not focused on her body weight right now and she's happy with herself.  And we love that.
"I'm just enjoying life," she said. "When I want to drop the pounds, I will, but right now I'm happy with who I am," she continued.
She then went on to talk about how it's unfortunate that online trolls continue to body shame her and that it needs to stop. She said,
"But it is a form of body shaming, I will say that, and it's pretty unfortunate. We live in a society that is so obsessed with being perfect. Why can't we just be us? We need to be more supportive with body images, especially with women, showing that all sizes are beautiful. And I'm talking about in magazines, advertisement[s] in regard to what's sexy and what's not sexy. We all need to be a little more supportive of each other. I think if we start there, we'll see a difference."
Peep her interview below:
So there you have it…again. Tia is currently NOT with child.  And chick looks amazing.
In another new interview….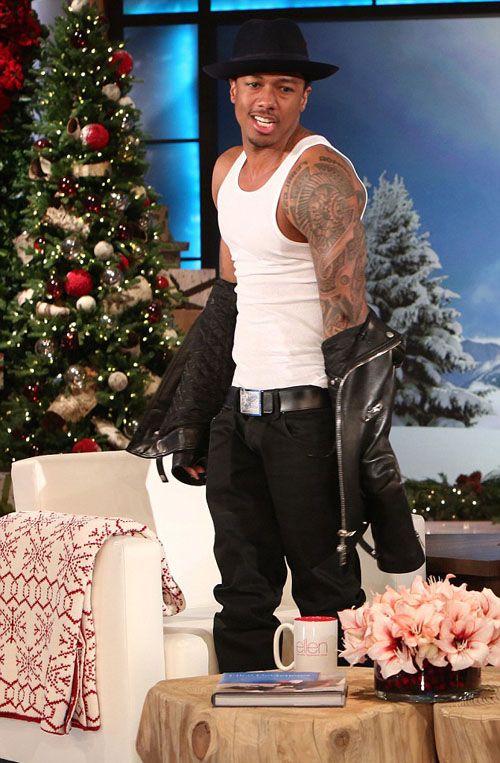 "America's Got Talent" host Nick Cannon appeared on "The Ellen DeGeneres Show" recently on a press run for his new film Chi-raq. While chopping it up with the daytime TV host, he was asked if he had the chance to meet his ex-wife Mariah Carey's new billionaire beau James Packer, in which he revealed he has not.
Although MiMi and James have been hot and heavy since the summer and James has been seen with their twins Monroe and Moroccan, Nick has yet to personally meet him. But, Mr. NCredible said he would love to meet him and thinks it would be cool. He told Ellen,
"I haven't [been able to meet James], but I want to though. I think that would be cool. It's still like, we've all talked about it and stuff. It seems like it's cool."
While he hasn't met James yet, he said everything between him and MiMi is good. He continued,
"We make the kids the number one priority. For them to see their parents together and for everybody to get along and have a great time. It's such a beautiful experience."
The conversation then changed to his own love life. A few days ago, Nick was spotted on a dinner date with Eddie Murphy and Michael Strahan's ex-Nicole Murphy. The two reportedly enjoyed a dinner together and went furniture shopping afterwards over the weekend. While it appears something could possibly be up between the two, Nick told Ellen,
"I'm not ready for that. I'm not. You going to hood me up with somebody, Ellen?"
Following his statement, he then addressed his multiple dates he has been spotted on. He explained,
"I wouldn't say dating. I mean, I have friends and we hang out, but I'm not ready to do anything seriously, especially because I'm really trying to make sure I can establish being in my kids life and working. I'm always so busy, so if I'm not working, they're my number one priority."
Well alright.
Photos: Tia's IG/Michael Rozman via ELLEN