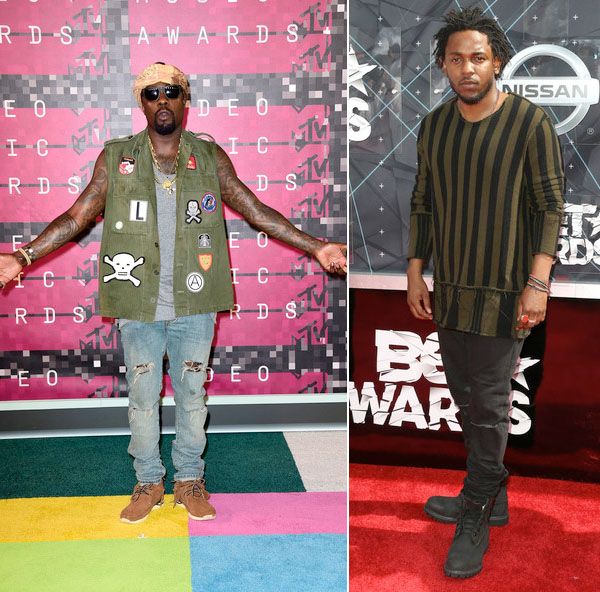 Wale opens up about Kendrick Lamar ignoring his phone calls on Twitter, which started up a social media storm. Find out what he said that had one of K Dot's homies come at him and check out the HILARIOUS video of Erykah Badu fake apologizing to Iggy Azalea inside…
It wouldn't be Wale if he didn't drum up some type of controversy (whether intentional or not) after the announcement of the Grammy nominees.
This time, the DC bred rapper made a comment about west coast rapper Kendrick Lamar, who leads the pack with 11 Grammy nominations this year. A fan suggested Wale and Kendrick should hop on tour together and Wale's response came with a dose of hurt tea. The MMG rapper said he hasn't talked to K-Dot since his last Grammy nomination.
He tweeted: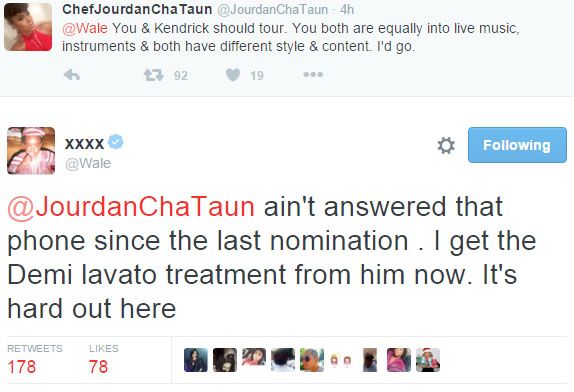 Well a rapper named Jay Rock from Kendrick's TDE camp got wind of Wale's comment and decided to go IN. Peep his tweets (read from the bottom up):
Well damn.
After receiving online backlash, Wale decided to hop in the comments section on The Shade Room's IG account where he cleared up his statement about Kendrick. He said he has no beef with Kendrick and blames "people" for stirring the pot. He wrote,
"I'll step in the room again. Ppl will try to stir the pot.. But that's just the way the "industry" is now. I just said I been able to reach homie for quite some time. But times where people stir the pot its easy to take things negatively. There's no beef. No way I could even bark up that tree.. My business isn't strong enough.. That's like bringing a… Ah nvm u guys get it lol. I got respect for Jay Rock as he felt like maybe I was slighting..But I'm very very upfront when there's… "shade" (see what I did there).. I deliver it priority mail when it's necessary.. I'm sorry to inform, that there is none right now. I know people will stir the pot and I understand Jay Rock's position.. I answered a fan question with an honest answer.. I sure hope there is a place for honesty amongst us moving forward. Sometimes we create pseudo, makeshift enemy's out of being instigated to do such or out of plain old misinterpretation… Hope this clears up some of this."
Well there's that.
In other online "beefs"....
.@kayyci#AskBadupic.twitter.com/vXOKApaEpT

— ErykahBadoula (@fatbellybella) December 7, 2015
Erykah Badu offered up an apology to Iggy Azalea after shading her at the 2015 Soul Train Music Awards. Well, sort of.
A fan on Twitter asked Ms. Badu why she came for Iggy the way she did during an #AskBadu Twitter chat and Erykah served up an epic and quite funny response via video. Check it above.
HA!
By the way, Iggy did respond to Erykah via Twitter and accepted her apology:
@fatbellybellapic.twitter.com/gkDPceHbEv

— IGGY AZALEA (@IGGYAZALEA) December 8, 2015
In other Erykah news, Nas has been tapped to executive produce the neo-soul singer's indie drama "The Land." Not only that, he's also set to produce the film's soundtrack. The new film is expected to debut at the Sundance Film Festival next month. We're here for it!
Photos: Getty