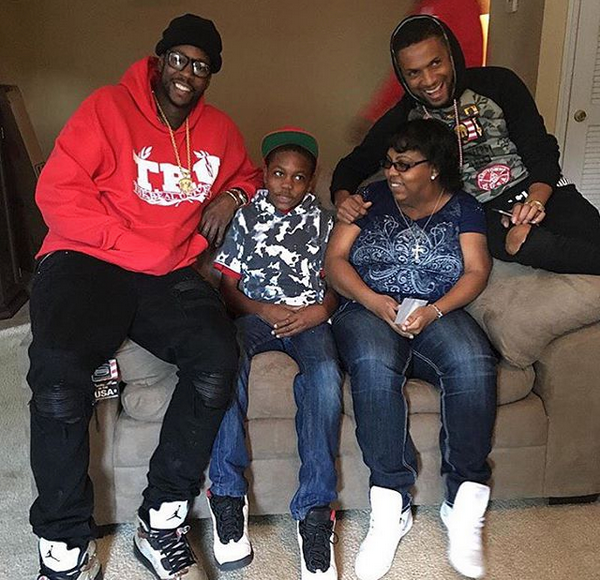 2 Chainz is turning his Dabbin' Santa sweater into a major movement!  Check out how he's giving back to the masses for the Holidays in a MAJOR way, plus J.Cole returns home to North Carolina in new HBO concert trailer...
Have you seen 2 Chainz' Dabbin' Santa sweaters, featuring a Santa doing the now popular dance move?  They're all the rage.  But the "Rich As F**k" rapper isn't stopping there.  He wants to give back to the hood and bless them with some of his riches he's earned over the years, especially with the proceeds earned from the sweaters.
Before he revealed the amazing thing he did for a military vet and her two sons, he reflected on growing up without hot water himself and how he had to smile to keep from crying:
I remember when we didn't have hot water and I didn't want my friends to know , so I told them it was something wrong with that bathroom and they couldn't use my mommas, i remember using the oven to heat the house , I would stand in the kitchen for hours to stay warm . I remember waiting until the water co. Close at 5 ,so we could use a tool and turn the water back on until 6 am , I remember going to sleep hungry , i remember a long ass extension chord coming from the neighbors house to mine to borrow they're lights ,I remember stealing cable , cars , clothes etc, no matter how much pain I endured I smiled on the outside , it was my defense mechanism. I remember
Then, the "We Own It" rapper posted the above pic with a family he decided to pay the rent for to keep them from getting evicted.  The organization, which he heads up, that sells the Dabbin' Santa sweaters helped disabled veteran and single mom Deidre Plater who hasn't been able to find a job for the past year.  2 Chainz and co. bought her and her family new furniture, and also pledged to pay her rent for 1 year.
He revealed:
#DabbinSanta started out as a trendy guy but has grown & become a blessing. Not only did he stop eviction for this lady who served our country and help keep a roof over her sons head but he fully furnished there home!! All of that was made possible by YOU supporting #DabbinSanta Lets keep it going!!! If you know someone in need this holiday please share your stories dabbinsanta@gmail.com
Sweet! 
In other rap news, J.Cole's Homecoming concert that'll be airing on HBO (Jan. 9 at 10 p.m. ET.) now has a preview.  It's part backstage access, part concert and part documentary.  And we're here for it.
King Cole returned home to his hometown in North Carolina during his recent 2014 Forest Hills tour, and now he's taking all the viewers along with him.
Check out the trailer for "J. Cole Forest Hills Drive: Homecoming"below and get ready to see the hometown hero, plus special appearances from friends Jay Z and Drake, at the top of the year:
Photo: 2 Chainz's Instagram