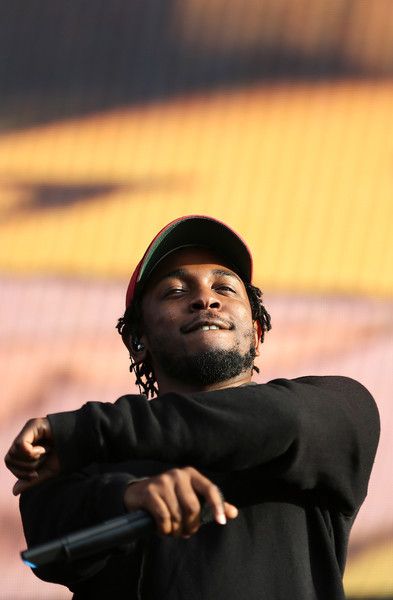 HE'S Gon Be ALRIGHT!  This just in: Kendrick Lamar is leading the pack with 11 Grammy nominations! We've got all the details, plus the YBF folks who also grabbed nods, inside...
The GRAMMY nominations just happened, and rappers are having the best morning ever.
Kendrick Lamar racked up 11 nominations, and even solidified a spot in 2 of the major categories.  His flawless album To Pimp A Butterfly is getting every accolade it deserves.  With songs like "Alright," "The Blacker The Berry," "These Walls," and "The Cost of a Dollar," King Kunta himself had us in our feelings this year.
He apparently had the GRAMMY committee in theirs too.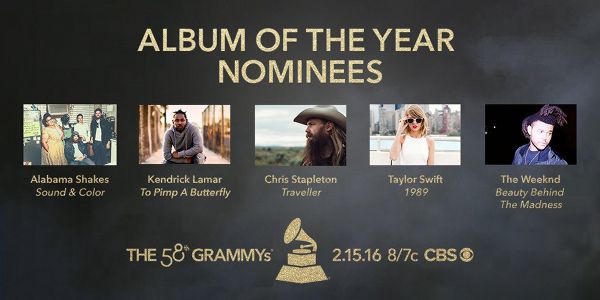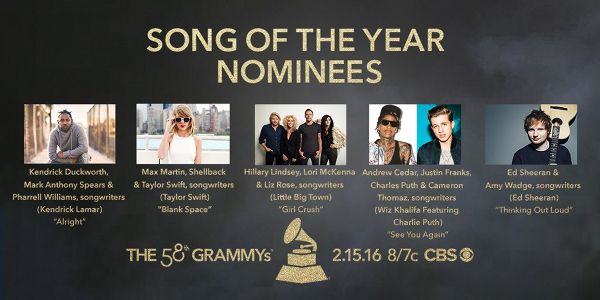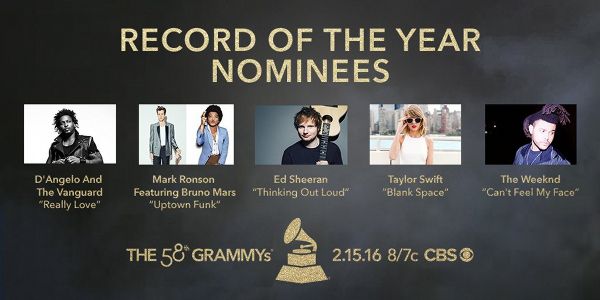 K.Dot's album is nominated for Album of the Year and he will face off against The Weeknd, who nabbed 7 big nominations himself.  Kendrick nabbed a Song of the Year nod for "Alright" where he'll face off against Wiz Khalifa and co. for "See You Again." 
Other nods: Best Pop Duo/Group Performance for Taylor Swift's "Bad Blood," Best Dance Performance for "Never Catch Me" by Flying Lotus, Best Music Video for "Alright" AND "Bad Blood." Whew!
Also, Kendrick will be battling out in one of the toughest categories: Best Rap Album with Drake, Nicki Minaj, Dr. Dre and J.Cole as his opponents.
Speaking of Drake, his diss track "Back To Back" copped a nomination too for Best Rap Performance. Hilar!
The Best Record category just got interesting with D'Angelo ("Really Love") and the Weeknd ("Can't Feel My Face") competing for the statue.  And congrats to Jazmine Sullivan for landing 3 GRAMMY nods!
Other categories we have our eye on:
R&B Song

"Coffee,"  Brook Davis and Miguel Pimentel, songwriters (Miguel)
"Earned It (Fifty Shades of Grey),"  Ahmad Balshe, Stephan Moccio, Jason Quenneville and Abel Tesfaye, songwriters (the Weeknd)
"Let It Burn,"  Kenny B. Edmonds, Jazmine Sullivan and Dwane M. Weir II, songwriters (Jazmine Sullivan)
"Really Love,"  D'Angelo and Kendra Foster, songwriters (D'Angelo and the Vanguard)
"Shame," Warryn Campbell, Tyrese Gibson and DJ Rogers Jr., songwriters (Tyrese)

R&B Album

"Coming Home,"   Leon Bridges
"Black Messiah,"  D'Angelo and the Vanguard
"Cheers to the Fall,"  Andra Day
"Reality Show,"  Jazmine Sullivan
"Forever Charlie,"  Charlie Wilson

Rap/Sung Collaboration

"One Man Can Change the World," Big Sean featuring Kanye West and John Legend
"Glory," Common and John Legend
"Classic Man," Jidenna featuring Roman GianArthur
"These Walls," Kendrick Lamar featuring Bilal, Anna Wise and Thundercat
"Only," Nicki Minaj featuring Drake, Lil Wayne and Chris Brown
A$AP Rocky and Pharrell also nabbed nominations.  Check out the full nomination roundup HERE.
14-time GRAMMY winner Alicia Keys hit up CBS "This Morning" to make the first four nomination announcements.  It's almost like her Skye Townsend character who made the big music award announcements on "Empire" last week. Sometimes life imitates art.
Check it below:
Photos: GRAMMY's Twitter/CBS' Twitter/Getty