Jaden Smith took his talents to Miami Art Basel for a special performance yesterday afternoon. And that's not all he did. Later, he was spotted chopping it with his former rumored love interest Kylie Jenner. Get the deets and check out Zoe Kravitz and SZA's cute Ford Focus commercial inside…
YBF kid Jaden Smith traveled to Miami for Art Basel since it's obviously the place to be this weekend. The art-loving "cool kid" was totally in his element at the festival checking out some dope pieces as he made his rounds. But that's not all he was doing.
The 17-year-old actor/rapper was tapped to perform at the Galore x Complex magazine party held at a mansion on a private island in Biscayne Bay Saturday afternoon. Will and Jada Pinkett Smith's son rocked the stage alongside Harry Hudson, but we hear the crowd wasn't that interested. Yikes!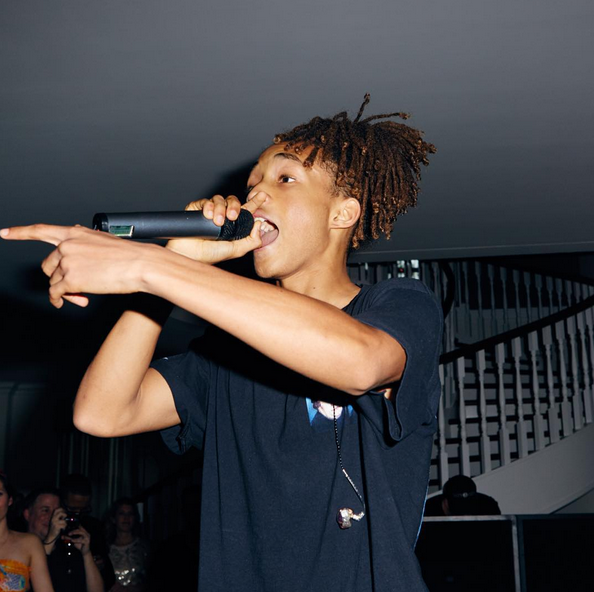 According to Variety, the twosome stopped midway through their performance to recognize people were ignoring their set.
"Talk to me, bro," said Hudson about halfway through their brief performance.

"Yo, talk to me" said Jaden.

"There's people here, a lot of them are not paying attention, you know what I'm saying?" said Hudson.

"Totally," said Smith.
But, that didn't deter them from their performance. They kept rocking out as if they were on stage in front of a sold out arena, closing his set with his dad Will Smith's 1997 hit "Welcome to Miami." Nice.
After the show….
Jaden hit up Mr. Chow and ran into his former rumored love interest Kylie Jenner, who was also in attendance at the Galore/Complex party earlier. Kylie is in Miami with her friends Justine Skye and others while her boyfriend Tyga is in L.A. performing and partying it up. Hmph.
While Jaden's girlfriend Sarah Synder has been spotted with him in Miami (it's unclear if she was actually at Mr. Chow), these two certainly looked chummy as they chopped it up.
Speaking of Tyga...
OK Magazine is reporting T-Raww is gearing up to write a juicy tell-all exposing secrets about her and the Kardashian Klan. They're claiming he's SO broke he wants to write the book to get some coins. We're not exactly sure how true it is, but if he does decide to spill some tea, we'll be sipping.
In a new commercial...
Well this is super cute.
Actress/singer Zoe Kravitz and singer SZA star in a new Ford Focus commercial where the ladies share a hear-to-heart as they cruise around in a 2016 Focus.
The ladies, who appear to have met each other for the first time, start by playing the word association game as an icebreaker. Then the two chop it up about dealing with negativity in the entertainment industry, how having confidence is key and the unification of women. Check it above.
Photos: COMPLEX/@upnup/@queenkyforever