LeBron James opens up about his determination to bring a NBA championship to his hometown in Sports Illustrated. Meanwhile, Kobe Bryant is dishing on his revelation that kicked off the end of his NBA era. Get it all inside….
LeBron James has come very close to bringing home an NBA championship to his home state, but unfortunately has fallen short. His drive and determination to bring the crown to Cleveland, though, is stronger than ever.
The 30-year-old (who celebrates a birthday at the end of the month) two-time NBA champion is handsomely gracing the cover of Sports Illustrated magazine's newest cover.  New mustache and all.
Inside, the NBA baller gives an in-depth interview about how he plans to bring home a championship now that he's returned to the Cleveland Cavaliers after playing for the Miami Heat for four years. Y'all know how much ish he went through when he decided to leave Cleveland, but now, he's trying to finish what he started with his home team.
King James has already logged more minutes in his career than Magic Johnson or Larry Bird, but instead of pacing himself, he is pushing to get that NBA title. He almost brought it home for the 2014-2015 season, but the Golden State Warriors proved to be the better team. In the cover story, he spills it all about his championship obsession:
"Coming back has been everything I thought," he says, 16 months later, "only a lot harder. I can't tell you it's been comfortable. But that's O.K. I don't really like to be comfortable."
While he said coming back to play in Cleveland has been uncomfortable, the city still shows him mad love. The proud husband and father of three explained,
"There is a comfort and a shadow and a protection here. This city protects me and my family. I can't explain it, but when I was a kid and I'd walk the streets or be out late or play on outdoor courts, I felt like people were watching me and thinking, Let's protect him. I could feel that. I still feel it."
Well, it's nice to hear the fans are embracing him again, especially after how they (and owner Dan Gilbert) turned on him when he decided to leave for the Heat. It was horrid and we're actually surprised he decided to return.
All of that is behind him now. King James said he has put in the work during the off-season and is now ready to bring home an NBA title for himself, his teammates and his city. You can read his full in-depth interview here.
In other NBA news....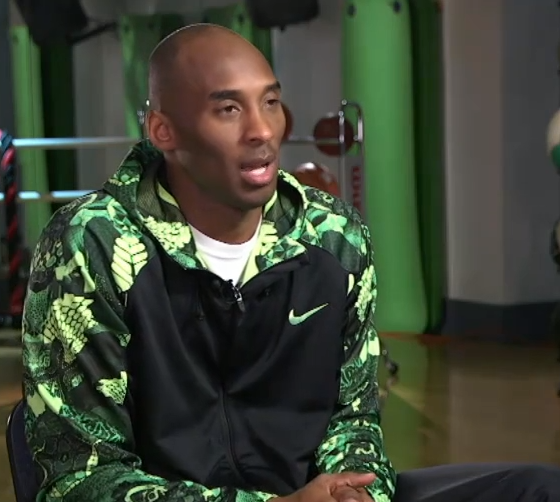 Legendary L.A. Laker Kobe Bryant shocked the world on Sunday when he announced he would be retiring from the NBA after nearly 20 years in the game. 20 years with the same team to be exact. But all good things must come to an end. Kobe is revealing how he came to the revelation that it's time to throw deuces to the game he's loved.
During an interview with "Good Morning America" host Robin Roberts, the 37-year-old NBA baller, arguably one of the BEST to ever do it, explains how it was a slow process coming to his final decision.
"You know, going through my entire career, I've never really understood what athletes meant when they said, 'You -- when you know you know.' But now I certainly understand it ... So once I knew this was it, might as well say it," he said.
He added, "It was something that kind of evolved over the last three years, you know, with the Achilles injury, that really frightened me. Because you know, it was like, 'My career could be over now.' It scared me. 'What am I going do next?' sort of thing. So I took that time to start trying to figure that out," he said, referring to his 2013 injury that left him unable to play for close to nine months. And it was just like, 'Oh my,' this is one thing after the next, you know? And so it was kind of a slow three-year process of kind of evolving to get to where I am."
He then revealed the moment he came to the conclusion.
"I try to have at least 15 minutes of still time and just kind of sit in my thoughts in the morning and just kind of meditate. And normally what happens with me is my mind would always drift to the game. Always," he said in reply to Roberts' question during the Tuesday interview.

"And then I found myself sitting there. My mind wouldn't drift towards the game all the time anymore. And that's when I started realizing, 'You know what? It's getting close. It's getting close.' Because now I'm not obsessively thinking about the game anymore. It's not wired into my subconscious the way it used to be."
Oh, and he gave his Top 5 (he said he would never include himself): Jordan, Magic, Bird, Olajuwon & West.
Check out his full interview here.
Sucks to see him leave, but happy he's content with his decision and can leave behind a stand-up legacy.
Photos: SI/ABC Screenshot