Well, it looks like Chris Brown won't be performing in Australia after all. Get the deets and find out why Kid Cudi cancelled his new tour inside….
It looks like Chris Brown's past continues to haunt him.
The R&B crooner is being forced to cancel some upcoming shows he had scheduled to perform in Australia and New Zealand for his "One Hell Of A Nite" tour. The reason? His entry Visa was DENIED reportedly due to his domestic violence conviction against his former girlfriend Rihanna.
Entertainment ticketing company Ticketek Australia released a statement yesterday via the concert promoter to officially announce the cancellation. The statement didn't specify the reason his Visa was denied, but it cofirmed the "Loyal" singer will not be performing there as planned. The statement reads:
UPDATE: Chris Brown: December Shows Cancelled

Statement from Chris Brown's Promoter: Chris Brown's December 2015 tour in both Australia and New Zealand will not take place.

The shows scheduled at Perth Arena on 9 December, Rod Laver Arena on 12 December, Allphones Arena on 14 December and Brisbane Entertainment Centre on 16 December are cancelled.

Mr Brown and the promoters both remain positive that the tour will take place in the near future.

Mr Brown wishes to express his deepest gratitude to the fans for their support and looks forward to a successful tour in the near future.
Luckily, fans who purchased tickets will be refunded in full.
It's interesting to note, back when rumors first started circulating that Breezy was banned from Australia, his manager Mike G said the 26-year-old star had visited the country TWICE since his conviction for assaulting Rihanna.  Visits and doing business there are two different things apparently.   Hmph. Breezy even offered to speak to children in Australia about domestic violence, but apparently that wasn't enough.
And there's more bad news for Breezy...
It's being reported the "Fine With Me" singer was scheduled to appear on "The Daily Show with Trevor Noah," but it was abruptly cancelled last night. Nick Cannon was then scheduled to appear instead.
According to The Daily Beast, some of the Comedy Central show's staff were uncomfortable with Breezy appearing on the program, but Trevor allegedly welcomed Breezy on the show to bring light to domestic violence issues. Later, a Comedy Central spokeswoman released a statement about Breezy's appearance, saying guest bookings are always subject to change and that "the show hopes to reschedule Chris for a future appearance."
These are the issues one must deal with, even beyond jail time, when committing felonious acts.  Hopefully Chris still stays on the "positive road" he's been on lately.
In other cancelled concerts....
Rapper/actor Kid Cudi announced he's cancelling his "Especial" tour to deal with some personal issues and production problems. His new tour kicked off November 30th in Denver, CO and he was set to hit the stage tonight in Madison, WI, but Cudi fans will not be seeing him for Christmas this year.
In a Twitter post, he said he just has too much going on in his personal life right now to give the type of show he feels his fans deserves. He also said there were a few production issues that needed to be worked out.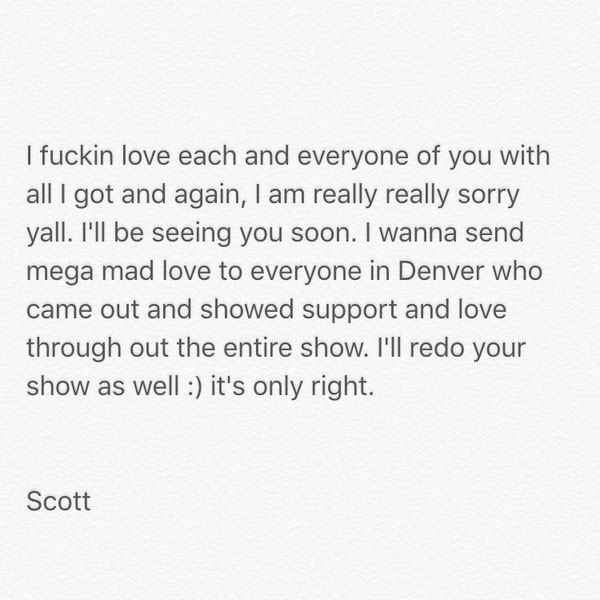 Kudos to him for knowing his limits and taking time to deal with issues.
Despite the cancellation of the tour, Cudi did release some new music.  It's the title track to his upcoming album Speedin' Bullet 2 Heaven. The new LP is expected to drop on December 18th, but you can download the digital format on Friday, December 4th. Take a listen to his new track below:
Photos: CB's IG/Getty