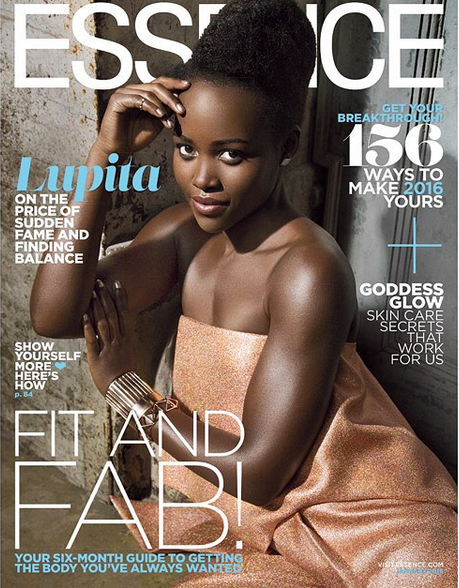 With the body of a fitness goddess and the face of a doll, Lupita Nyong'o is one of the most fab chicks in the game.  Now, she's covering the January 2016 issue of Essence magazine while revealing how she almost lost herself in her whirlwind fame.
With her Eclipsed production headed to Broadway soon and several huge box office films on deck, the gorgeous Lupita's been a busy gal.
The Star Wars actress is on full-on promo mode, and she's revealing a side we have yet to see.
The Oscar winner tells Essence magazine about not feeling as confident as we would think she is saying:
"…The stage of self-doubt is never eliminated. It's work. It doesn't come naturally or easily because I have a golden statue sitting on my shelf…"
Life seems to have swept Lupita into a dizzying swirl of fame. She became an "overnight" style and beauty icon covering every magazine there is as well as landing an epic Lancome deal.  Plus, she filmed three movies including Star Wars: The Force Awakens.
In the issue, Lupita talks about how all that busyness came at an emotional price saying:
"After 12 Years a Slave and the quote-unquote meteoric rise, I felt like there was a moment where I was suffering from whiplash. I had talked so much about who I was that I'd forgotten who I was," she says.
As for the upcoming Broadway production of Eclipsed, which is set during the Liberian civil war and centers around five women who are heavily impacted by the ordeal, she says:
"I didn't grow up seeing African women onstage very often, much less African women in African stories. I was in love with the world Danai [Gurira] created."
This issue hits stands this Friday.