We've rounded up a few highlights from the 2015 Soul Train Music Awards that we know you'll enjoy. Come inside to see the fabulous Jill Scott accept the Lady of Soul Award, the Soul Cyber flows and Babyface's epic tribute inside…
If you're an R&B/Soul head, the 2015 Soul Train Music Awards definitely put you a good space with its throwback hits/tributes, host Erykah Badu's funny and funky energy and just seeing some of your all-time favorite performers. It was definitely one for the books.
This year's woman of the hour was Jill Scott as she was praised for her contributions to the R&B/Neo-soul world. Ms. Jilly from Philly was presented with the first-ever Lady of Soul Award and she also nabbed the Best R&B/Soul Female Artist Award.
Before she accepted the award, a beautiful presentation that chronicled her musical career was shared from industry's top executives and artists such as Whoopi Goldberg, Usher and more where they talked about Jill's energy, creativity, exceptional talent and inspiration. Check it: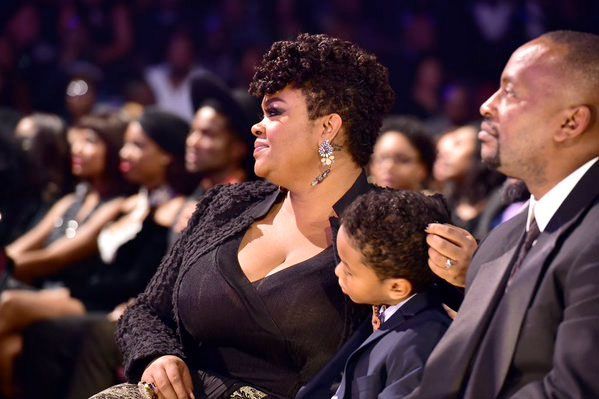 The WOMAN songstress was then introduced by actress Regina Hall. Jill's 6-year-old ridiculously cute son Jett accompanied his mom as she took the stage to accept her award.
In true Jilly from Philly style, she dropped a few gems saying,
"I didn't want to be sexy for anybody. I swear I didn't, but I did want to write some sexy stff. Why does it matter what I look like? As long as I tell my story and you relate to it and you laugh with it, and you live with it. That's what you've been doing and I appreciate the respect. Thank you for treating me with respect because I earned it. And I like it. Thank you so much."
Check it below:
Did we mention how AMAZING she looked? Sheesh!
Following the acceptance of her award, the soulful songstress serenaded the audience with her classic tracks "Back Together," "Long Walk," "It's Love," "Golden," "Cross My Mind," and "Whatever."
Peep a few clips below:
Another highlight of the evening....
Host Erykah Badu hits the 1s & 2s for an amazing Soul Cypher featuring vocals from Chrisette Michele, K-Ci and the legeandary Eddie Levert. Now THIS is a cypher worth hearing. Take a listen below:
And then THIS happened...
We were blessed with an epic performance of some of Kenneth "Babyface" Edmonds' greatest hits performed by some of the actual artists he wrote the tunes for. Honoree Babyface was awarded the Legend Award for his amazing contribution to the R&B/Soul world.
First, Tevin Campbell hit the stage to serenade the audience with "Can We Talk," followed by Brandy busting some of her moves for "Sittin Up In My Room." Fantasia then took center stage to perform Whitney Houston's "Exhale (Shoop Shoop) and Karyn White's "Superwoman." (SIDENOTE: We've got the scoop on why Karyn didn't perform her track. You can get those deets HERE).
As a surprise, Bobby Brown then hit the stage to perform "Roni." We couldn't help but notice how it appeared he was struggling to get through his set. But, he later revealed during the after show he had lost his voice earlier in the day. After Bobby, Boyz II Men came to set the mood right with their performances of "I'll Make Love To You" & "End Of The Road." Closing the 16-minute tribute, Babyface hit the stage to perform (and dance) his hit single "Whip Appeal."
Get into it above.
Photos: Getty/BET