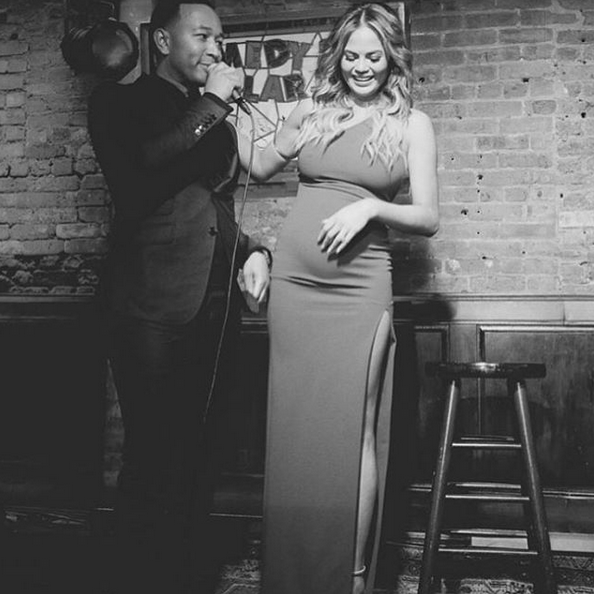 John Legend serenaded his wife and soon-to-be mother of his child Chrissy Teigen on stage over the weekend. Peep their cutesy photos displaying Chrissy's growing baby bump and take a listen to John's newest holiday track inside….
Such a loving husband that John Legend is.
Over the weekend, John Legend took his wife and soon-to-be mother of his first child Chrissy Teigen out for some pre-birthday festivities.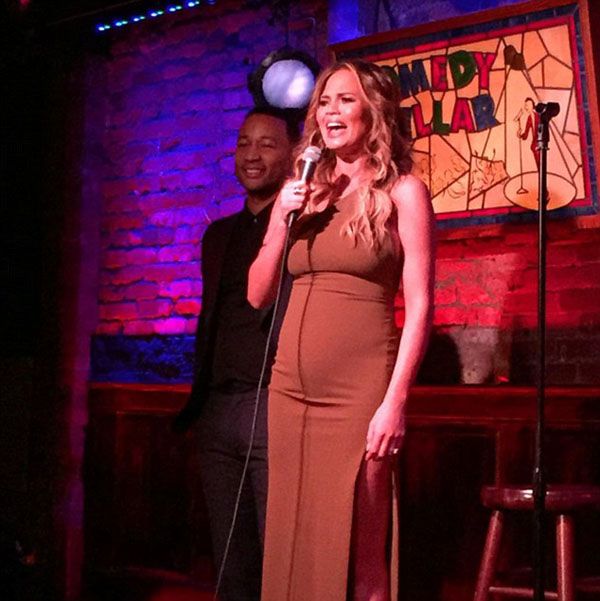 While the "FABLife" co-host doesn't officially turn 30 until today, the couple went out to party it up a little early with friends at a surprise birthday bash held at the Comedy Cellar in NYC on Saturday.
Chrissy, John and guests feasted on a special menu from Momofuku, which included dishes like tuna tataki, pork and brisket buns, chilled spicy noodles and Korean fried chicken wings. Yum.  Chrissy's a total foodie so we're sure she was in heaven.
The "All Of Me" singer hopped on stage to wish his wife a very special birthday and then began singing "Happy Birthday" to the birthday girl:
He then called his lady up on stage to show off her growing baby bump:
Cute.
Then, funnyman Dave Chappelle took the stage to bring the laughs. Here's a little clip:
Happy Birthday Chrissy!
In new music....
John Legend is getting us in the holiday spirit with a new track. The Grammy Award winning singer has teamed up with beer brewery Stella Artois for the brand's "Give Beautifully" holiday campaign, which includes a new song by Legend titled "Under the Stars." The song is special as it features actual sounds from real stars in the sky.
The original holiday song, written and performed by the Oscar winner, was created to pay homage to the brand's name, "Stella," which directly translates to "star." Sweet. Take a listen above.
Below is a behind-the-scenes look at John creating the track:
Photos: DJ D Nice's IG/Instagram