It's that time of year again! YBF celebs are giving back to the community before they feast on Thanksgiving dinner with their families. Peep pics of T.I., Fabolous, Sevyn Streeter, Niecy Nash, Miguel and more inside….
Thanksgiving is right around the corner. And on the eve before the day we give thanks for everything we're grateful for, a few YBF celebs took time out of their busy schedules to give back to community.
Today in Atlanta...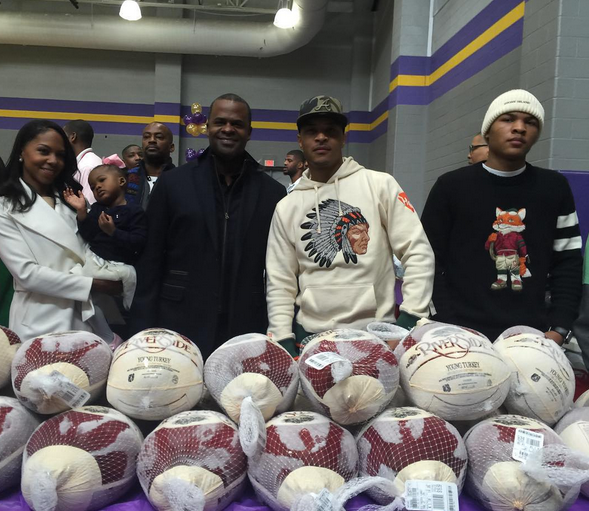 Rapper/actor T.I. hosted his 12th annual Hustle Gang Holiday event where he and his crew gave out turkeys to those less fortunate. Atlanta Mayor Kasim Reed joined forces with the Kang of the South to give back to the community.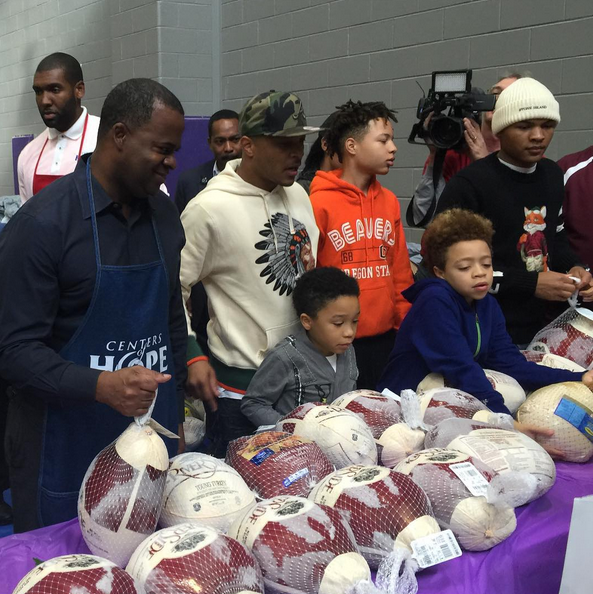 When you're a father of six (and one possibly on the way), you must train up a child in the way he/she should go. So, Tip brought his boys along to help hand out the turkeys. He said on Instagram, "Start em young... Make em Solid!!! To live above average is to accept the responsibility of giving back to those who live below average. Been blessed to be able to do so for 12yrs... #GodisGreat #FamilyHustle #HustleGangOverErrrthang" Nice!
Another rapper giving back...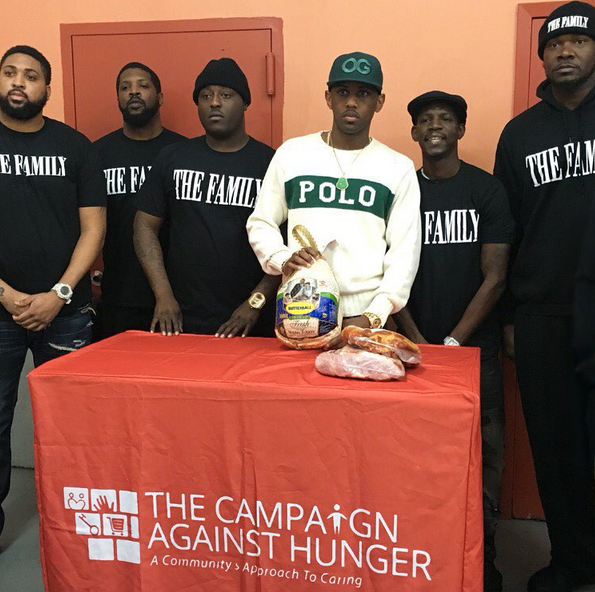 Fabolous returned to his hometown of Bedford Styvesant, Brooklyn to give back to the community. He linked up with the Bed Stuy Campaign Against Hunger Pantry to pass out turkeys to those in need today.
He captioned on IG, "Thank You @bscahnyc for having us be apart of the Bed Stuy Campaign Against Hunger Pantry. No better feeling than giving back to those in your own neighborhood & helping families enjoy their holiday. #HappyThanksgiving #BedStuyCampaignAgainstHunger #TheFamily #RocGiving"
Rather than pass out cold turkeys, "Scream Queens" star Niecy Nash helped pass out hot meals in L.A. today. She teamed up with a few of her fellow actor friends to hand out food at the LA Mission to the homeless on Skid Row.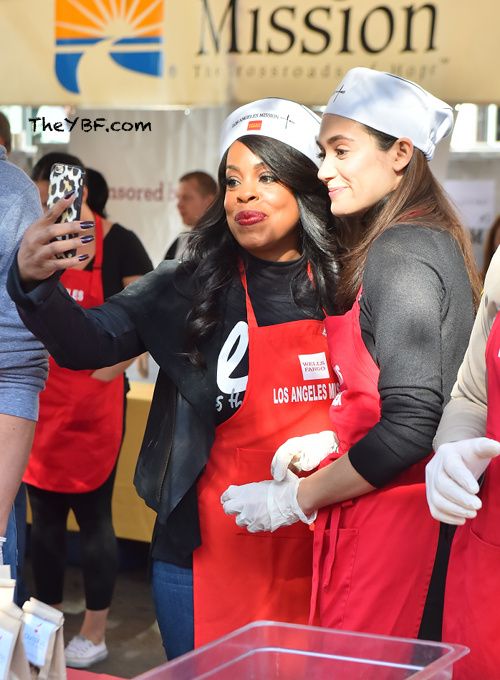 Photogs caught Niecy snapping a selfie with "Shameless" star Emmy Rossum.
Back down south....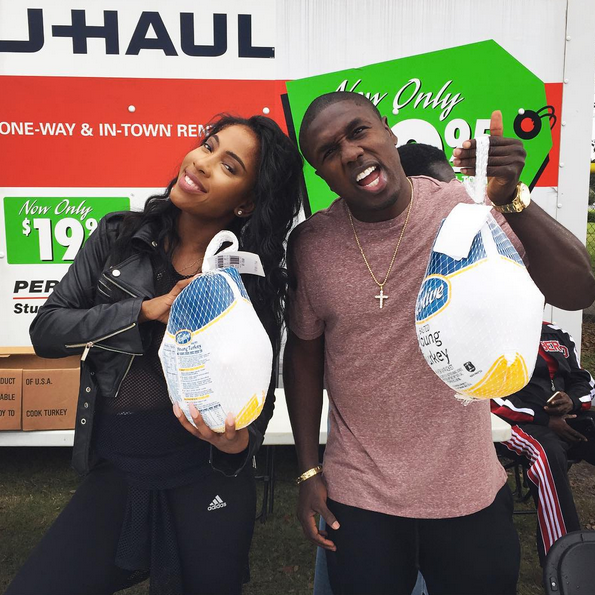 Fresh from her 7-city tour, R&B singer Sevyn Streeter traveled to her hometown of Polk County, Florida to hand out 200 turkeys to people in need. She teamed up with professional boxer Andre Berto, who recently fought against Floyd Mayweather, to spread good cheer to the folks in their hometown.
After passing out food...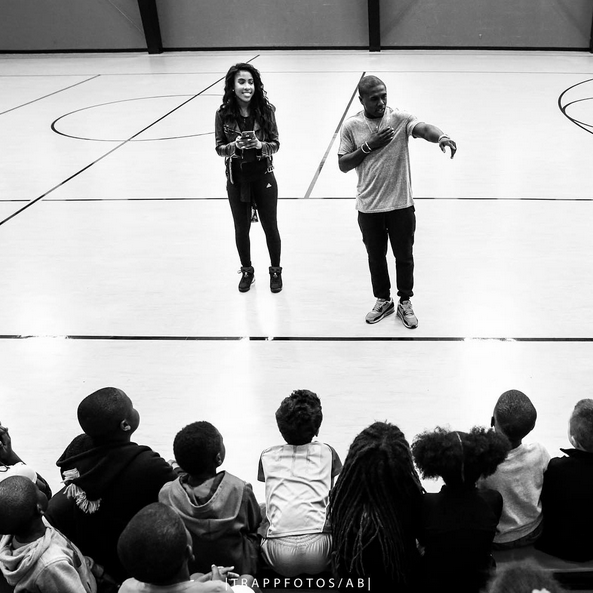 The twosome then spoke some inspirational words to a few kiddies. Awesome.
Back in L.A....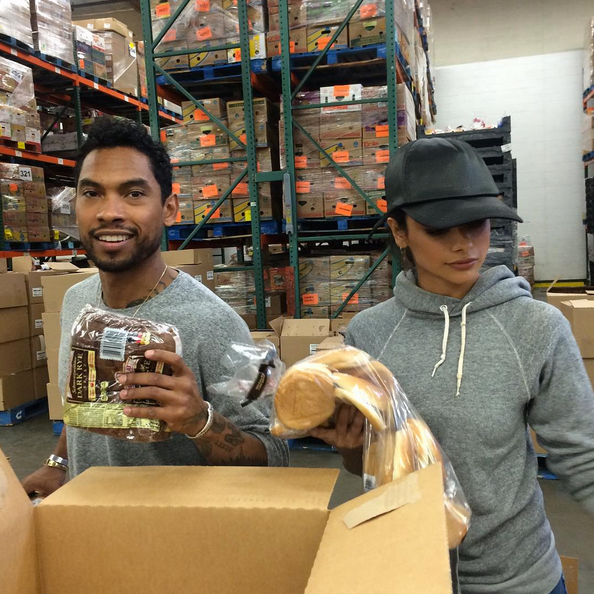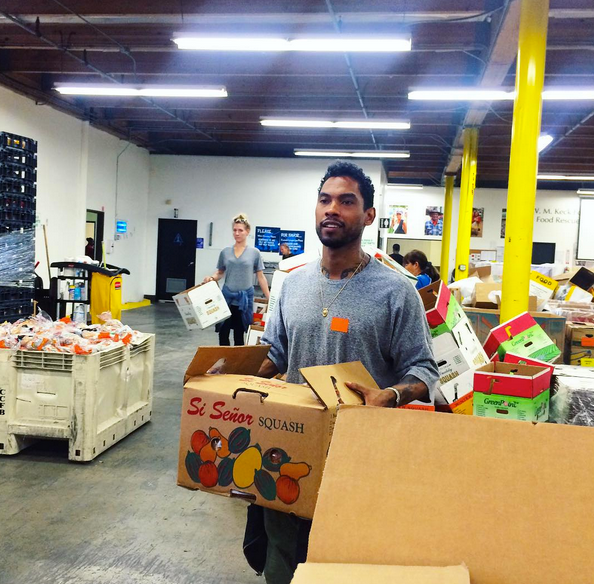 R&B crooner Miguel and his longtime girlfriend Nazanin Mandi got to work boxing up food for the Los Angeles Regional Food Bank.
On Instagram, Miguel shared a startling fact about starvation saying, "Did you know that 1 in 6 in Los Angeles go hungry everyday? There's so much that needs to be done man, happy we could help a little w @lafoodbank. They're one of the top 3 in the country ensuring 97 cents of every dollar actually goes to feeding those in need here in LA! @nazaninmandi @torrishack"
And in case you missed:
Over the weekend, rapper Fetty Wap took his daughter on a shopping spree in his hometown of Patterson, New Jersey. Apparently, Fetty was so overjoyed to spend time with his baby girl that he decided to throw $2,000 over a balcony at the Garden State Plaza Mall. On Twitter he tweeted:
Got to see my daughter today , took her shoppin and I was so happy I threw 2k in the mall never no who needed it #Wap

— FettyWap1738 (@fettywap) November 22, 2015
Yes, he literally made it rain in the mall and, of course, fans went into a frenzy trying to catch those dollars flying from the sky.Check it above and below.
Gotta love it. 
Photos: Splash/ T.I.'s IG/Fab's IG/Miguel's IG/ Nazanin's IG/@trapphotos/@torrishack