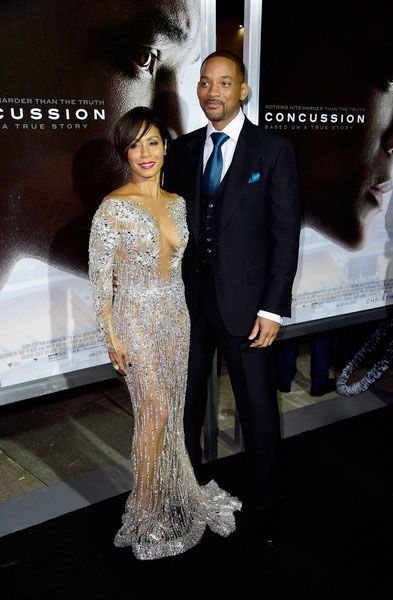 If you're going to take marriage advice from someone, you may as well take it from someone who has been in the game for at 20 years (and counting). Will Smith reveals the secret on how he and his wife Jada Pinkett Smith have beat the odds and have shared two decades of marital bliss. Find out what he said inside….
When it comes to Hollywood marriages, we know long lasting ones come very far and few between. But, one YBF couple seems to have figured out the "secret" on how to keep it tight and now they're dishing the deets. So listen up.
Will Smith, who's gearing up to star in the new NFL flick Concussion, chopped it up with Entertainment Tonight at the premiere (Get those pics HERE!) about what it takes to have a successful and loving marriage, especially one in the limelight. He spilled,
"We've been married 20 years and we've been asking ourselves [what's the secret to marriage] and really at the end of the day it's just not quitting."
Will and Jada started dating in 1995 and then tied the knot two years later. They share two children together, Jaden and Willow, and a son Trey, whom Will had from a previous relationship.
The YBF couple not only went through their own issues behind closed doors, but they also had to endure divorce rumors that would pop up what seems like at LEAST 3-4 times a year. Just like any other relationship, you have to put in the work to make it work and never give up. He continued,
"You can't expect it to be easy, it's like our marriage was the most difficult, grueling, excruciating thing that we have ever taken on in our lives. And you know were just not quitters. If there is a secret I would say is that we never went into working in our relationship. We only ever worked on ourselves individually, and then presented ourselves to one another better than we were previously."
Take notes people! Will is dropping martial gems. We wish Will and Jada nothing but the best, and here's to 20+ years for them.
Concussion hits theaters Christmas Day.
Photo: Getty