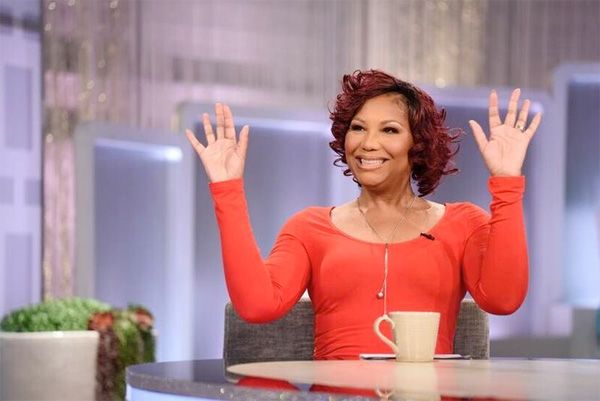 Traci Braxton and Amber Rose make appearances on the talk show circuit shutting down rumors and dishing saucy secrets. More inside…
All families fight. But, when you're entire family is in the spotlight things are quickly blown out of proportion over something that started off so small.
We've seen the Braxton Sisters bicker and fight on their reality show before. So we're not exactly sure why these recent rumors of the sisters feuding come as a surprise. If you watch the show, you can tell they all genuinely love each other.  Do they always LIKE each other?  Maybe not.
Traci Braxton, stepping in to co-host for her sister Tamar Braxton while she recovers, sets the record straight on "The Real" today. Co-host Loni Love gets right to it asking Traci to address the feuding rumors in which she said:
Look, we're sisters. We love each other. Just like you guys, y'all are sisters, y'all love each other. And y'all are gonna bicker; you're gonna bicker all the time. Who wants to get along all the time? 'Cause I really don't. I do not have time for all of that. I'm going to tell you how I feel, but don't get it twisted – we've got each other's backs no matter what, no matter what.
Sisters fight all the time.  And if you try to come for any of the Braxton Sisters, they've all got each other's backs. Traci continued:
"I'll pin your tail, right in the corner. What did you say about my sister? You don't like her shoes? Oh! [Gives the side eye.] But yeah…"
Traci then wished her baby sister a speedy recovery saying:
"Thank you. I love her so much. I want her to have a speedy recovery. I love my sister, that's my baby sister. She's my heart. She's… she's a limb on my body. If something… if one of my limbs is missing, I don't know what I would do."
Aww...
Check it:
Also on television...
Following this year's AMA's, Amber Rose was a guest on E!'s "Fashion Police" where she sat alongside the show's co-host to dissect each celebrity's red carpet ensembles.
During one segment, Amber and co. played a game of "Spit It Out" where they have five seconds to draw their first impressions upon seeing a celeb's red carpet look. When it came time to critique singer Harry Styles' AMA ensemble, the blonde bombshell drew a picture of a water bottle explaining, "I drew a water bottle because he gets me so wet. Super hot, love him."
Oh? Amber obviously "aint got no type."
Check the video above.
Photos: Erica Parise /Warner Bros. Television