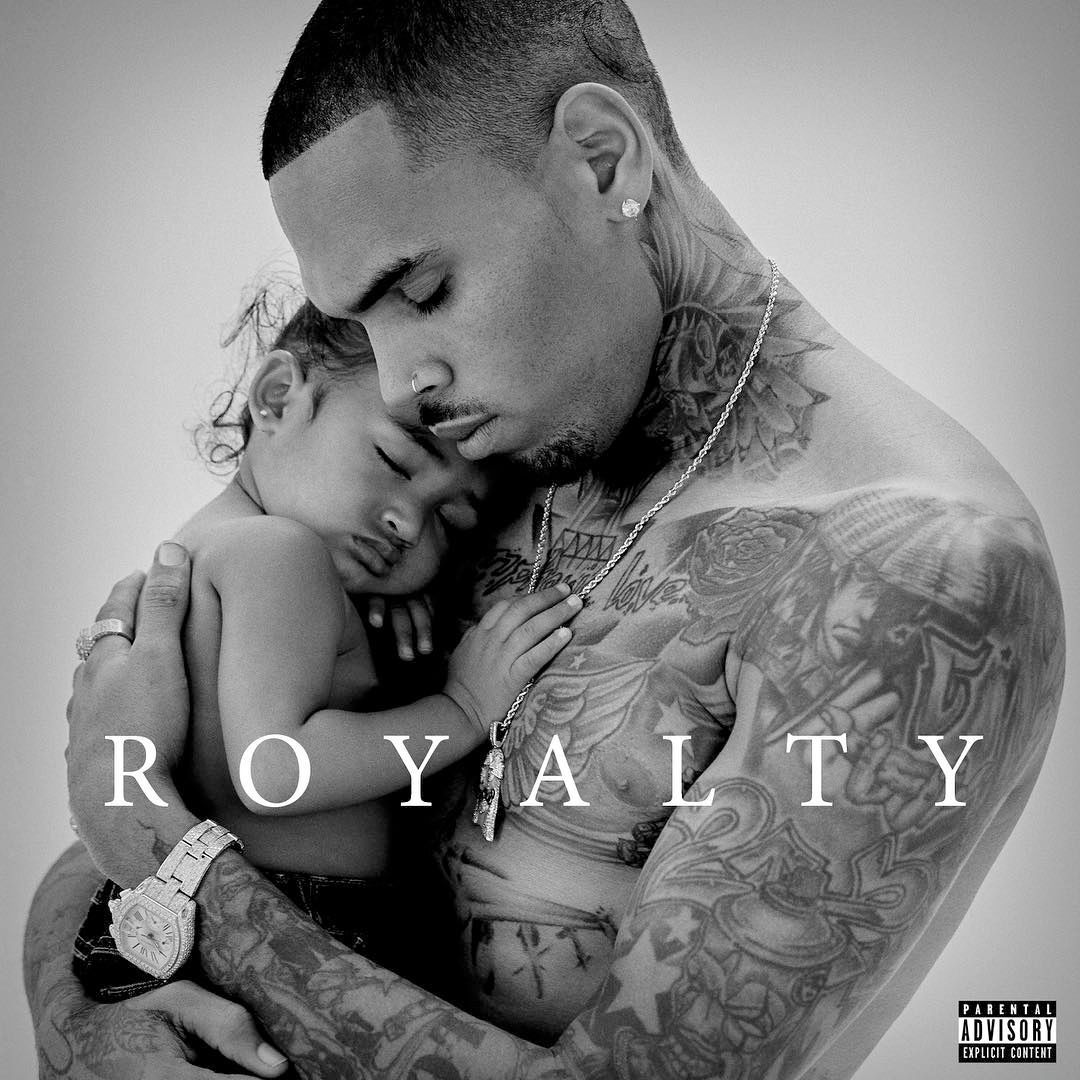 Chris Brown opens up in a candid interview where he apologizes to his ex-girlfriends Rihanna and Karrueche, he talks about dealing with his own insecurities, how he felt when he first found out he is a dad and his upcoming Royalty being one of best bodies of work. Get the highlights inside…
Chris Brown is back on his grown man ish. And much of it can be credited to his baby girl Royalty.
The R&B crooner dropped in on HOT 97's radio personality Nessa to promote his upcoming seventh studio album, affectionately titled Royalty. It's expected to drop right before Christmas on December 18th, but fans can pre-order the album this Black Friday (11/27).
While talking about his album, he said he didn't ask too many artists for features because this body of work defines him as a man and is a representation of his growth.
During the chat, he revealed he and his baby's mother Nia Guzman are on good terms right now after a very public custody battle. He shed a little light on their relationship saying he and Nia never had a relationship, they never even dated, it just happened. [We kind of figured that]. So now, they're just doing the best they can to raise their daughter.
Breezy also publicly apologized to his ex-girlfriend Karrueche Tran after she said her relationship with him is "hindering her career." CB also opened up about dealing with his own insecurities, how he has matured as a man, the nasty custody battle with Royalty's mom and more.
Below are the highlights:
On his first reaction after finding out he is a dad:
"You know how you're on a roller coaster right? And it's about to go down and you're like 'MANNN!' It was that at first. Then I got the chance to sit with myself and pray. Then I got to see my daughter and I was like I love it. I'm cool. I'm not going to be that statistic. I'll be the dad."
On dealing with his own insecurities:
"The interview with me and Tyga [where they went in on Drake & Amber Rose] it was based around my insecurities. Yeah, I was trying to have his back as his boy, but I had to find the underlining meaning and it was insecurity. Everybody has it. For me, I was insecure about what people thought about me, how my peers treated me. I had to find a sense of calm. None of that matters. We doubt ourselves as humans and that's only based on our fear. With me, I had to stop focusing on bullsh*t and let me focus on what I'm great at and not dime anyone else's light around me."
On getting over his insecurities:
"I've made peace with my past. I've made peace with who I am as a person. I actually like me right now. I don't have a doubt in my mind of my capabilities or my purpose to be on this earth. I think I'm supposed to have that. It's supposed to be a negative with a positive."
On Karrueche blaming her relationship with him having a negative affect on her career:
"If anything that I've done with anybody, I make my mistakes and I'm totally in acceptance for any wrongs that I've done. I can only wish for the best for that person and whoever lives I've messed up. I can only apologize if that's how they feel. More blessings and much success to them."
On Rihanna saying she stayed with him to "save" him:
"It's life. Everybody has to go through certain situations. Where I'm at in my life it doesn't consist of me being negative or speaking on certain people. I'm just focused on me and wish everyone else the best."
On the custody battle between his baby mama Nia Guzman:
"It was just me being able to be in my daughter's life. I think a lot of times young black men, we don't accept our responsibility because we're too scared, we're too young, whatever it is. I just wanted to show people in any situation God gives you certain things to either deal with or run away from. I feel like dealing with it shows more character. It shows your growth as a man."
On if he's scared Royalty will date a man like him:
"Yea. Absolutely. I'm going to always have my concerns."
On being in a space of forgiveness:
"At one point I was just mad and insecure. I don't know what other people's motives are, but I know a lot of where it can come from. You can hate somebody because you might be afraid. Not saying you're afraid of that person, but afraid of solidifying who you are and what you have to do. People lose focus why they're really upset with a situation. People are envious of me just like I could be envious of someone else."
On being in a relationship right now:
"I'm more of a singer/R&B kind of guy, so in those words, of course. I think everyone wants to be loved and appreciated. But, sometimes you have seasons that stop you and then bring you back to reality because you might not appreciate it as much. It's hard to just bring random girls around my daughter. I think the person I will find will have to understand me and I will have to understand them. I'm just letting things happen right now. If it happens, it happens. If it doesn't, it doesn't."
Well good for him.
Check it:
And the inspirational Breezy doesn't stop there. Yesterday, he was busy passing on good vibes via his Twitter account. Peep his tweets (read from the bottom up):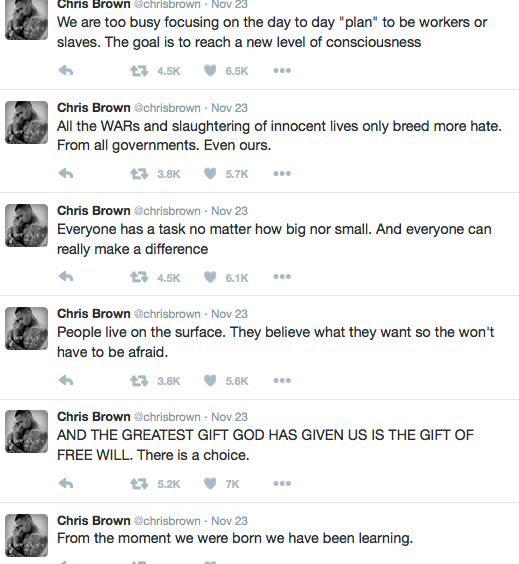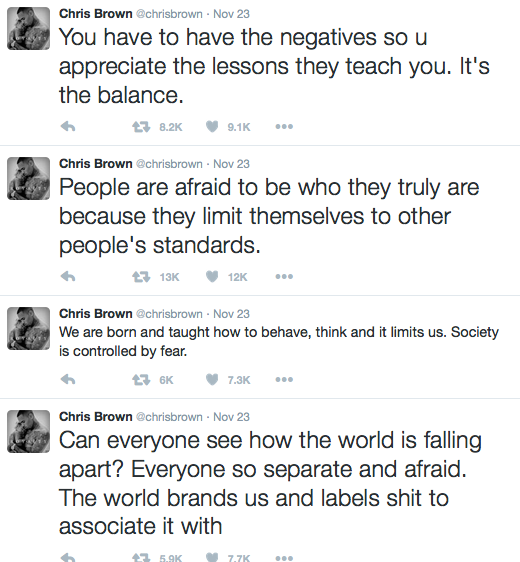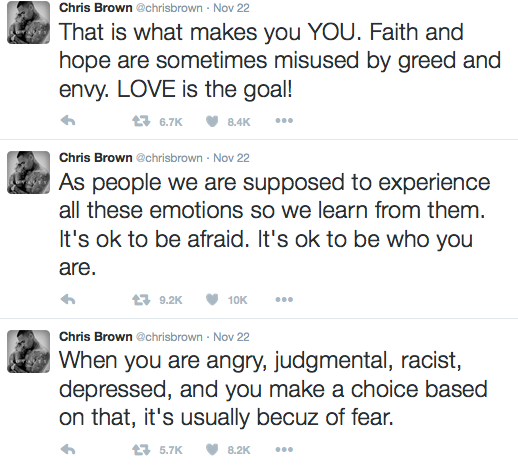 Maybe Royalty has changed him for the better. *shrugs*
Photos: CB's IG