We can't get enough of Michael BAE Jordan.  Oh, and he kows "we" have all changed his middle name to address his BAEdom.  Find out what the Creed star is dishing up about his stardom and his dating life in the new digital issue of VIBE.  Plus, his co-star Tessa Thompson is STUNNING in Vanity Fair.
From Red Tails, to Fruitvale Station to Creed, it seems like Michael B. Jordan's meteoric rise has been sudden.  But those who really know, ow that little Wallace from "The Wire" has been one to watch.  And it's been a long time coming.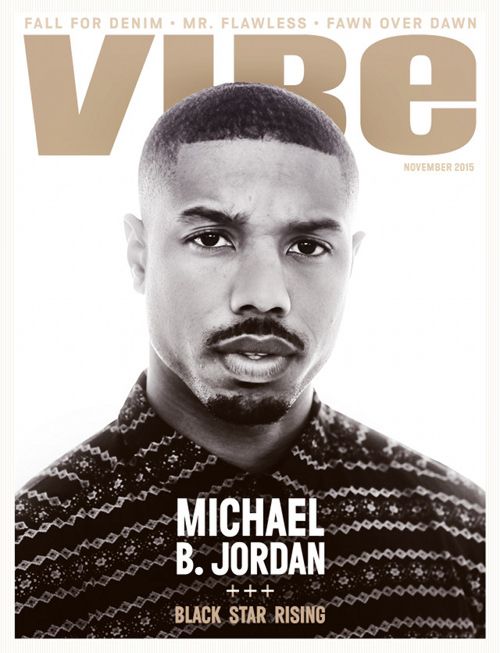 The hot 28-year-old is VIBE magazine's newest digital cover star.  He's talking his body transformation, tightening up his loose lips about his dating life, and what it means to share a name with a basketball giant.
Here are the highlights and hot pics:
On getting that body ripped to perfection
From a Trunchbull-like diet to workouts that will test the limits of anyone's patience, Michael strived to look as close as he could to a professional boxer. And there were no stunt doubles, either. From super middleweight champion and gold medalist Andre Ward to cruiserweight and five-title holder Tony Bellew, he went toe-to-toe with the pros in real life. "I did everything on this film which was a challenge," Jordan says. "I'm super competitive. If I could do it, why not?"
On handling his overwhelming success
"You have moments where you sit back and it really hits you. You might have an outer-body experience where you have to appreciate [the moment]. But then it's back to work,"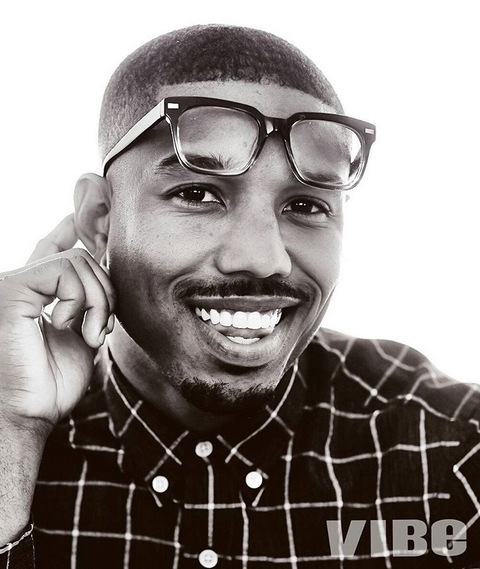 On learning to keep his dating life private
"I kind of don't want to get into the whole dating thing," he says. "I'm going to keep that to myself."

"It's something that I'm learning, the nuance between being too honest, not even being too honest, but learning how to protect yourself," he says. "Your privacy is all you have. I live out my life in the public eye now, so it's a new territory I'm learning everyday."
On sharing a name with basketball great Michael Jordan
It's not hard to tell who "that guy" is in Jordan's own life. Like Adonis fighting to walk in his own shoes, Michael, who is named after his father, had a similar situation with NBA legend Michael "Air" Jordan. "He set the bar so high of success and his accomplishments and just respecting his own craft," Jordan says. "I always wanted to have my name mean something based upon the work that I put in. It wouldn't be just a comparison to that guy, I would have my own legacy." MBJ also recalls getting teased for his name, even missing out on a few pizza pies because he would get the dial tone after they asked who's calling. Even his middle name gets picked apart now, swapping out Bakari for Bae, which you can see deep within his Instagram remarks. "I don't read all of [the comments], but every once in a while if I post a picture or somebody either screenshots something and sends it to me like, 'You need to read this,'" Jordan says with a wide grin. "It's pretty funny to hear them go back and forth on the comments."
Tristan/Mack Wilds on his longtime friend
"There's not many people that you come across in the industry that you connect with like that, but him in particular, he's definitely one that I've always been around and it's always been nothing but love," actor/singer Tristan "Mack" Wilds says on his The Wire peer. "I think that's the true meaning of family."
Get the full VIBE cover story HERE.
Michael's co-star Tessa Thompson is getting her own shine.  This time, it's in Vanity Fair's December 2015 issue with a slay-worthy vintage Hollywood style shoot:
Breathtaking!  The Dear White People star joins Michael on screen in Creed on Thanksgiving Day. 
Serve the people then Tessa!
Tessa Photos: Photos by Williams+Hirakawa, Michael: Photos by Peter Dokus