Blue Ivy will be appearing on another album along with her mother Beyonce. Get those deets and peep pics of Jay Z hitting up the Staples Center last night inside….
While she's only 3-years-old, Blue Ivy can already say she has been featured on two major albums. Clearly, a YBF star in the making.
The tiny tot made her musical debut as a newborn when her voice was featured on her dad Jay Z's "Glory" track, which made her the youngest person to ever appear on a Billboard chart. Now, she's returning to the music scene with a feature on British rock band Coldplay's new album, A Head Full Of Dreams.
Lead singer Chris Martin revealed the celeb toddler feature in an interview with The Wall Street Journal saying she will be apart of a "choir," including his two kids. He spilled,
"The 'choir' started with my two kids coming in after school and recording. We recorded Blue Ivy Carter in New York when her mom Beyoncé was in the studio."
Yep, Beyonce will also be featured on the LP and she's expected to be singing on a dance track. It's interesting to note, Chris thought of adding Bey's flawless vocals after getting inspiration from Flo Rida and Lil John. He explained,
"The original kernel was that I was listening to Flo Rida or something, and I thought, it's such a shame that Coldplay could never have one of those late-night club songs, like 'Turn Down for What.' What would we call it if we had one? I thought I'd like to have a song called "Drinks on Me" where you sit on the side of a club and buy everyone drinks because you're so f—ing cool. I was chuckling about that, when this melody came—"drinks on me, drinks on me"—then the rest of the song came out. I presented it to the rest of the band and they said, 'We love this song, but there's no way you can sing 'drinks on me.'  So that changed into 'drink from me' and the idea of having an angelic person in your life. Then that turned into asking Beyoncé to sing on it."
Nice.
Coldplay's new album is expected to drop on December 4th...Jay Z's birthday.
Speaking of Jay....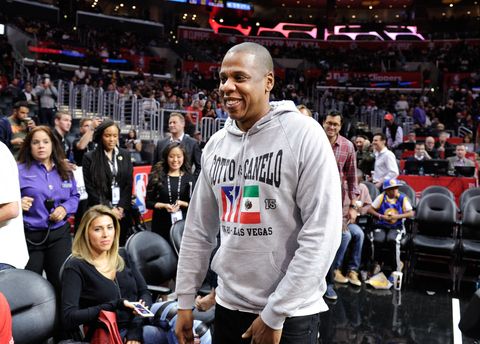 The Hip Hop mogul hit up the Staples Center solo last night to check out the Golden State Warriors and the Los Angeles Clippers battle it out on the court. The Warriors continued their winning streak beating the Clippers 124-117.
Courtside, Hov and "black•ish" star Anthony Anderson chopped it up while sipping on a drink.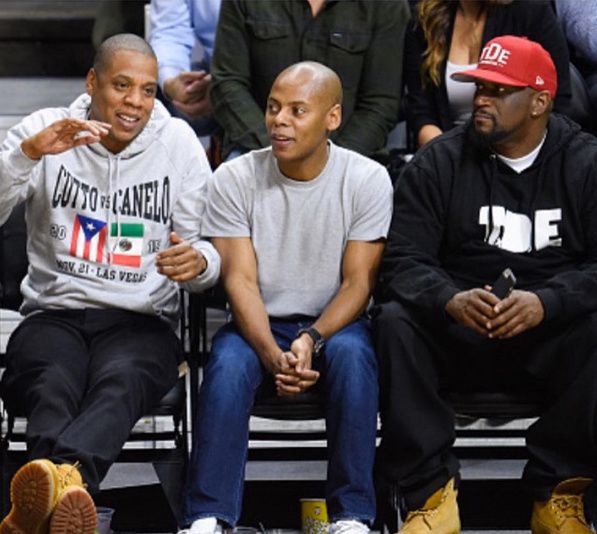 After his chat with Anthony, Hov was later spotted chatting it up with his homie Ty Ty. Wonder what Jay was talking about.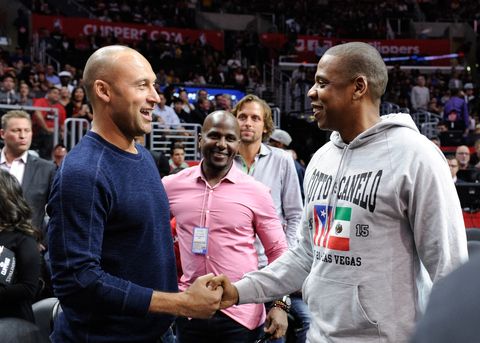 As he made his rounds, he stopped to dap up New York Yankees baller Derek Jeter. Fun times.
Photos: Getty/Beyonce's IG