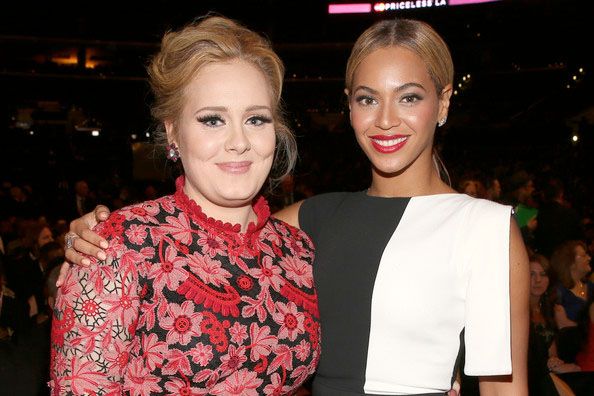 Adele is laying to rest those rumors about her snubbing Beyonce's alleged request for a duet. Find out what she said and get the latest on Khloe Kardashian slamming her ill husband Lamar Odom on Twitter…
Remember those rumors that were circulating recently about Adele supposedly snubbing Beyonce after the Queen Bey asked to record a duet? We never believed it, seeing how much Adele stand for Bey, so it wasn't reported here.  
Now, Adele is finally addressing the rumors. And according to the British singer, it's simply NOT true.
During an interview this week with Zane Lowe for BBC radio, Adele confirmed she would never disrespect Mrs. Carter in that fashion and that she's a part of the Beyhive until the day she dies. She spilled,
"There's a rumor going around that I turned Beyoncé down, which I would never be so disrespectful as to do. I'd never disrespect her like that. I'm such a fan, oh my God."
She revealed that she's so much of a fan, when she first met King Bey she burst into tears after their exchange. The British singer said,
"I met Beyonce at the O2, and at the Grammys (pictured above). I was basically dribbling as she was talking to me. Then Jay-Z came over to talk to her but Beyonce was like 'I'm talking, not now.' He came closer and said 'Adele, can I just have one minute with my wife?' I was like 'You know my name?' Then I ran off onto a balcony and fell to my knees, crying."
So, there you have it.
In other news...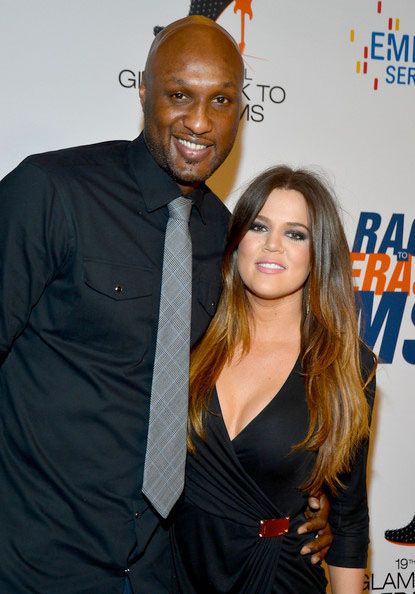 Khloe Kardashian, who's reportedly nursing a painful staph infection she got while being in the hospital with her husband, was stuck indoors while her NBA boyfriend James Harden hit the court. The Houston Rockets and the Portland Trail Blazers went head-to-head at the Toyota Center last night where the Rockets ended up defeating the Trail Blazers, 108-103.
The 31-year-old reality star was busy tweeting/cheering James on via Twitter as she nurses herself back to health. But quickly clapped back at a few "haters" who had something to say about her cheering her boyfriend on while still legally married to former NBA star Lamar Odom.
After her celebratory basketball tweet, a few of her fans/critics tweeted: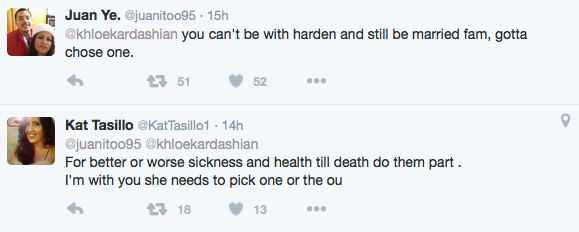 Obviously caught up in her feelings, she clapped back at them criticizing Lamar for not honoring their wedding vows and basically blsming him of their failed marriage. She also confirmed (again) that although she put their divorce on hold while she cares for him, the divorce will still move forward in the future. She tweeted:
She then added:

Let's see if James will come take care of his "girlfriend" during her time of need. Hmph.
Photos: Getty