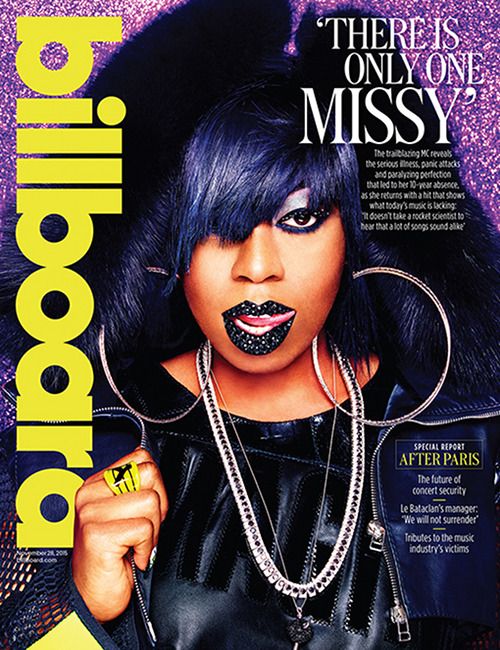 Missy Elliot is ready to make a triumphant return to the music scene. She's dishing all about it the newest issue of Billboard. Get the highlights from the cover story and sound off on Billboard's 10 Greatest Rappers of All Time list inside…
Don't call it a comeback…simply because she never really left.
Missy Elliot covers the newest issue of Billboard magazine where she talks about her musical comeback, what she has been up to for the past decade and also throws a bit of conservative shade at Nicki Minaj.
The VA native has been teasing comebacks for a while now since releasing her last album The Cookbook 10 years ago. If you're a fan, you'll recall she quietly released two Timbaland-produced tracks ("9th Inning" and "Triple Threat") via iTunes in 2012 to, as she said,"see what the climate was."
Since the track didn't make much of an impact, she decided not to release more music of her own. She also hinted at a possible comeback during the halftime show at Super Bowl 2015 alongside Katy Perry.
Now...we're here.
Although the "Lose Control" raptress hasn't released music of her own in the last decade, she has been busy writing tracks for other artists. Now, it's all about Missy and her own music and we, for one, are pretty damn excited about it.
With the release of her new track and visuals "WTF (Where They From)," it appears a REAL comeback is imminent.  Oh..and as for that subtle shade thrown at Nicki Minaj, Missy removes all doubt of a replica saying,"There's only one Missy."
Here are six of the most interesting things we learned from his cover story below:
1. She talks about being strategic with her comeback since so much has changed.
"I have to be very careful," she says. "It's different now. People are quick to be like, 'You're irrelevant, you're a flop, you're washed up.' "
2. She never stopped working, writing and producing songs for artists including Fantasia, Monica and Keyshia Cole. Not only has she been writing for others, she has also been writing loads of tracks for herself.
"If I wanted to do The Missing Files of Missy Elliott, I have probably six albums just sitting there," she says. She's the first to admit that she didn't think the break was going to be this long. "But it was much needed," she says. "People hadn't realized that I haven't just been an artist, I've been a writer and a producer for other artists. When you're writing that much, your brain is like a computer. You have refresh it."
3. She has NEVER recorded in front of anyone (except her dogs)…not even Timbaland.
"I never record in front of anybody," she says. "[Even] Tim has never seen me record a day in his life." Early on she worked with an engineer, but for many years now she has recorded her parts alone -- with two exceptions."It's just me and my little Yorkies, Poncho and Hoodie."
4. Missy suffered a major panic attack right before her 2015 Super Bowl halftime performance.
After rumors of the surprise began to circulate online, Elliott's anxiety mounted. The night before the game, it metastasized into a full-blown panic attack: "Like, IVs in my arm, everything," she says. "Nobody knew." The day of the show, she remembers being just offstage and hearing the opening riff of "Get Ur Freak On.""I said, 'If I can get over this step, then I know all my dance steps will be on point,' " she recalls. "I know it was nothing but the grace of God that lifted me up and took me through that performance."
5. She shades fellow raptress Nicki Minaj, but concludes there's room for many female emcees.
When asked about Nicki Minaj, who is clearly influenced by Elliott, she mock-innocently replies, "Oh, she is?" (Speaking to her influence generally, she adds, "Unfortunately, breaking news, there is only one Missy.") Still, she would love to see more woman MCs on the charts -- when she was coming up, that was much more common. "It was me, [Lil'] Kim, Lauryn [Hill], Eve, Foxy [Brown], Trina," she says. "There's room for so many. It's important."
6. So when can we expect a Missy album?
"I want to say 2016 but I don't want to give a time. Nowadays you say a time, they'll stone you."
You can read her full interview here.
By the way, Missy will be honored with Billboard's first ever 'Innovator' award at this year's Women in Music event, to be televised on Lifetime on December 18.  Congrats!
In other rap news....
Music magazine Billboard released their list of the Top 10 Greatest Rappers Of All Time that has rap heads up in arms. The list interestingly leaves off rap legend Tupac and it had some folks pissed asking "How do you have a top 10 rap list where you rank Biggie as #1 and Tupac is NO WHERE to be found?"
In their defense, Billboard claims they're we're ranking the musicians as MCs, not artists (ummm...), explaining that this is the reason why folks like Tupac, Dr. Dre and Kanye West didn't make the cut. Hmph.
After reviewing their Top 10, what are your thoughts? Should Tupac be on the list? Should someone like Kendrick Lamar NOT be on the list? Sound off!
Photo: Billboard/Instagram