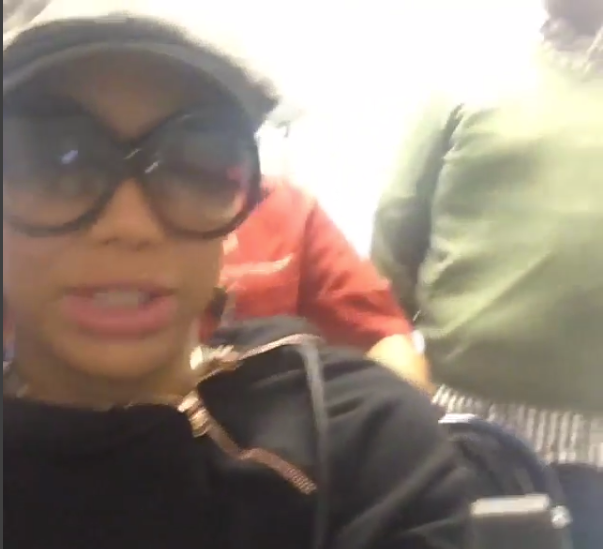 Tamar Braxton is out of the hospital!  But she's not quite out of the woods.  Get her message inside, plus videos you need to see from Mike Epps and Busta Rhymes...
When Tamar Braxton recently announced she had to leave "DWTS" due to serious health problems, she went back into the hospital and has been there since last week. Now, she's finally out and recovering nicely. However, she's not totally out of the woods.
The mom, wife, sister, tv host, reality star, and singer gave an update to her fans saying WON'T HE DO IT!  Check it below:
We're glad to see she's on the up and up. Tamar did also say she'll still be "laid up" at home and continuing her rcovery.  So we may not see her back at the table on "The Real" just yet.
Also on the 'Gram, comedian and "Survivor's Remorse" actor Mike Epps is acting the fool y'all.  He took that viral video from the Patti LaBelle fan who was clearly obsessed with her Sweet Potato Pies -- the one that kicked of the #PattiPies craze -- and made his own.  It's HILARIOUS.
He said,"Patti sweet potato pie ! S/o to that shit was funny I had to do a tribute."
Check it:
Meanwhile, Busta Rhymes video situation is anything but comical.  Remember the drama involving Busta popping off on a gym worker?  He was arrested for throwing a protein shake at him over the summer.  Now, the worker, Ole Hernandez, is speaking out.  Oh, and there's video.
Speaking out for the first time, Steel Gym staffer Ole Hernandez said Rhymes' Aug. 5 blowup was sparked by a perceived slight days before, when the employee told the rapper's cameraman he wasn't allowed inside without permission.

Rhymes, 43, whose real name is Trevor Smith, got wind of the perceived diss and came to the gym on Aug. 4 breathing fire, Hernandez, 33, recalled.

"You don't know who I am! I'm Busta Rhymes!" the rapper bellowed, according to Hernandez. "I'm the real n–ga! You're a f–king f–got, you are a p–sy! You are a Mexican crossing the border to come to this country, I will f–k you up."
The video below is from the surveillance cameras from the gym.  There's no audio, but you get the picture:
Oh Busta...
EXTRAS:
1.  Remember Brittish Williams, formerly of "Basketball Wives LA"?  Well, she went and got a boob job. The before and after surgical pics "magically" leaked on the net.  STORY