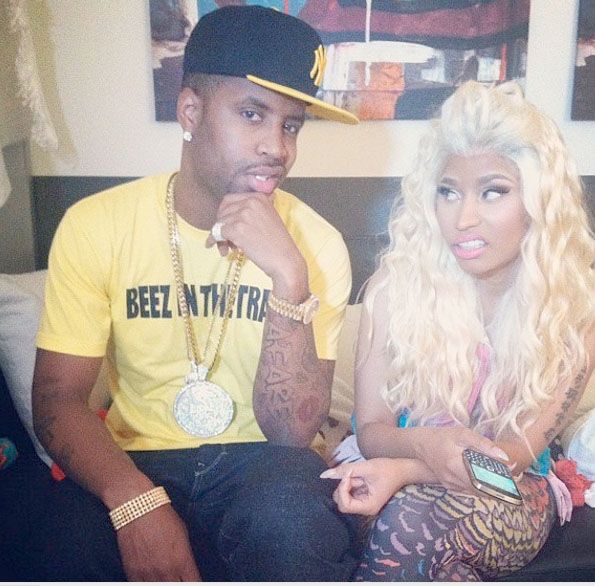 Nicki Minaj better call up the Young Money lawyers because her ex-fiancé Safaree Samuels is reportedly gearing up to take her court! Why? Find out inside…
Looks like Nicki Minaj and her ex-fiance Safaree "SB" Samuels will be heading to court if Safaree gets his way.
According to TMZ, SB has lawyered up and supposedly planning to file a lawsuit against Young Money's First Lady. Why, you ask? Well, money of course. Money he believes he's owed.
Sources claim Safaree wants his piece of the pie from three of Nicki's highly successful albums including Pink Friday, Pink Friday: Roman Reloaded and The Pinkprint. And there's more…
He also wants his share for three of Nicki's chart-topping singles including "Only" featuring Chris Brown, Lil Wayne & Drake, as well as the Beyonce-assisted "Feeling Myself."
Safaree has mentioned that Nicki doesn't necessarily come up with all tracks herself. You'll recall, he told The Breakfast Club in his first interview since their break-up,"Don't say 'Oh, I don't have no talent' because every time it came to writing raps and doing music, it was me, her and a beat. She doesn't do it by herself. It was me and her. Don't discredit me on what I've done for you, that's weak. All I'm saying is this is something me and her did together." He never admitted that he wrote her rhymes, but it's clear she wasn't coming up with everything totally on her own.
So since he says he was so instrumental in her writing credits, he plans on presenting receipts in the form of videos of him working with Nicki in the studio, voice memos from studio sessions, footage from recording sessions and he claims to have multiple witnesses to back him up. Apparently, that executive producer tag on her first two albums wasn't enough.
Remember when Nicki said the cause of their break up was because SB was fame hungry and that he was trying to blackmail her back then? Hmm...guess he decided to say to hell with blackmail...let me get this money legally.
IF this goes to court....it could get messy. We'll keep you posted.
Photo: Instagram