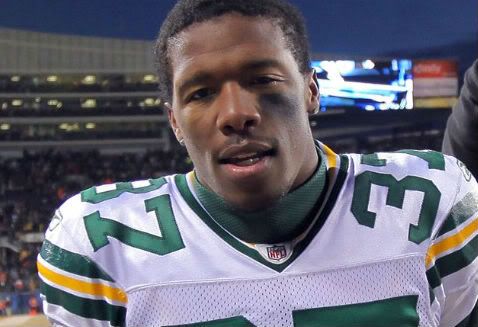 Melissa Lopez, the fiancee of Green Bay Packers baller Sam Shields says the football star left her homeless and abandoned last night with no means to support herself.  Deets inside.....
Last night, Melissa Lopez, who claims to be the fiancee of Green Bay Packers' cornerback Sam Shields, says the footballer left her homeless and abandoned in Green Bay.  So how does that happen?  Apparently Sam showed up and just took everything!
A source told Radar Online, 
"Today he just showed up at the apartment with a moving truck -- just out the blue -- and moved all of the furniture and everything out of the home," the source revealed. "He hardly even said a word to her. He just ignored her and helped the movers get everything out. When she asked him what she was supposed to do or where she was meant to go he was just cold and said, 'I don't know.' Melissa doesn't have any family there. She just knows the other football wives and girlfriends so it's complicated. He had totally given her the impression that they were going to get back together."
It would be easy to feel sorry for Melissa....until you get the backstory.  This is the second time he's done this.
The source said Sam also did this to Melissa last year.
"He woke her up in the middle of the night, threw $300 at her and totally out of the blue ordered her to get out immediately.  He just told her he didn't like her anymore.  He told her that he had met someone else and she had to get out, right then and there. She gathered what she could and left and then lived out of her car for months and stayed on friends' couches whenever she could."
Ok.  So that was last year right?  So how did we end up homeless and abandoned AGAIN?
In January, Sam had a change of heart and told Melissa  she could move back in and stay in the apartment until the lease expired in July.  But since this is May....we see he didn't keep his word.  But shouldn't Melissa share responsibility for putting herself out there like that?
The source (likely a friend of Melissa) doesn't agree saying, 
"Melissa moved to Green Bay to be with him. She was with him before he signed his big contract. They were together for three years and she really stood by him. "She was using a car that he was getting for free, all he had to do was give the rental company a signed ball and jersey. And he had the company come and take the car away from her too even though he wasn't even paying for it. Melissa has had to deal with a lot from him. He had told her that he only had two children. But she later found out he actually has three and maybe another one on the way as there's a girl in Green Bay who is pregnant and wants him to take a paternity test."
Sigh....messy.  For his part, Sam declined comment.