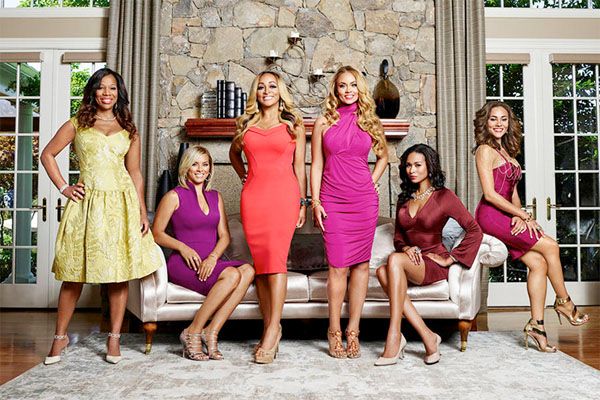 TheYBF.com tipped you all off that the "Real Housewives of Potomac" was coming and now we have the full deets. The "Real Housewives" franchise is also coming to Dallas. Peep the trailer for the Potomac series and more inside….
Earlier this year we told you BRAVO was bringing a new set of housewives from Potomac, Maryland. And now, we have the full deets on the upcoming cast joining the hit franchise.
The "Real Housewives of Potomac" will follow a group of wealthy women who live about 40 minutes from the nation's capitol of Washington D.C. The African-American ladies from the affluent area of Potomac are very big on etiquette and they enjoy living life in the uber fab lane inside their massive mansions, exclusive golf clubs and rocking the latest designer threads.
The new cast will include socialite and single mom Gizelle Bryant (yes, Pastor Jamal Bryant's ex wife...get your tea ready), international model and TV personality Katie Rost, grand dame Karen Huger, social butterfly Charrisse Jackson-Jordan, publicist and single mom Robyn Dixon, as well as restaurateur Ashley Darby. While their titles sound very reputable, don't get it twisted, these ladies will bring out the claws when need be.
In the first trailer for the upcoming reality series, co-star Gizelle says "If you haven't heard of Potomac, that's fine, because that means we've done a great job of keeping it a nice, little secret." Well now, the secret is out, and we're here to see what goes down in the sophisticated community.
Peep the trailer HERE. The "Real Housewives of Potomac" premieres Sunday, January 17th at 9/8c.
Also coming to BRAVO….
The "Real Housewives of Dallas" is expected to make its premiere in 2016. The details are scarce right now, but we will soon learn about the ladies of the Lone Star State.
EXTRAS:
1. A judge dismisses former "Young and the Restless" star Victoria Rowell's retaliation complaint against CBS and SONY. STORY
2. University of Missouri police have arrested the suspect who was making death threats against the black students on campus following the resignation of Mizzou System president Tim Wolfe. STORY
Photo: BRAVO