Oh s**t!  Vivica Fox is playing with fire, and we love it.  Last night on "WWHL" she let the worked know how she really feels about her ex 50 Cent.  And it includes gay implications.
Find out the piping hot tea she spilled inside, plus how 50& Soulja Boy dragged her afterwards...
----
UPDATE: Vivica Fox took to her Twitter this morning to clear some things up, including that she was coming only for her ex...not for SOulja Boy..  Check her tweets below: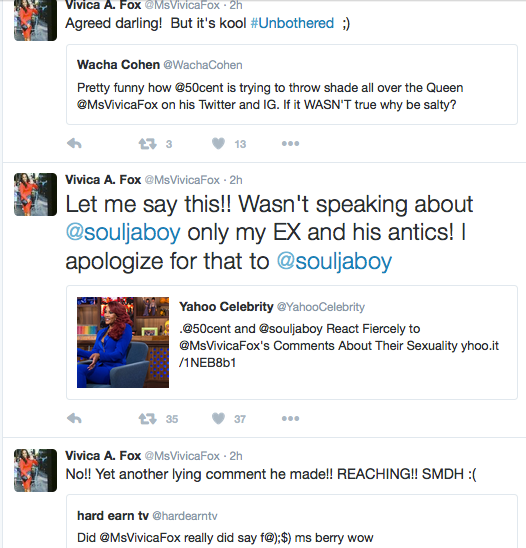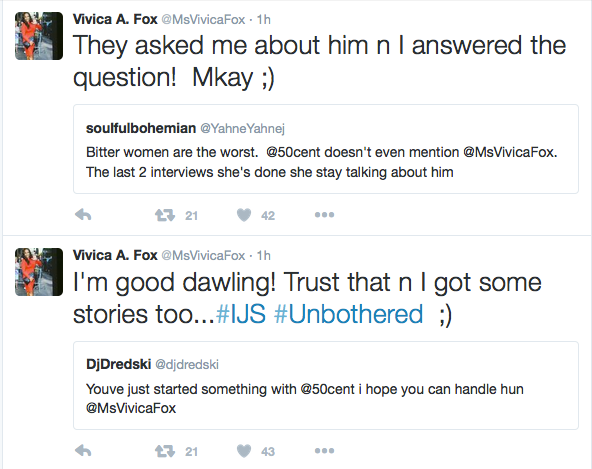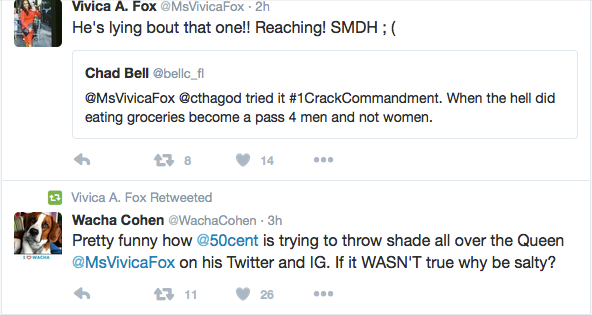 ------
Chile....we're not sure if Vivica Fox was loose off the Goose last night in Andy Cohen's clubhouse or if she's just been dying to get this off her chest.  But homegirl came for 50 Cent's neck last night on "WWHL." 
During a game of EMPIRE State of Mind, the upcoming "Empire" star (she's playing Cookie's sister!) had PLENTY to say about 50's alleged shade thrown toward the show.
Host Andy Cohen asked Vivica what she thought about 50 saying "Empire" season 2 ratings slipped a bit due to "all the gay stuff."  Her response?
"First of all, you know, the pot calling the kettle black."
She ended with the neck tilt and a fixing of the hair when Andy and Kandi Burruss, who was also on the show, asked if she's insinuating anything.
Kandi -- of course -- said "....insinuating...that he's gay?"
Viv's response?
"No, he's not, we had a great time.  He just seems like he's got something that's not quite clear."

"I'll never forget there was a VIBE cover with him and Soulja Boy that made me go "hmmm".  he looks like a booty snatcher."
Chile!  Peep the videos below:
By the way, she chose Hakeem when asked who the sexiest Lyon brother is in her opinion. She does have a thing for youngins with a six pack and a smile....
Meanwhile, when Vivica got all wreckless, Kandi's face was priceless:
Ha. 
Andy spoke to 50's publicist and got clarification that 50 didn't say "all the gay stuff" on Empire is what caused the ratings slip.  He reposted what "a blog" said and didn't realize they were referencing "gay stuff"....so he deleted it.
Check out more pics below as Mama Joyce celebrated her birthday on the show as well: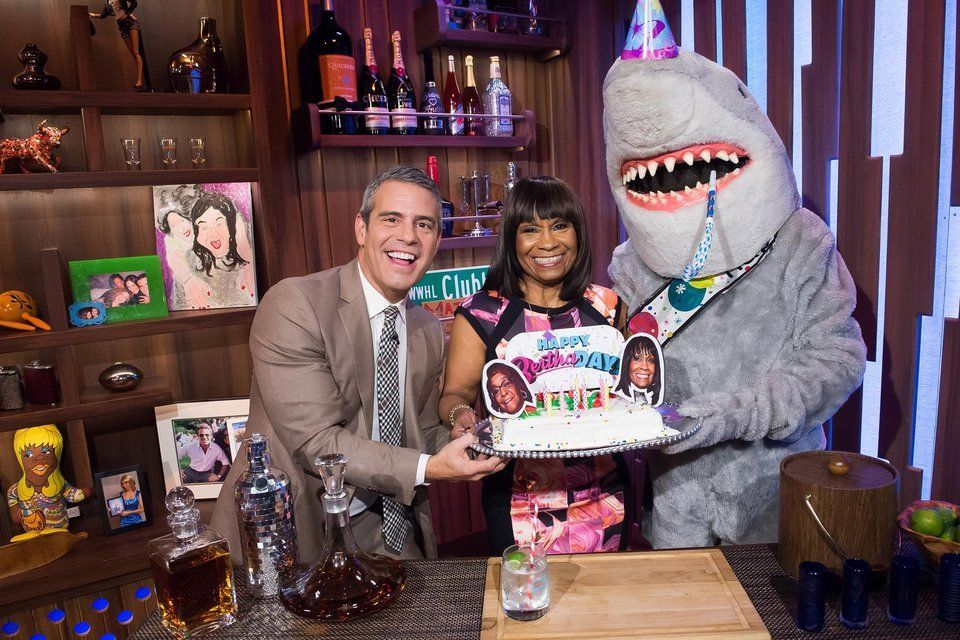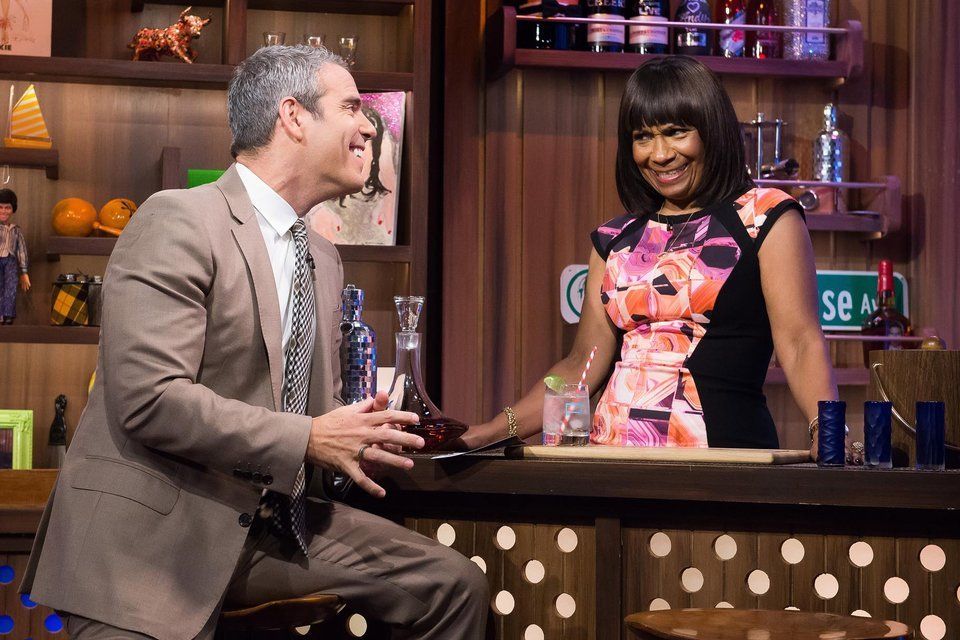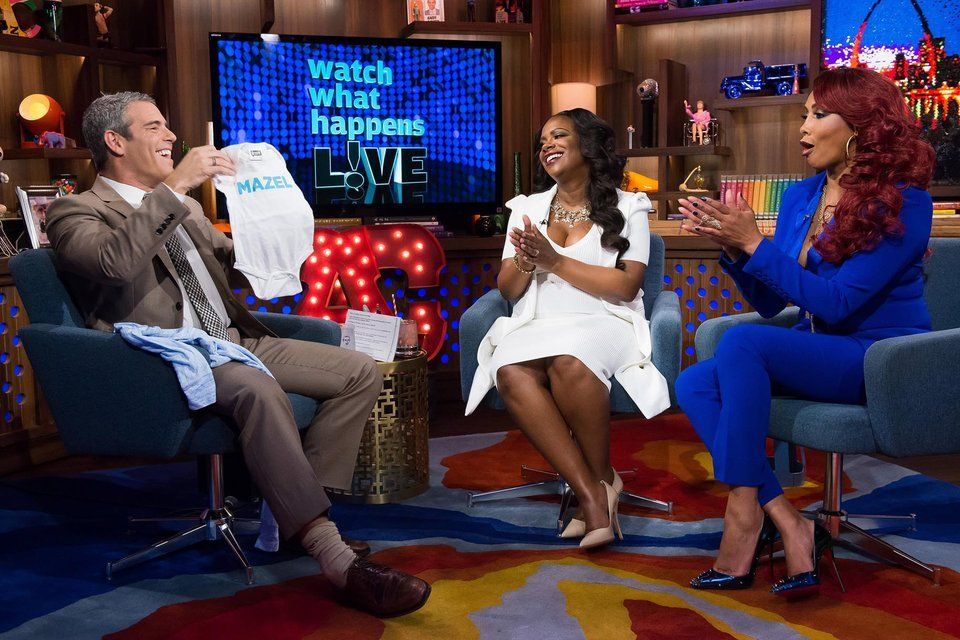 Kandi copped a super cute Mazel onesie for her baby boy on the way.  Sweet!
As for how 50 Cent and Soulja responded, it wasn't pretty.  And we don't think this is the end of it either.
Both rappers took to his IG last night posting: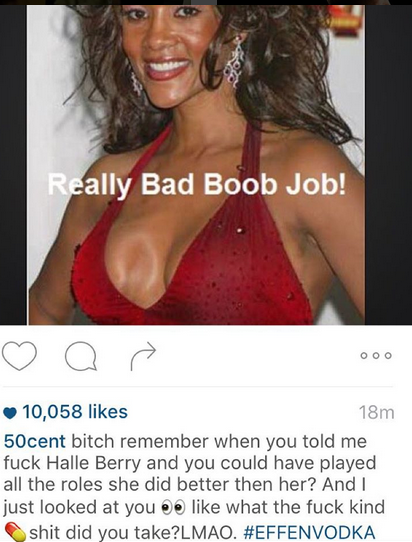 Lordt!
Photos: Bravo/IG