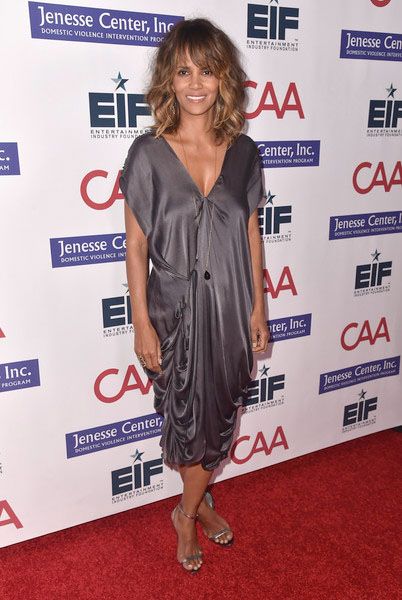 For the first time since filing divorce from her husband Olivier Martinz, Halle Berry is breaking her silence in a new interview where she reveals she's doing just fine. She also drops a bomb that may give some context to her relationship troubles. More inside…
Halle Berry headlines and candids have been running rampant on these Internet streets since the Hollywood vet filed legal documents to divorce her husband Olivier Martinez after two years of marriage.
It has been well over a week since news broke that Halle and Olivier are calling it quits. And now, Halle is breaking her silence for the first time.
Earlier this week, the 49-year-old actress trekked to a charity event benefiting domestic violence prevention and intervention organization Jenesse Center in Beverly Hills. During her appearance, she stopped to chop it up with "EXTRA" where she broke her silence for the first time amid divorce proceedings.
For the most part, it appears she's doing ok and staying strong for her kids. She said,
"I'm doing okay, I really am. I, I keep pushing and I'm really happy to be here because whenever you're going through anything in life, when you step outside yourself and focus on others, that's always the best remedy for any situation that you'd rather not be dealing with."
The mother-of-two certainly seems to be well put together since the filing. She has been spotted out with her daughter Nahla, she dressed up as a pirate with her daughter for Halloween (little Maceo had the chicken pox!), and hit some red carpet events since the split. You have to say strong for the kiddies. 
The Oscar winning actress teamed up with Entertainment Industry Foundation to celebrate the center's 35th anniversary at the swanky affair. The Jenesse Center is an organization dedicated to domestic violence prevention and intervention.  Her involvement is something Halle holds close to her heart having to deal with domestic violence in her home growing up. During her speech at the benefit for Jenesee Center she opened up saying,
"I saw my mother battered and beaten many years of my life and I felt helpless. And that's what connects me to this organization. I have an understanding, a knowing. I feel like I have something that I can impart to these women. It seems like I've overcome it, but I really haven't. In the quiet of my mind, I still struggle. So while I'm helping these women, I'm helping myself through it, too. And that's largely why I'm here."
Wow. We can't help but wonder if these issues have affected her own personal life as an adult. Either way, it's nice to see a YBF celeb using their platform for the greater good.  We're sure it's therapeutic for her as well.
Photo: Getty