Lupita Nygong'o was spotted lunching with one of her "Eclipsed" cast mates in NYC...but was the outing damage control? Find out what we mean and get the deets on Jourdan Dunn's alleged tweet slamming Victoria's Secret inside…
Has our good girl gone bad? We're not exactly sure. But there are rumors circulating the Internet that Oscar winner Lupita Nyong'o isn't playing nice with her cast mates on the Broadway bound play "Eclipsed."
Sources are spilling tea to the Daily Mail saying the 12 Years a Slave starlet isn't the nice and sweet person she portrays to be. In fact, they say she's a "b*tch" and has the biggest diva attitude off-stage.
Yesterday, the Kenyan beauty was spotted eating soup with her cast mate Pascale Armand outside the Public Theater.
We're not sure how true these rumors are but we do find it quite coincidental that Lupita is seen having lunch with a cast mate being we haven't seen her hanging out with cast mates before. But then, it could all just be a huge rumor. The source told the publication Pascale was one of the cast mates who couldn't stand the sight of Lupita.
Hmm...what do you all think? Is Lupita's camp doing damage control or nah?
On Twitter...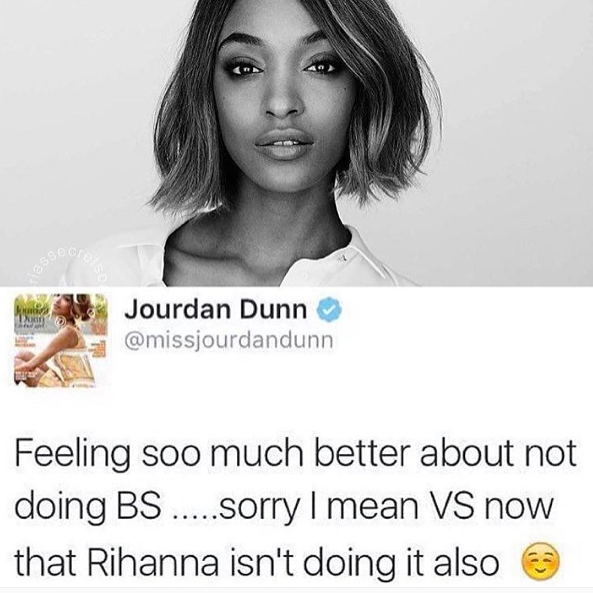 WHOA! Supermodel Jourdan Dunn is telling Victoria's Secret how she really feels…allegedly.
The tweet above (that she allegedly posted and deleted) popped up on Twitter earlier today where she said, "Feeling so much better about not doing BS ... sorry I mean VS now that Rihanna isn't doing it also." Bloop!
The British beauty is clearly shading the lingerie company all while announcing she will NOT be walking in this year's VS fashion show. We hear it's set to be taped next week.
Interestingly enough her announcement comes a day after it was announced that Rihanna would be cancelling her performance and that Kendall Jenner IS walking in the show for the first time. Hmph.
Any guesses on why she decided to drop out? (IF true, of course).
Photos: Pacific Coast News