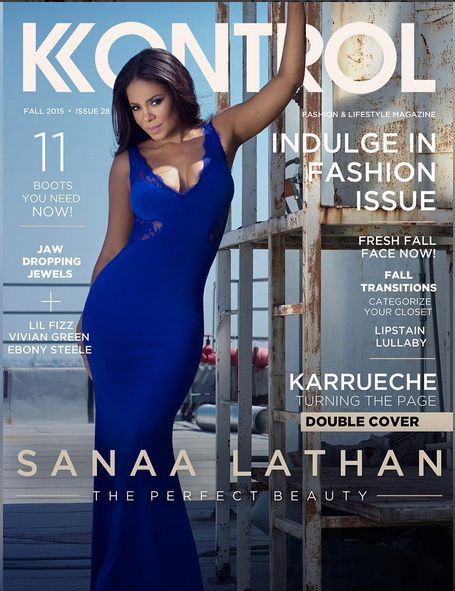 After producing and starring in the blockbuster thriller The Perfect Guy, Sanaa Lathan says there's still room for improvement when it comes to black actress in Hollywood for her KONTROL magazine November/December 2015 cover story. She also reveals whether there's a Love & Basketball sequel in the works. Check it inside….
KONTROL magazine unleashes its very first cover of The Indulge in Fashion Issue and they chose the gorgeous Sanaa Lathan for its debut.
Shot by photographer Chad Finley, the 44-year-old stunna (YES, this is what 44 is looking like these days) flosses her curves in a cobalt blue gown detailed with lace inserts styled by celebrity stylist Juian Lark. Sanaa is definitely heating up the magazine cover with her seductive, yet innocent look.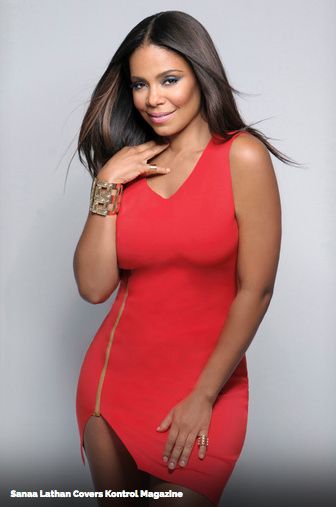 Inside, The Perfect Guy star and producer, who's allegedly dating rapper French Montana, touches on the lack of roles for black women in Hollywood, but she also served a solution to the problem. Her answer? Produce their own films and make Hollywood come to them. We like it.
So what about those rumors that a sequel to Love & Basketball was in the works? We all first fell in love with Sanaa when she starred in the classic romantic drama, so will there be a sequel 15 years after the original? Find out in the highlights below:
On if there will be a Love & Basketball sequel:
"Well you would have to speak to Gina Prince-Bythewood, the director of Love & Basketball about that officially. I've heard the rumors and I feel like that [Love and Basketball] was a story to itself…I mean how could you go about making a sequel to it? I feel the ending was pretty finite."
On the lack of roles for black women in Hollywood and how to fix it:
"There have definitely been some advances, I mean never before have we had so many shows led by African-American actresses…I support and congratulate Taraji P. Henson, Tika Sumpter, Kerry Washington, and Viola Davis, but at the same more of those opportunities are needed…The solution can be to produce our own projects, as we did with Perfect Stranger, and then we need audiences to support them. At the end of the day Hollywood is a business and numbers do talk. They are going to go with what's successful and making money."
On how she chooses roles:
"Reading the script is the first thing I do. If I'm sold on the script I'll feel more inclined to do the project, but more importantly I can screen what I'm accepting" As for her characters; "… that really just comes from knowing the craft and putting in the work."
On the rumors that she's starring in Marvel's Luke Cage on Netflix:
"Really? You heard that? Well [she laughs], I would have to read the script first and know who's starring in it. Then you never know…"
You can grab a physical copy of the issue once it hits newsstands at your local Barnes and Nobles bookstore on November 23rd.
While it doesn't look like there will be a sequel to Love & Basketball, we're twiddling our thumbs for The Best Man Wedding flick. It was announced that it was coming, but production has yet to start.
Photos: KONTROL magazine