Former Atlanta Braves star David Justice recently defended his reputation on social media, slamming his ex-wife Halle Berry for her failed marriages and relationships.  Also, he "outed" the famous celebrity who hit her so hard she went deaf.  More inside....
Oscar-winner Halle Berry is gearing up for a role she's become famous for....bitter divorcee.  We have all watched Halle go through SEVERAL high profile breakups (Christopher Williams, Wesley Snipes, David Justice, Eric Benet, Gabriel Aubry and nowOlivier Martinez) but she always emerges as the victim (from a public relations perspective).  Get the latest on her upcoming divorce from Olivier here.
Over the weekend, her ex-husband from the 90s (David Justice) came out swinging, hoping to defend his reputation and also spill some tea on one of the biggest Halle Berry mysteries of all time. 
Why is David speaking out now?  He is talking because some reports about Halle's latest divorce have insinuated that David abused her.  He is crying foul....

Let's start with the juiciest morsel.  During one of Halle's turbulent relationships, a former boyfriend hit her so hard that she lost hearing in one ear.  While Halle has NEVER revealed the name of the abuser, folks have speculated, and it's often impacted the careers of her exes.  Now...David Justice is fed up.
In a series of tweets, published below, he reveals that Halle told him Wesley Snipes was the cause of her hearing loss.  He also warns her next ex-husband-to-be Olivier Martinez to prepare himself  for battle because Halle fights very nasty during a breakup. 
David's final jab begs the question....could ALL those guys be bad men?  Or is Halle the crazy one?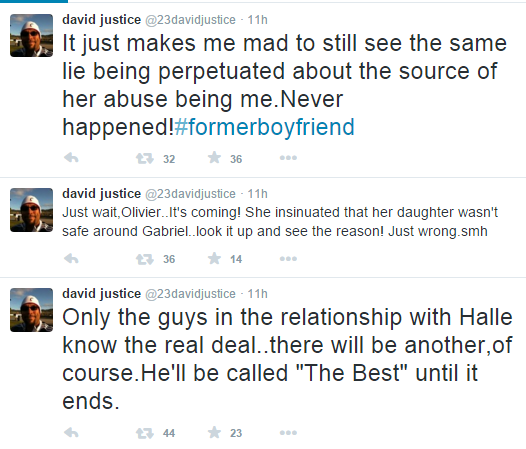 We're sure Halle and her legal team weren't expecting this -ish to happen.  Hmm.....we look forward to a "public" statement in a few hours that will nicely slam David and place Halle firmly back in the position of victim again.
Let the games begin.......
Photos via Getty/David's Twitter