In today's NYC roundup, we spotted future Broadway starlet Lupita Nyong'o taking a stroll through SoHo while former NFL-player Eddie George announces that he's landed the lead role in CHICAGO.  More inside...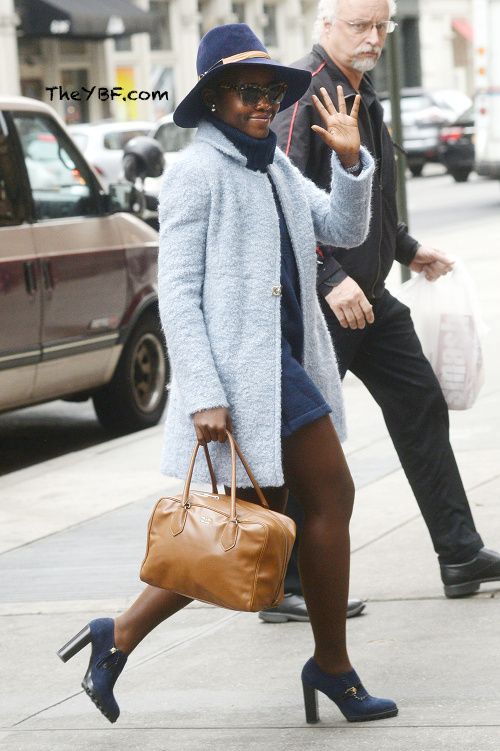 Yesterday, photographers in NYC spotted Oscar-winner Lupita Nyong'o in SoHo. The talented starlet braved the chilly weather with a "look" that was chic, vintage and glamorous.
Do you remember Lupita's New York stage debut in "Eclipsed?" We've recently learned that the play is being extended and  moving to Broadway's Golden Theatre next year on February 23rd.  In the meantime, fans can catch the production at The Public Theatre until November 29th.
In other Broadway announcements......
Move over Michael Strahan....there's another versatile ex-NFL player heading to NYC.  We've just learned that Eddie George, a former Heisman and Tennessee Titans player has landed a role in one of Broadway's longest running musicals. 
Earlier today, producers of the famed musical CHICAGO revealed that the four-time pro bowler has signed on to play lawyer Billy Flynn for a seven-week stint.  
While the Chicago stint will be Eddie's Broadway debut, he's got tons of actual experience acting on stage.  While in Nashville, he appeared in Matthew Lopez's"The Whipping Man" (Nashville Repertory Theatre), Suzan-Lori Parks' "Topdog/Underdog" (Amun Ra Theatre) and in the title roles of both Othello and Julius Caesar at the Nashville Shakespeare Festival.  That's a big deal!
He's also had small roles on his wife Taj George's reality show "SWV Reunited," NBC's "American Dream Builders," and major motion pictures Best Man Holiday and The Game Plan. Plus, he founded Actors By George, a Nashville theater troupe in 2012!  
Congrats to Eddie!
EXTRAS1;
1. Idris Elba and Octavia Spencer will be voices in the animated film Zootopia.  Story.
Photos via Pacific Coast News/Eddie IG