Angie Beyince celebrated her birthday over the weekend with a girls trip to Mexico City.  Find out what she and her besties Lala Anthony and Kelly Rowland did inside and see pics from Toya Wright's birthday photoshoot.
There were multiple birthday celebrations over the weekend.  On Saturday, R&B princess Ciara celebrated her 30th birthday alongside her beau Russell Wilson with a swanky costume party in Hollywood.  The festivities brought out a large group of A-listers including Beyonce, Kelly Rowland and Lala Anthony and Angie Beyince.  Check out the party recap here.
On Sunday, Angie celebrated her birthday too!  After she recovered from her "superhero" themed night with CiCi, she decided to head to Mexico City with her pals Kelly and Lala.
The ladies spent the afternoon at The Black Jaguar-White Tiger Foundation, a non-profit organization that rescues exotic cats from the circuses, zoos and breeders.  Their guide for the day animal care activist Eduardo aka Eddie.
Angie really enjoyed the experience, captioning one of her photos, "This is the best birthday of my Life! Thank you @blackjaguarwhitetiger for educating us on the big cats. There's so much love & care here."  Meanwhile, Kelly was super enthusiatic, calling it the "#BESTDAYEVER."

While the day was indeed "fun," it's clear from the ladies' photo captions that the beautiful cats seemed to have a profound impact on each of them. 
Lala posted a few video of the cats and thanked Eddie for dedicating his life to bettering the lives of these precious animals. "A day we will never forget!!! Thank you @blackjaguarwhitetiger for all the memories today. Eddie what you are doing for these animals & rescuing them is so amazing & thank you Eric for being so great! We will be back soon #mexicocityproved to be an informative"
Check out a few of Lala's cat clips here:
Happy Birthday Angie!
Other birthday announcements...
Reality tv star and author Toya Wright celebrates her 32nd birthday today!  On Instagram, she shared a few new pics from a photoshoot where she posed alongside the number 32, a bottle of champagne and a cake.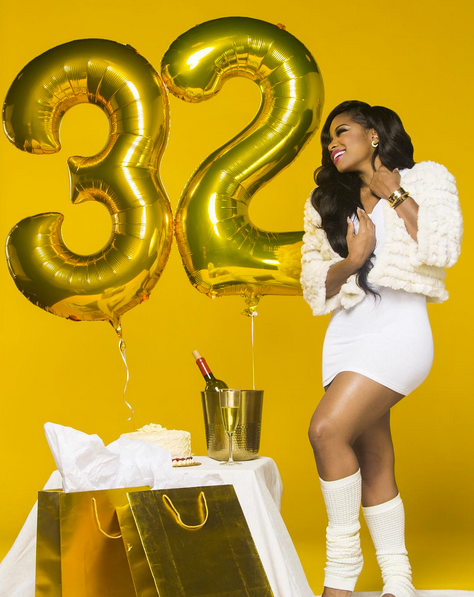 Toya's daughter Reginae Carter gave her mom a special shoutout on Instagram saying,
"Let me start by saying ..... 32 never looked so good then I want to continue by saying Happy Birthday to my beautiful mommy ! I don't really know what I would do if I didn't have this lady in my life like who would fuss at me because I didn't clean my room ? Who would go off on someone behind me like she would ? Who would literally stop everything they're doing to just see if I'm good ? Let me answer these questions myself .... Nobody!!! It's not one person in this world that can say this lady don't love her child ! Mommy , I'm glad I can have someone to guide me to do things the right way Thanks for everything I love you Ma ! Enjoy your day !!!
Awww...
In case you haven't heard, Mrs. Wright is heading back to reality tv with her estranged hubby Memphitz.  The two have signed on to star in BRAVO's "Untying The Knot" where they will attempt to work through their marital issues.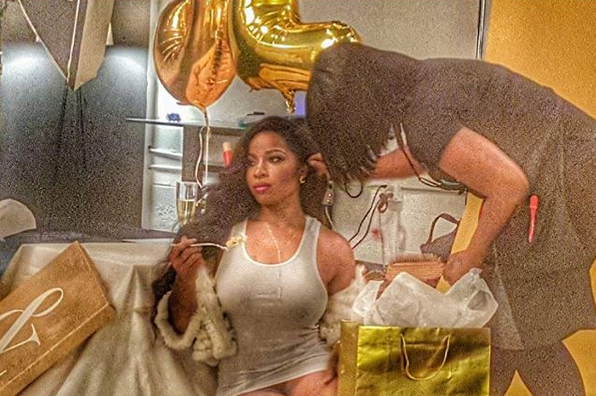 It all starts on November 11th @ 8/9c.
Photo via Lala's IG/Kelly's IG/Toya's IG/Reginae's IG