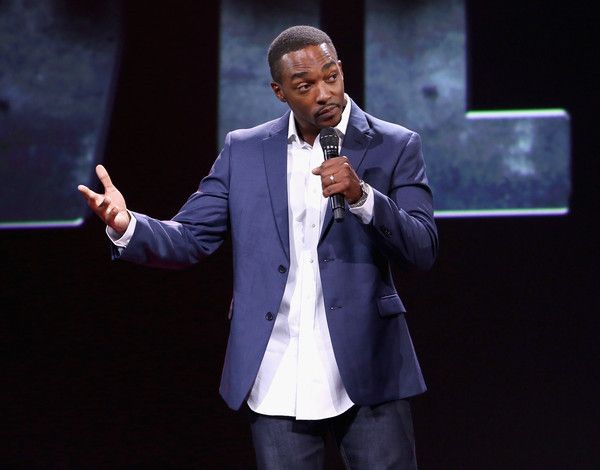 On the heels of his Donald Trump "endorsement," Anthony Mackie has stuck his foot in his mouth...again.  His latest scandal will throw you for a loop.  More inside...
It''s official.....Anthony Mackie's application to become a "New Black" has been approved.  In case you aren't familiar with the term, "New Black" refers to post-racial African Americans who don't believe "race" is a huge issue anymore. 
While new Blacks aren't denying that racism exists, far too often, they will say "off the wall" -ish to appease the mainstream community (i.e. white folks) to make them feel safe and secure.  Think Kanye West, Pharrell, Raven Symone and now Anthony Mackie.
Moments after he endorsed Donald Trump (though he later said it was a joke) Anthony put his foot in his mouth again when discussing potential directors for Marvel's forthcoming film "Black Panther." Anthony doesn't think having a black director would make a difference.
"I don't think it's important at all," the "Captain America" star told The Daily Beast. "As a director your job is to tell a story. You know, they didn't get a horse to direct 'Seabiscuit!' The thing is I don't think the race of the director has to do with their ability to tell a story. I think it's all about the director's ability to be able to relate to that story and do it justice. I think men can direct women, and two of my greatest work experiences were with female directors. So I think it all depends. May the best man — or woman — win."
As a refresher, "Black Panther" is currently searching for a director, and "42" star Chadwick Boseman has already locked in the lead role.  It should also be noted that Ava DuVernay was "considered" for the directors chair but declined Marvel's offer after they couldn't see eye-to-eye. 
Back to Anthony.....should the story of "Black Panther" be told through the eyes of a black director?
Photo via Getty