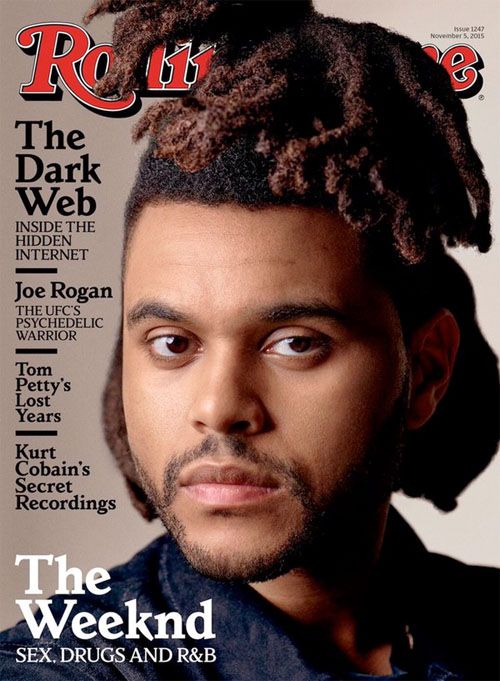 The Weeknd is gracing the newest cover of Rolling Stone magazine where he opens up about sex, drugs and R&B. Get better acquainted with the mysterious one inside…
You may not know very much about Canadian singer The Weeknd's (real name Abel Tesfaye) personal life, but you definitely know his music.
The R&B crooner is making waves on the music scene having sold over a half a million copies of his recently released album Beauty Behind The Madness and his single "The Hills" sitting at the No. 1 spot on the music charts for its fourth week in a row. Not to mention his hit "Earned It" which was featured as the lead single on the motion picture Fifty Shades of Grey, which became his first Top Five single.
The 25-year-old singer is featured on the cover of Rolling Stone magazine's newest issue where he gives us an inside look at what life is like these days dating 18-year-old model Bella Hadid (who also plans to compete in the 2016 Rio Olympics in three equestrian events) and he's also giving a peek into his past.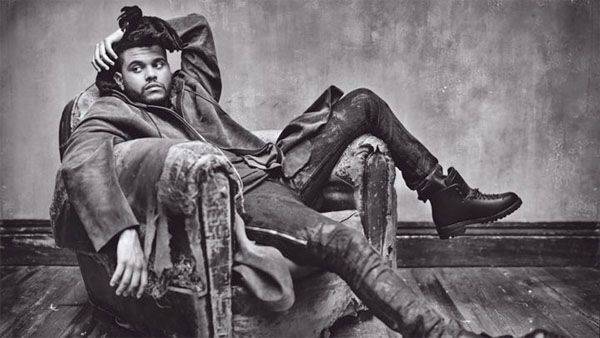 The normally guarded singer opens up about a very important milestone in his life: losing his virginity at 16-years-old.  He called it one of the worst experiences of his life. To make things even more awkward, it was with a much older and very drunk woman he didn't even know.
The somber singer also talked about how fellow Canadian Drake wasn't even feeling his music when he first heard it, but eventually got hooked to his tunes after his manager kept vouching for him. As far as his love life, he reveals how he met his 18-year-old girlfriend, whom he has been dating since April 2015, and what attracts him to her.
The Toronto native also spilled about not wanting to go a day without getting high, he chats about his first time meeting pop sensation Taylor Swift and how she couldn't stop petting his hair. Ha! He blames it on her possibly being under the influence. Interesting. He also opens up about his fear of sounding uneducated.
Here are 7 interesting things we learned:
On losing his virginity

Tesfaye lost his virginity when he was 16. A friend in college took him to a toga party, and he told a girl he was a student at nearby York University. "I could have been a student at fuckin' McDonald's, she was so drunk," he says. "I was drunk too. It was the worst experience of my life. Losing your virginity to an older woman sounds good, but it was kinda like, 'Oh shit, it's done?'" In general, he says, he "wasn't a ladies' man — it was nothing like it is now." He quotes the rapper Mike Jones: "The line 'Back then, ho's didn't want me/Now I'm hot, ho's all on me' is definitely relevant."
On Drake not feeling his music at first:
He and his crew posted three songs on YouTube and started spamming their friends on Facebook, then watched the play counts slowly climb. "I don't know how many it actually was, but it felt like a million," Tesfaye says. "Five hundred plays? Holy shit!" Toronto being a small town in some ways, the songs were heard by Drake's manager, Oliver El-Khatib, who posted them to the OVO blog, where they promptly blew up. "Apparently, Drake wasn't even fucking with it at first," Tesfaye says today. "Oliver was the one vouching for me."
On regretting giving Drake so much material in the beginning of his career:
Drake gave Tesfaye a big boost when he featured the Weeknd on his double-platinum 2011 album, Take Care. But for Tesfaye, being under the wing of his fellow Torontonian was a mixed blessing: A handful of songs he'd written for House of Balloons ended up on Take Care. As Tesfaye said in a 2013 interview, "I was hungry....I was like, 'Dude, take anything.'" Today, he says he has nothing but gratitude for Drake, whom he calls "my closest friend in the industry at that time." Still, he says, "I gave up almost half of my album. It's hard. I will always be thankful — if it wasn't for the light he shined on me, who knows where I'd be. And everything happens for a reason." That said: "You never know what I would say if this success wasn't in front of me now."
On his drug addiction from 2008-2010 and being homeless:
For a while he was homeless and couch-surfing; he didn't talk to his mom for a year. "Like, '08 to 2010 — those are my hazy years," Tesfaye says. "I have this lyric that goes, 'I'm not scared of the fall/I've felt the ground before.' And in this industry, I'm not really scared of failing, because I already know what it means to be on the ground."
On meeting Taylor Swift for the first time and how she uncontrollably kept petting his hair:
Tesfaye's hair also prompted one of his most WTF celebrity encounters. He was at a party for Sam Smith after this year's Grammys, at an $80 million mansion in Bel-Air. Katy Perry and Ed Sheeran were there; Disclosure were DJ'ing. "Everyone was hammered," Tesfaye says. "Sam had just won, like, every Grammy, so he was having the time of his life. Max Martin actually left because everyone was so drunk. Unfortunately, that was the one month I decided to stop drinking. Everybody was having a great time, all these cool things were happening, and I was shaking, like — 'Fuck, I really want a drink.'"

That's when he met Taylor Swift. "She actually schooled me on my own shit," Tesfaye says. "She was like, 'I've been listening to 'The Morning' [from House of Balloons] for years — it's one of my favorite songs ever!' I mean, she might have just Googled it. But she seemed genuine."

Tesfaye says Swift went on for about 15 minutes. "But the whole time she was talking," he says, "she was kind of, like, petting my hair? I think she was just drawn to it — she must have been a little gone off a few drinks. And of course I'm not going to be like, 'Hey, can you stop?' I mean, it felt good! But when she started petting my hair, that's when I was like, 'I definitely need a drink.'"
On how he met his 18-year-old girlfriend Bella Hadid:
"I actually asked her to be on the artwork for Beauty Behind the Madness," Tesfaye says. "My motive was literally to work with her." But when she declined, "I was like, 'All right, cool — we can meet up face-to-face.'" Tesfaye says he loves how hardworking she is, and how close she is with her family. "It just kind of fell into my lap," he says. "If this had happened two years ago — well," he catches himself, "she couldn't." (Two years ago, Hadid would have been 16.) "But if I'd met someone two years ago, I probably would've fucked it up. But I'm more — how do I say it? — clear-thinking now."
On why he didn't do interviews in the beginning of his career:
In part, it was because he worried he wasn't well-spoken enough: A high school dropout, he used to do crossword puzzles to improve his vocabulary, and to this day, he often wishes he were more articulate. "Me not finishing school — in my head, I still have this insecurity when I'm talking to someone educated," he says. "I don't want them looking at me like this fucking retard — no disrespect." For months, no one even knew if the Weeknd was a person or a group. That's when Tesfaye realized he "could run with the whole enigmatic thing," he says now. "If it backfired, I probably would have been doing interviews. But people were kind of liking me being a fucking weirdo."
You can read his full interview here.
Check a behind-the-scenes look/ mini-documentary at The Weeknd's performance with Nicki Minaj on "Saturday Night Live" below:
Photos: Mark Seliger/Rolling Stone