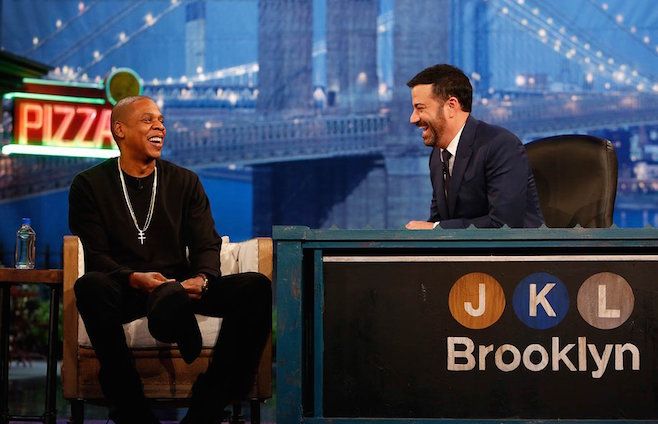 A few minutes ahead of his epic TIDAL X:1020 concert, Jay Z appeared on "Jimmy Kimmel Live" where he discussed the virtues of TIDAL, his favorite Brooklyn pizza spot and going to high school with Biggie Smalls and Busta Rhymes.  Watch his interview and performance inside....
Last night, Jay Z did a rare sit down and chatted with talk show host Jimmy Kimmel before he headlined the Tidal concert at the Barclays Center (sidebar - he gave the entire audience free tickets). 
During their interview, which we think was one of the most personable chats we've seen from him in a minute, Jay discussed why Tidal is better than other streaming services (sound quality), Beyoncé's pizza preferences (extra sauce, jalapenos - because she's from Houston), his high school rap battle with Busta Rhymes (he says he won), and he revealed his goal in life (at age 14) was to have a gold record.
Well....he's definitely surpassed the gold record goal.  He says never imagined his life would turn out the way it did........
Watch the interview here:
Jay Z performs "Empire State of Mind" from TIDAL X: 1020:
And check out video of Jimmy and Jay heading to Barclay last night: