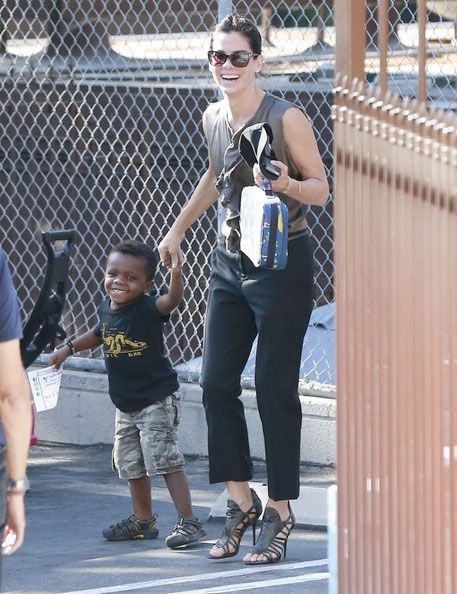 Sandra Bullock and Zoe Saldana are opening up about racism and sexism…straight talk, no chaser. Find out what Sandra said about addressing racism to her 5-year-old black son Louis and Zoe Saldana speaking on the hardships women face in Hollywood inside….
During a time where racism is one of the most talked about subjects in our culture right now, if you're a parent of child who is a minor, it's important you sit down with them.  And that's exactly what Hollywood actress Sandra Bullock is doing with her 5-year-old African-American son Louis.
While on the promo trail for her upcoming film Our Brand Is Crisis (Oct. 30th), the 51-year-old starlet sat down with BET where she touched on racism in America. The interviewer asked Sandra about the #BlackLivesMatter movement and whether she has talked to her son (whom she adopted) about racism.
Without hesitating, the Blind Side actress said she "absolutely" has spoken to her son about racism and that he's fully aware of it. He may not understand the ramifications as a result of such hatred or why people act that way, but he certainly has been exposed to the dialogue and now it's real. Sandra said she felt as a mother of an African-American child that it's her duty to expose him to the ugly truth to help keep him safe. And she's totally right.
She revealed,
"It's an open conversation that we have. He fully understands what that means. He doesn't understand why people judge each other based on color of their skin, but he knows they do. He also knows that there's sexism, he knows that there's homophobia. He knows a lot for a five-and-three-quarter-year-old."
While no parent wants to talk to their kids about racism, she said she feels the earlier you talk to your kids about these issues, the better. She continued,
"But, I think if you don't start the conversation very early on, you're doing them a disservice. I can't ride in a bubble with him. I want him to know the truth, but I also want him to know the good in the world as well."

"Those are hard conversations to have, you know. It's not any conversation any parent wants to have with their child, is that you'll be judged by the color of your skin rather than the content of your character. But it exists, and I want him to be safe and I want him to be aware, you know. Once he leaves that house and I'm not with him, it's his life and how he approaches it is his decision. But I want to know that I did the best I could as his mom to educate him on the ugliness in the world, and also the beauty."
Check out the interview below:
It's sad parents have to discuss these types of things with their children, but we salute Sandra and all parents who are making their children aware of issues that ultimately determine whether they live or die in a particular moment.
Now on to another "ism" being addressed by a Hollywood actress....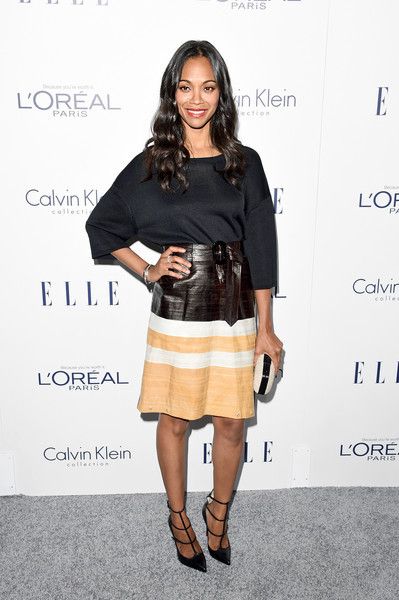 Avatar actress Zoe Saldana has climbed her way up the Hollywood ladder, but it wasn't easy. Or fair.
While on the carpet at ELLE magazine's Women In Hollywood celebration (above), the 37-year-old mom got candid about the hardships women face in the industry, such as gender inequality.
She said,
"It's hard because when a man speaks up he's a genius, and when a woman speaks up she's a b*tch. She's difficult, she's a diva."
Totally sucks women have to be twice as good to get HALF of what a man gets, but Zoe says it gets better with age because you simply stop giving a damn. She explained,
"You go through your twenties trying to find yourself and you find yourself more preoccupied with wanting to please than wanting to stand up for yourself," she explains. "Thank God your thirties come and you kind of go, 'I want to break free.' And you kind of let go and you start giving a lot of people the finger. And then, you're happy."
We can definitely co-sign on THAT!
Photos: FameFlynet/Getty