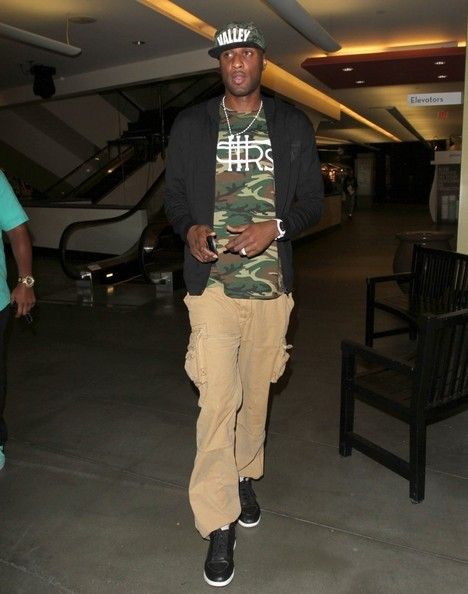 According to reports, Lamar Odom was transported by medical helicopter to a Los Angeles hospital Monday night where he will continue specialized treatment. More inside....
Monday night, Lamar Odom was discharged from Sunrise Hospital in Las Vegas and transported via helicopter to LA's Cedars-Sinai where he will continue specialized treatment. 
According to PEOPLE, Lamar was accompanied on the trip by his estranged wife, Khloé Kardashian, who plans to be at his side during his rehab.  A source told PEOPLE, 
"Khloé and several nurses are with him. Lamar still can't walk but has left the hospital in a bed. He's responsive, but there are so many things that could go wrong right now, and the doctors have still been guarded. Khloé has been praying a lot, both to herself and out loud to Lamar. She wants him to know that she's still on his side, and that everyone is praying for him."
E! News reports that while Lamar's health is improving day to day, the 35-year-old former professional athlete is going to need "a lot" of rehab in the coming months and he has an extremely tough road ahead of him.  Reports also revealed that a CT scan came back clean, but there may be some cognitive issues ahead.
In a statement published by ESPN News' JaNean Mercer, Lamar's maternal aunt and godmother, said,"Lamar has always been blessed with a tenacious, fighting spirit, overcoming insurmountable obstacles to achieve the impossible. These past few days have been no different. ... [He is] defying the odds in his toughest battle to date." 
The Los Angeles Daily News reports Lamar has been breathing on his own for the past three days.  His road to discovery is described by the publication saying:
Odom is slated to begin physical therapy that will show whether the 35-year-old former basketball player can walk, said sources familiar with Odom's progression. But it remains unclear how well he can navigate that challenge.

Odom has experienced frequent fatigue and has received constant treatment on his lungs and kidneys, sources said. Odom could also have serious brain damage considering a 911 call released last Wednesday reported Odom took cocaine and 10 doses of a sexual performance enhancer over three days.
Seems like Khloe is all about her loyalty. A source told E! News, "She goes everywhere with him. If Lamar leaves the room for testing, she follows."
Meanwhile, his ex-teammate Metta World Peace aint here for the Kardashian and celebrity presence at his bedside.  He tells the LA Daily News:
World Peace has publicly praised Kobe Bryant and Lakers general manager Mitch Kupchak for visiting Odom following last Tuesday's exhibition in Las Vegas. But World Peace argued the subsequent celebrity visitations have come at the expense of Odom's children spending time with him, including his 17-year-old daughter Destiny, and 13-year-old son Lamar Jr.

"This is nothing against Khloe [Kardhasian]" World Peace said, referring to the reality television star and Odom's estranged wife. "This is for the celebrities that are coming to see Lamar. They should know they're taking time away from Lamar's children."

 
#prayforLamar
Photo via FameFlynet