In today's YBF Kids roundup, we've got Chrissy Teigen first baby bump pic (and message to haters), a new photo of Ashlee and Evan Ross' daughter Jagger, and some cute pics of Christian Milian's daughter Violet Nash walking in a fashion show.  More inside...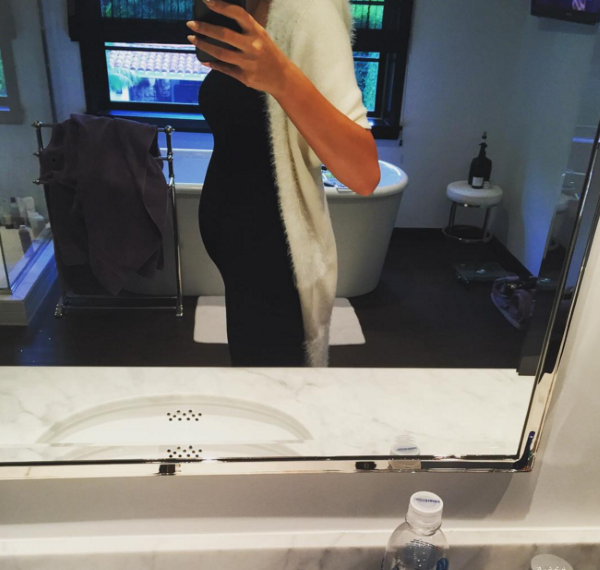 Talk show host Chrissy Teigen, the outspoken wife of John  Legend, thought she was doing a "cool" thing by posting her first baby bump pic.  Sadly,  she was wrong. The kids on the Internet came for her.....
Here's what happened.....
Chrissy posted the pic above with the caption "Somebody is early to the party."  Seems pretty innocent right?  Why did folks get "offended" that her bump is so big...so fast?  Seriously. 
This led to an entire round of back-and-forth with "followers" asking if she used IVF (which she admitted) and questioning how long she's been pregnant.  She responded,

While admitting to using IVF, Chrissy also revealed that this Twitter exchange with fans (regarding her pregnancy) will be her last.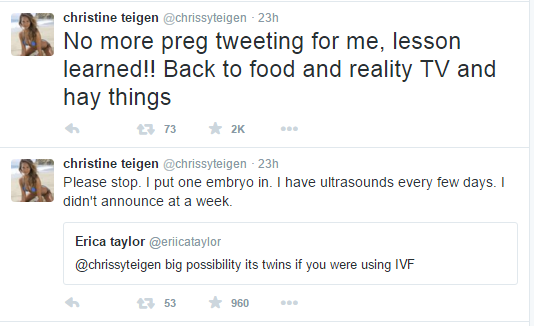 Her final words to haters...."Get Out Of My Uterus." 
SMH.......we hope she doesn't stop sharing photos.  We're very happy for her and John. 
In other YBF kids postings...
Pop stars Evan Ross and Ashlee Simpson Ross (who shared their wedding album a few months ago) have also gifted fans and followers with an adorable pic of their 2-month-old daughter Jagger. 
The proud mommy added the caption, "Yessssss!!! Baby we did this. Look at our lovely daughter.!! #jaggersnowross She is LOVE pure love!! @realevanross"
Could she be any cuter? 
Evan and Ashlee, whom are also the parents to Ashlee's 6-year-old son Bronx, don't post too many pics of their kids....but we're very happy when they do!
Look who hit the runway...
Over the weekend, Christina Milian brought her "We Are Pop Culture" line to life on the runway with the help of her adorable daughter Violet Nash.  It was all part of the "Pop Gang Kids" collection, for fashionable youngsters.  Christina captioned the pic, "Had my mini me out there for the first time and she was smiling from ear to ear. I Love this picture."
If you're wondering about the young lady holding Violet's hand, her name is Mychal Bella.  She's a highly sought after kid actor and model in Hollywood.
Check out their walk and stroll here:
Photos via Christina Milian/AirButchiePhotography/Ashlee Simpson/Chrissy Teigen IG