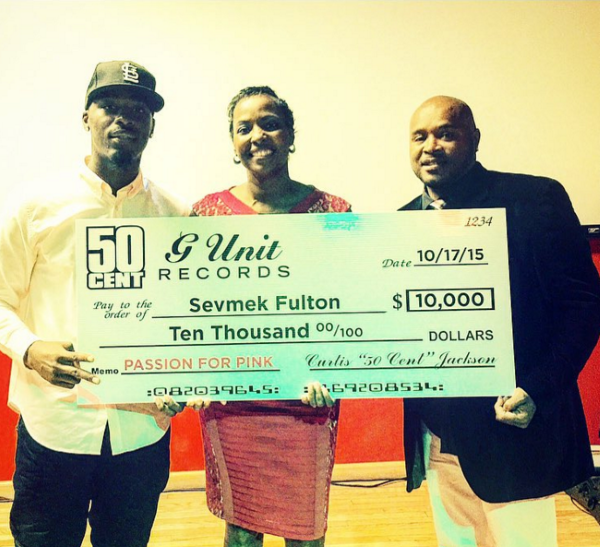 Today, we're shining a light on two YBF celebs who used their talents and financial resources to "better" the lives of others.  Find out what 50 Cent and R. Kelly did inside....
"Power" producer 50 Cent recently made a huge donation to support families fighting against breast cancer.  On his Instagram page, he shared a picture of battle rapper Hitman Holla (left) and his mother, Sevmek Fulton after they'd received a check for  $10K, which he donated to her foundation, Passion for Pink.
In case you didn't know, 50 Cent lost his grandmother (who raised him) to cancer a few years ago.  That's one of the reasons he decided to join in the fight against cancer.
"If you noticed me over the years you know I don't mind fighting. I been fighting my whole life. I had to fight in my hood for position, fight my way into music, fight to Win. Now I gotta fight to keep it, it's cool it's just another fight. The only lost on my record is to cancer my Nana was the love of my life, but @hitmanholla mom is gonna Win the rematch for me."
FYI - Hitman Holla's mom is a survivor of breast cancer and she held a a fundraiser for Passion for Pink over the weekend. The event was sponsored by 50's company Effen Vodka.
In other charitable contributions...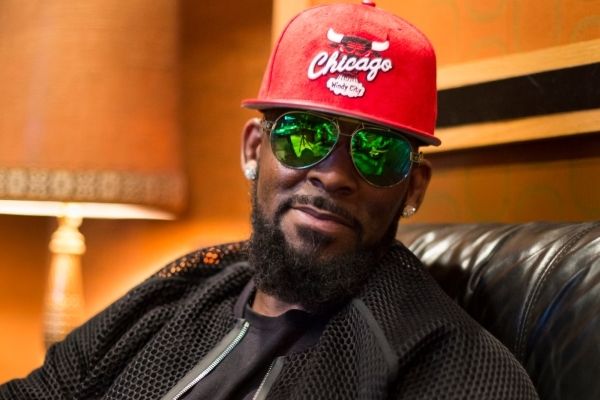 R&B crooner R. Kelly held a benefit concert on October 14th at the Chicago Theatre to help save the home of famed Chicago Public Schools teacher and vocal coach Lena McLin. Ms. Lena was the first person to recognize Robert's talent and see the superstar he could become. In an interview with the Chicago Sun-Times (which we've included below), he spoke of her powerful influence saying,
"On the first day I met her, Ms. McLin told me, 'You're going to be one of the greatest singers, songwriters and performers of all time.' I thought the lady was crazy,

Ms. McLin reached down in me and pulled out something greater than me. She taught me opera, classical music, jazz, gospel. She said, 'You are music. You're not in any one category. Anything you attempt, you'll be able to tap into the spirit of it, and that's the gift you have.' She made me."
If you'd like to know how Ms. McLin ended up in a financial bind...here's the backstory. Although she taught at Chicago Public Schools for 36 years, she couldn't afford to keep her home (at 69th and Oglesby) once her building went condo. Because she's s living on a teachers pension, news about the "condo" situation put her in a huge predicament.  Luckily....her star student came to the rescue. Now.....we are happy to report that enough money was raised to save her home!
Watch R. Kelly's FULL interview with the Sun-Times below. During the chat, he opens up about Ms. McLin's impact and also discusses his long career.