Janet Jackson's UNBREAKABLE tour swept through LA last night and numberous A-listers "FANNED" out in the audience.  Zendaya, Queen Latifah and Beyonce (with Blue Ivy) each came to worship at the altar of the diva.  See pics inside...
Janet Jackson brought her UNBREAKABLE tour to The Forum in Inglewood, CA last night..... 
Ms. Jackson's arrival brought out thousands of fans and some of Hollywood's A-listers.  Beyonce Knowles, an admitted Janet-fanatic, was among the folks seen cheering on Miss Jackson (above). 
Beyonce brought her daughter Blue Ivy along to witness the Queen Diva in action too.  Sidebar.....In 2014, Beyonce dressed up as Janet Jackson for Halloween while Blue Ivy served up Michael Jackson tease.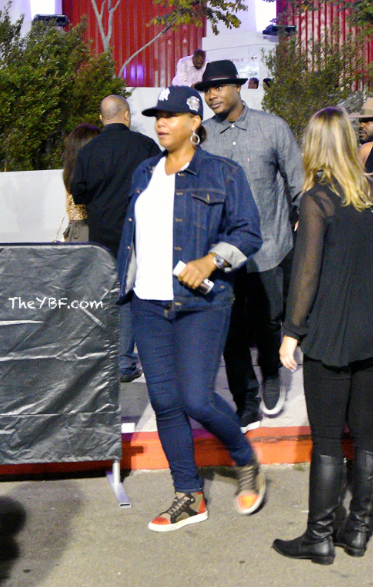 Emmy-winning producer and actress Queen Latifah was spotted outside The Forum before the show.  Yes...the "Queen" came to pay homage to another queen. It was like a meeting of the royals.....
Zendaya was also on hand to witness Janet in action. Although Zendaya was born AFTER Janet's Control/Rhythm Nation heydays, you can still see how Janet has influenced her. 
Zen, who recently rocked a fantastic photoshoot for Mane Addicts, was surprisingly low key last night.  We were hoping she would have "dressed like Janet" for the evening.
Here's our favorite pic of the night......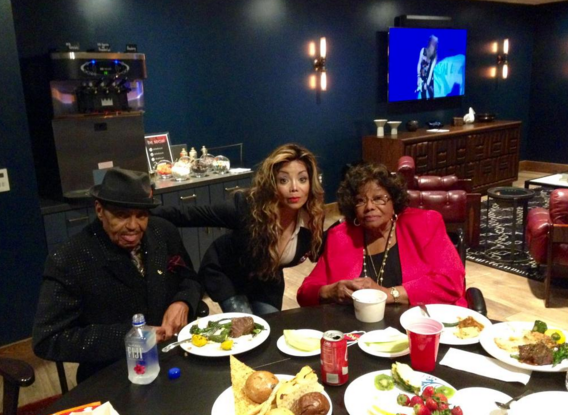 Backstage, Janet's sister LaToya posed with their parents Joe and Katherine.  If you want some good family tea....google Latoya Jackson in the 80s. She was a hot mess.  A true black sheep of the family.  But through prayer, counsel and Jehovah's Witness meetings.....it's all worked out. 
Here are a few fan shots from last night.....
P.S. Janet's album UNBREAKABLE is still the #1 album in the country! #stillslaying
Photos via Splash/BeyLite/Latoya's Twitter/LaTonya Holmes IG