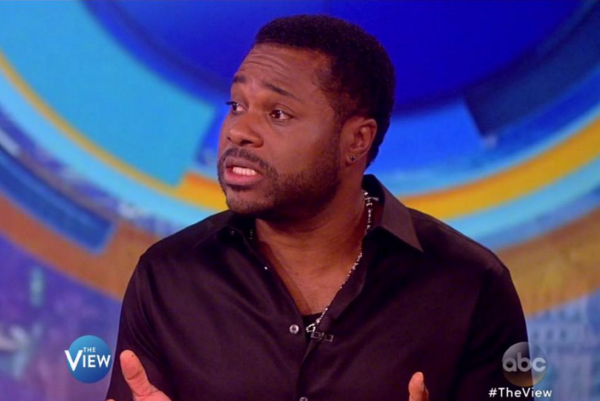 A lot of -ish went down on "The View" today.  First, former Cosby Show kid Malcolm-Jamal Warner became emotional while discussing the legacy of "The Cosby Show" and the controversial EBONY cover. Then, Ann Coulter reads Raven Symone for filth.  Watch it go down inside...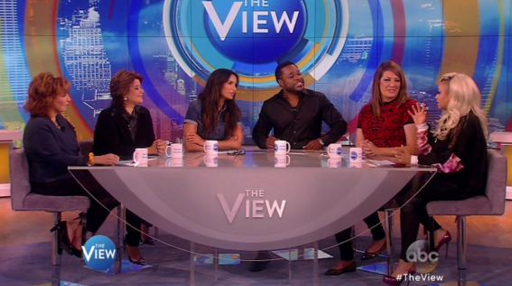 Earlier today, Malcolm-Jamal Warner, who played Bill Cosby's TV son on "The Cosby Show," appeared on "The View" where he clarified his stance on the classic sitcom's legacy.
When asked to clarify comments he made to the Associated Press last week (below), Malcolm told the ladies,"I said, 'Of course it can't help but be tarnished, because it's no longer on the air, it's been pulled off the air."  Malcolm went onto explain that taking the Cosby Show off the air deprives future generations of positive Black imagery.
"When we had images that perpetuate the negative stereotype of people of color, we've always had 'The Cosby Show' to hold up against that, and the fact that we no longer have that kind of leaves us not in a great place in terms of having the wide scope of the images of people of color.  Keshia Knight Pulliam said a really interesting thing in that her perspective is the legacy cannot be taken away because all of the good that that show has done cannot be taken away.  The generation of people of color who have chosen to go to college because they watched that show and because they watched 'Different World,' you can't take that away. And I think that was a really good point."
Then....the ladies put up a picture of the controversial EBONY cover showing a shattered family photo of the Huxtables.  At this point, Malcolm became emotional and said there wasn't enough time to explain what "that" picture and image conjured up for him. It was an intense moment.
Then Raven chimed in saying"Let's not forget that The Cosby Show was a sitcom and not a reality show.  Let's just remember that this was a sitcom and we had writers and things of that nature."
Say what now?  Of course we all know that The Cosby Show was a sitcom!  In the context of what Malcolm had just expressed, we're not sure what Raven meant by that, and her strange commentary continued into the Ann Coulter segment....
Watch the Malcolm interview here: 
BONUS:  Listen to Malcolm's original Associated Press interview here ...
Earlier, we told you about an awkward exchange between Raven Symone and Ann Coulter....fasten your seat belts.
Conservative political pundit Ann Coulter swept into "The View" after Malcolm's segment and managed to do something uncanny...she left Raven Symone speechless. 
We've sat by watching Raven make cringe-worthy comments for the past several months, but today, she ran up on the wrong chick.  While discussing a variety of topics including immigration and Donald Trump, Raven attempted to "read" Ann about her abrasive rhetoric...but Miss Ann had NO TIME for games. 
Shady Raven told Ann that if you don't have anything nice too say, you shouldn't speak at all.  Then she slipped in a snarky question, "Why do you think it's important to mudsling?"  Without missing a beat, Ann brought up Raven's idiot "Watermelondrea" comments from a few days ago.  She said,
"I'm at least talking about policy. You have a position on what people's names should be. Watermelondrea. I'm talking about a government policy that affects all Americans and immigrants and the people living here, and is harming our country. So you don't follow [a no-mudslinging policy]."
And with that.....a hush fell over Raven.  It's the first time we've ever seen her speechless.  Check it out above.
Photo via Malcolm's Twitter