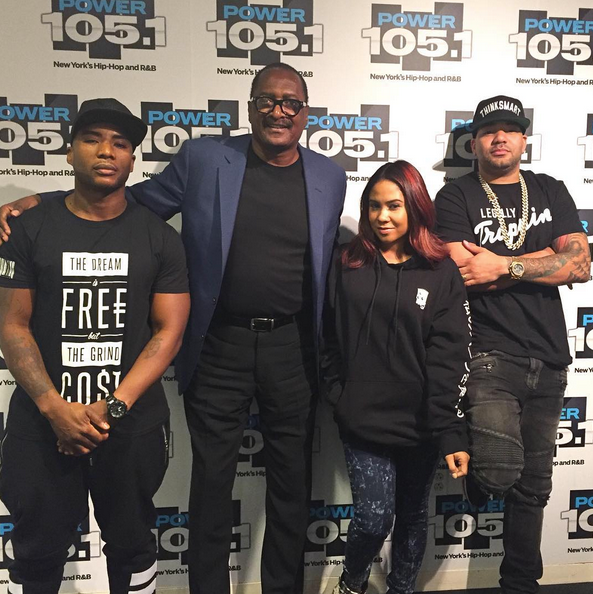 Mathew Knowles stopped by "The Breakfast Club" to drop a few Destiny's Child nuggets and plug his new book. Find out what he said about that alleged "Beyonce Bootcamp" where he supposedly charging $200 a class, managing Nas' career and much more inside…
Mathew Knowles, the man behind mega girl group Destiny's Child, has a new book The DNA of Achievers: 10 Traits of Highly Successful (which drops today), so he's on the promo trail to plug his newest literature on how to make it in the music industry.
Beyonce's dad stopped by Power 105 "The Breakfast Club" to chop it up with the radio hosts about all things Destiny's Child. He opened up about how he left Corporate America to get into the music industry after realizing that was his true passion. He talked about how Destiny's Child came about and the many name changes throughout the years. They went from "The Dolls," to "Cliché'" to "Something Fresh" and then "Destiny." They then had to change their name again to Destiny's Child after learning there was a gospel group with the name Destiny. He spilled some luke warm tea on whether a Destiny's Child reunion in is in the works and if a biopic will be done on the hit group.
Mathew then opened up about the rumors that he was conducting a "Beyonce Bootcamp" where he would charge participants $200 a session to become the next "Beyonce." There's no "Beyonce Bootcamp," but if you're looking to sit in on a seminar of his, it's going to cost you a cool $1,500. He also talked about that alleged Destiny's Child yard sale that rumors alleged he was selling their memorabilia because he was strapped for cash. He said that's so not the case.
The 63-year-old educator talked about how he felt when Bey brought Jay Z home for the first time, managing Nas' career, the infamous ELEVATOGATE and how he would feel if one (or more) of his grandchildren decided they wanted to be in the music industry.But don't ask him about getting a Houston stripper pregnant...he wasn't here for it.
Below are the highlights:
On when Destiny's Child tried to part ways with him:"I'm still the manager of Destiny's Child and I own the trademark. I'm a co-writer for Survivor and other songs, so I get publishing."
On charging $200 to turn artists into the next Beyonce:"No someone came up with the name Beyonce Boot Camp, which is not what it is. I give seminars on the entertainment industry. There's a whole review of my seminar on MTV.com. I've taught at Texas Southern University for 8 years. I'm an educator. When you come to my class, you don't come to my class for free. You pay $1,500 to take my class. I have to put Beyonce in the title so that I can get search engine optimization. So I can get numbers so that I can sell advertising."
On his Destiny's Child yard sale: "I have a block in Downtown Houston 62,500 square foot lot. I have recording studios, House of Deron media center, Rice Mansion is a venue etc. Then we have Carriage House where we have a lot of old stuff collecting over the years. One of my staff members came up with the idea to sell some of the stuff over the Holidays. If I was going to sell something, I would sell my watch first or this really nice jacket. Nobody's going to sell a $5 t-shirt. Only a kid would believe that kind of stuff."
On if a Destiny's Child biopic is in the works: "I hope so. That I am working on. I don't think its too early. They have soo much because they started so early in life. This goes back to when they were 8-years-old and now they're 34."
On a Destiny's Child reunion: "Obviously one day it's going to happen. We don't want to see them doing some of those dances at 50 do we? I know I don't. I know I sure don't want to see some of them at 50."
On if he still manages Beyonce: "No. I think she wanted to run her own business. We taught both of our kids entrepreneurship. At 30 years old, you're a grown a** woman and want to do your own thing. I'm happy that most of her team worked for me and I trained them. She took that team and that's who's working for her. I'm proud of what she's done as a business owner and what Solange has done as a business owner."
On if he's close to Beyonce & Solange and why he's never photographed at family functions:"Yeah [we're close]. I don't need to be in a photo. Most of the time I'm in the background making sure everything else goes right."
On the first time Beyonce brought home Jay Z:"I just looked at him as a man. I didn't look at him as a rapper. I just looked at him as a young man my daughter was in love with. If she's happy, I'm ecstatic and we keep it moving."
On how he felt about Solange attacking Jay in the elevator: "I thought it was a great jedi-mind trick."
On managing Nas: "Did you know that I once managed Nas? His only #1 record he's ever gotten in his career I was managing him. Stillmatic, his last album at Columbia before he went over to Def Jam."
On why he and Nas parted ways:"It was a thing about finance where I wanted 20% commission and he wanted to offer 15%. I couldn't change on that because my daughters' was 20% and I couldn't look at them and give somebody else anything. And I would never do that."
On getting a stripper pregnant in Houston:"We're not going to talk about that. We're going to stay on the business side."
On social media backlash:"I don't even read social media. I'm too busy reading books. When you're 63-years-old do you care what a 23-year-old say?"
On if his grandkids wants to get into the music industry: "If they're passionate about it, I support it totally."
Peep his full interview below:
Photo: Angela Yee's IG